It's hurt when you are rejected by a college. If you are in this position, actually you can write an appeal letter to make the college admission change the decision. You have a right to send an admission appeal letter. But, you have to consider several things, such as the college's policy. You have to know that there are some colleges that wouldn't consider an appeal letter.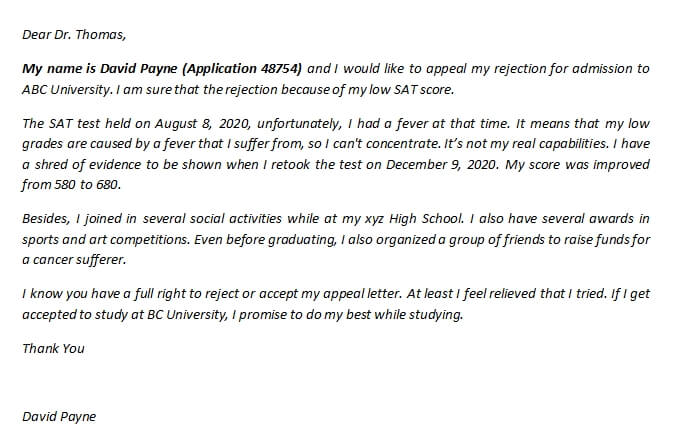 Will My Appeal Letter To College Work?
In this case, an appeal is rarely accepted. Besides, you have to know that it will also need a long time. Firstly, you can contact the Admission Office to ask for the college's policy about an appeal letter. If the college has the policy to accept an appeal, you have to know what procedures must be taken. Note that every college must have different requirements.
What Are Tips To Make An Outstanding Appeal Letter?
Prepare some important things to make your appeal letter, such as the documentation and evidence to strengthen your statement. Here are some tips that you can follow to make a good format:
Make A Good Format
Your admission appeal letter must consist of some relevant elements like your name, recipient's name, a polite greeting, and closing.
Include Some Evidence
No matter what the situation, you need to prove that you are competent to be accepted in the college. You can reveal that you've won a lot of Olympics or have been involved in several social activities. It doesn't hurt to try.
Show your enthusiasm
It doesn't hurt to say that you have a high enthusiasm to join with the college. State your plan in the future, such as conducting some research on the college.
Admission Appeal Letter Sample
Write your appeal letter in a specific and detailed way. The following is an example of an appeal letter for college that is written by Michael Halloway.
Dear Dr. Thomas,
My name is David Payne (Application 48754) and I would like to appeal my rejection for admission to ABC University. I am sure that the rejection because of my low SAT score.
The SAT test held on August 8, 2020, unfortunately, I had a fever at that time. It means that my low grades are caused by a fever that I suffer from, so I can't concentrate. It's not my real capabilities. I have a shred of evidence to be shown when I retook the test on December 9, 2020. My score was improved from 580 to 680.
Besides, I joined in several social activities while at my xyz High School. I also have several awards in sports and art competitions. Even before graduating, I also organized a group of friends to raise funds for a cancer sufferer.
I know you have a full right to reject or accept my appeal letter. At least I feel relieved that I tried. If I get accepted to study at BC University, I promise to do my best while studying.
Thank You
David Payne
That's all our brief description of an admission appeal letter and its sample. Hope it can help you to get a new idea for your appeal letter.
Similar Posts: