A crane operator is a person who handles cranes & other lifting equipment and transports loads to a construction site. When it comes to the crane operator job description, there are many tasks and duties to do. For example, he conducts equipment inspections, follows safety protocols, and many more.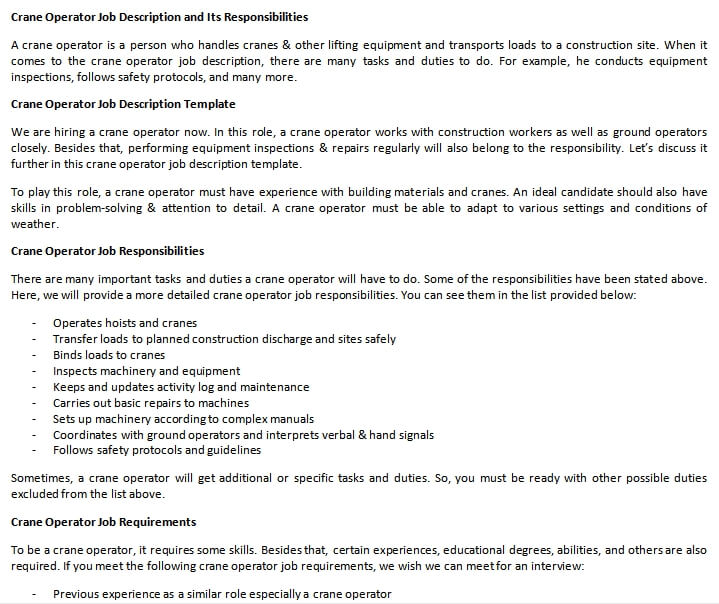 Crane Operator Job Description Template
We are hiring a crane operator now. In this role, a crane operator works with construction workers as well as ground operators closely. Besides that, performing equipment inspections & repairs regularly will also belong to the responsibility. Let's discuss it further in this crane operator job description template.
To play this role, a crane operator must have experience with building materials and cranes. An ideal candidate should also have skills in problem-solving & attention to detail. A crane operator must be able to adapt to various settings and conditions of weather.
Crane Operator Job Responsibilities
There are many important tasks and duties a crane operator will have to do. Some of the responsibilities have been stated above. Here, we will provide a more detailed crane operator job responsibilities. You can see them in the list provided below:
Operates hoists and cranes
Transfer loads to planned construction discharge and sites safely
Binds loads to cranes
Inspects machinery and equipment
Keeps and updates activity log and maintenance
Carries out basic repairs to machines
Sets up machinery according to complex manuals
Coordinates with ground operators and interprets verbal & hand signals
Follows safety protocols and guidelines
Sometimes, a crane operator will get additional or specific tasks and duties. So, you must be ready with other possible duties excluded from the list above.
Crane Operator Job Requirements
To be a crane operator, it requires some skills. Besides that, certain experiences, educational degrees, abilities, and others are also required. If you meet the following crane operator job requirements, we wish we can meet for an interview:
Previous experience as a similar role especially a crane operator
Work experience to handle various kinds of cranes
Ability to lift heavy-weight loads
Ability to work in heights
Ability to stand for longer hours
Accuracy & attention to detail
Pass background, drug, and medical check
Commercial driver's license is required
Relevant certification is preferred (e.g. NCCCO)
Crane Operator Job Description FAQs
What does a crane operator do?
A crane operator controls lifting machinery with pedals, levers, and buttons. He also attaches loads to cranes & hoists and removes them safely. Occasionally, he sets up and repairs equipment.
Can I edit the posted job description here?
Yes, you can. This editable crane operator job description template can be customized easily to fit your needs because you may give different duties and require different qualifications.
Do you have interview questions for a crane operator?
Besides the crane operator job description, a collection of interview questions for a crane operator can also be found on this web, on another page.
Similar Posts: