A dental receptionist works in a clinic or a hospital; she does all the administrative tasks and duties well. she will be the one who schedule, reschedule, or even cancel the patients' dental care appointment. The dental receptionist job description must also include entering the patients' data to the computer or software, arranging the dentist's referral, and answering patients' questions. A dental receptionist makes use of the dental receptionist job description template to schedule her works.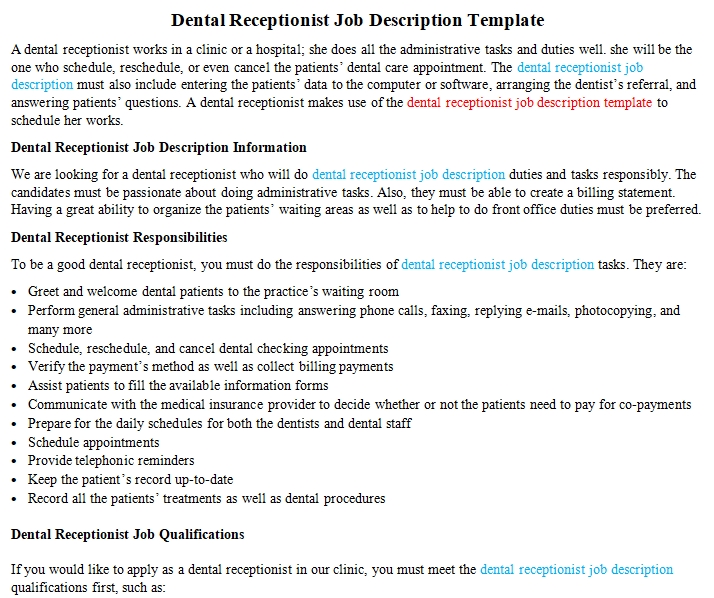 Dental Receptionist Job Description Information
We are looking for a dental receptionist who will do dental receptionist job description duties and tasks responsibly. The candidates must be passionate about doing administrative tasks. Also, they must be able to create a billing statement. Having a great ability to organize the patients' waiting areas as well as to help to do front office duties must be preferred.
Dental Receptionist Responsibilities
To be a good dental receptionist, you must do the responsibilities of dental receptionist job description tasks. They are:
Greet and welcome dental patients to the practice's waiting room
Perform general administrative tasks including answering phone calls, faxing, replying e-mails, photocopying, and many more
Schedule, reschedule, and cancel dental checking appointments
Verify the payment's method as well as collect billing payments
Assist patients to fill the available information forms
Communicate with the medical insurance provider to decide whether or not the patients need to pay for co-payments
Prepare for the daily schedules for both the dentists and dental staff
Schedule appointments
Provide telephonic reminders
Keep the patient's record up-to-date
Record all the patients' treatments as well as dental procedures
Dental Receptionist Job Qualifications
If you would like to apply as a dental receptionist in our clinic, you must meet the dental receptionist job description qualifications first, such as:
High School Diploma, GED, or equivalent
Have experienced as a dental receptionist before (necessary) (min. 1 year)
Excellent verbal and written communication skills
Possess office administration or medical administration certificate (preferred)
Able to handle multiple tasks at one time
Friendly and polite manner and attitude
Good customer service
Great knowledge of dental terms
Be able to operate Dentrix (dental practice management) software
Be able to work fulltime
Dental Receptionist FAQ
What is a dental receptionist?
A dental receptionist must be a person who provides information for the patients about the dentist's schedule. She becomes the one that manages dental appointment including schedule, reschedule, or even cancel the appointment. A dental receptionist tends to be communicative and great in performing customer services.
What Should You Include in A Dental Receptionist Job Vacancy?
If you are going to post a dental receptionist job vacancy, you need to write down all skills and qualifications. Make sure the applicants have great time-management and multi-tasking skills. Remember, dental receptionists tend to be busy and may have several kinds of different tasks to do at the same time.
Do You Need to Interview Applicants for A Dental Receptionist?
It is best to interview applicants for any job vacancy including a dental receptionist job vacancy. By having a direct interview, you could know whether or not the candidates have great communication skills. Plus, you may test them to operate Dentrix with certain instructions and limited time. Of course, the ones who can operate a computer must be successful.
That's all about the dental receptionist job; hopefully, it will be useful for you who want to make a dental receptionist template.