After applying for a job at a particular company, you may expect to hear some good news about the interview process. However, if you have waited for more than three weeks and there has been no follow up from the hiring manager, you can reiterate to the company that you are still a candidate to apply for the required position. You must convey it politely through still interested in job letter.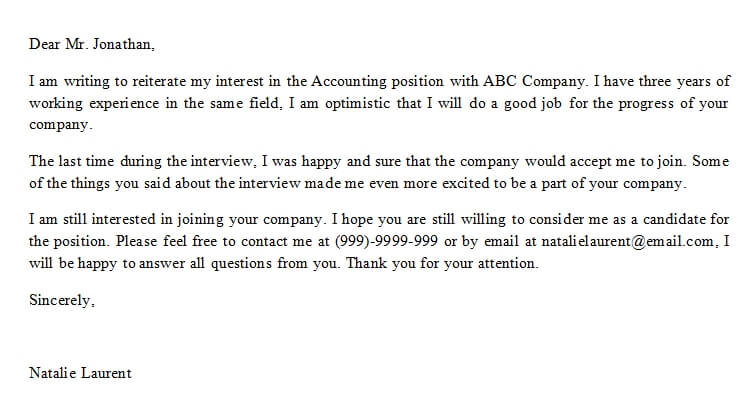 Why Should I Convey That I am Still Interested in Job?
The main reason you should write this letter is to show that you are still interested in the position you have applied for. Maybe you've been waiting for several weeks without a follow up from the hiring manager, so it must be hard to hope and wait without certainty.
Several things might prevent your application letter from being processed immediately, it could be because of your wrong contact information, or maybe the hiring manager has lost access to your contact. Hence, you need to confirm that you are still interested in the job you have applied for.
How To Write A Still Interested in Job Letter?
Just like the other letter format, your letter must consist of salutation, introduction, body, conclusion, and signature.
Salutation
Open your letter by writing a good salutation like "Dear Mr./Mrs." followed by the name of the hiring manager. But if you don't know who the letter is being addressed to, you may write "to whom it may concern".
Introduction
Start emphasizing that you've applied for a certain position at the company but haven't gotten a follow-up. State your purpose for writing the letter is to tell the hiring manager that you are still interested in the position. Write the opening brief and clear.
Body
In this part, you no longer need to write about the qualifications you have. You have written it on the resume you have submitted. You can remind the hiring manager about your resume or interview.
Conclusion
A good conclusion should be clear and concise. You will also need to write your phone number or email address that can be contacted.
Still Interested in Job Letter Example
Write your letter in a format that is concise, clear, and emphatic. Below is an example of writing a letter to confirm your application at the company:
Dear Mr. Jonathan,
I am writing to reiterate my interest in the Accounting position with ABC Company. I have three years of working experience in the same field, I am optimistic that I will do a good job for the progress of your company.
The last time during the interview, I was happy and sure that the company would accept me to join. Some of the things you said about the interview made me even more excited to be a part of your company.
I am still interested in joining your company. I hope you are still willing to consider me as a candidate for the position. Please feel free to contact me at (999)-9999-999 or by email at natalielaurent@email.com, I will be happy to answer all questions from you. Thank you for your attention.
Sincerely,
Natalie Laurent
It's important to notify the hiring manager of your pending application. A still interested in job letter will also show that you are enthusiastic about joining the organization.
Similar Posts: