A thank you letter is to expresses gratitude toward someone or an instance. In this article, you will get a guide to expresses your gratitude for the opportunity to get an internship and other details about the relevant on-the-job experience obtained in an internship program in a form of a letter. Therefore, you should know that thank you letter commonly contained honest, detailed, and genuine expressions of gratitude addressed to the concerned.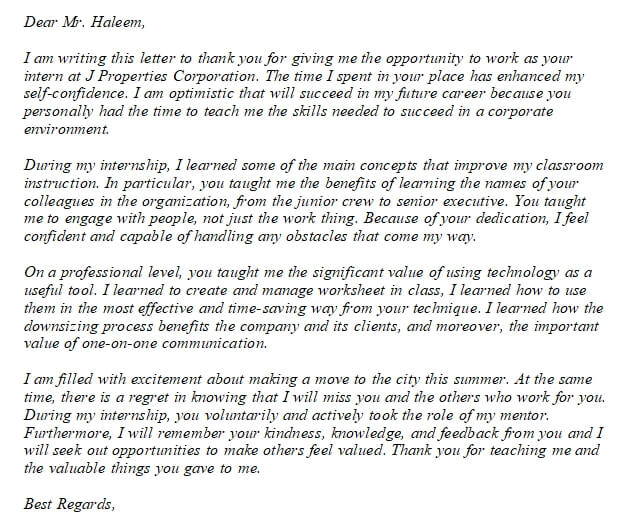 Guide To Write A Good Thank You Internship Letter
It is optional you can write it in a formal business or personal typed letter, it depends on where you going to address it (directly to an instance, an individual, or a specific group).
Include some specific examples of the benefits you gained in the internship program.
Expresses your gratitude with good language with a happy tone.
You can include your request recommendation letter in the attached document for the full-time job after graduation (optional).
The Important Parts Of Thank You Internship Letter
There are some parts that you should include in the letter, those are:
Detail Identity.
Date/Time.
Address of the letter recipient.
Greeting (your gratitude toward the recipient).
Body (the substance of the letter).
An Example Of Thank You Internship Letter
Here is an example from an intern who thanked his prior employer during an internship program he had.
Dear Mr. Haleem,

I am writing this letter to thank you for giving me the opportunity to work as your intern at J Properties Corporation. The time I spent in your place has enhanced my self-confidence. I am optimistic that will succeed in my future career because you personally had the time to teach me the skills needed to succeed in a corporate environment.

During my internship, I learned some of the main concepts that improve my classroom instruction. In particular, you taught me the benefits of learning the names of your colleagues in the organization, from the junior crew to senior executive. You taught me to engage with people, not just the work thing. Because of your dedication, I feel confident and capable of handling any obstacles that come my way.

On a professional level, you taught me the significant value of using technology as a useful tool. I learned to create and manage worksheet in class, I learned how to use them in the most effective and time-saving way from your technique. I learned how the downsizing process benefits the company and its clients, and moreover, the important value of one-on-one communication.

I am filled with excitement about making a move to the city this summer. At the same time, there is a regret in knowing that I will miss you and the others who work for you. During my internship, you voluntarily and actively took the role of my mentor. Furthermore, I will remember your kindness, knowledge, and feedback from you and I will seek out opportunities to make others feel valued. Thank you for teaching me and the valuable things you gave to me.

Best Regards,


Danny Jonner
Hope this article may help you in understanding the thank you internship letter. Please, don't hesitate to edit the example if necessary. Good luck!
Similar Posts: