Printable Weekly Planner Template for Free
Whether you are a student, an employee, an employer, a businessman, or whatever your profession is, it is very important to make a schedule for your activities in a week. In this case, you may need our printable weekly planner template. With this weekly planner, your activities will be organized very well.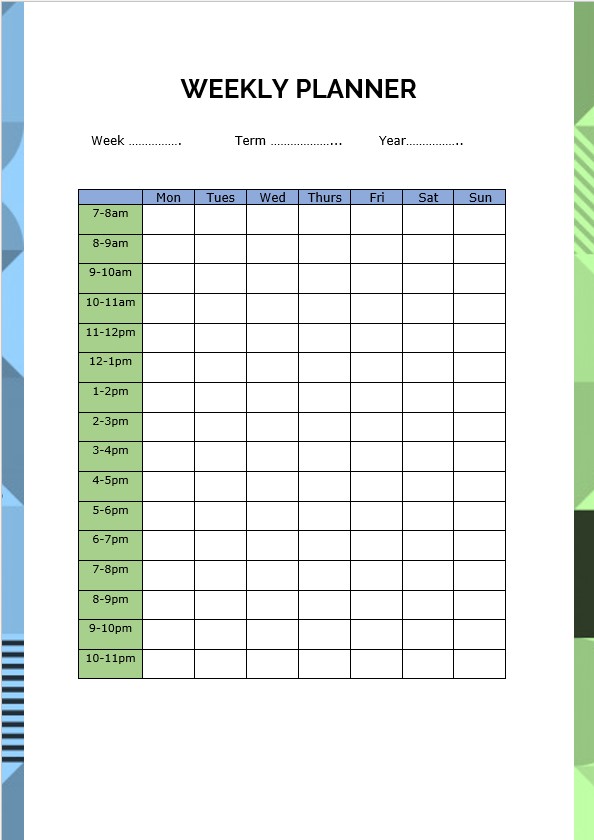 How to Write a Weekly Planner
The following free printable weekly planner template comes with different designs. The first template comes with a title at the top, under the title, it the month and year. Here, you should fulfill the information based on the present month and year. Then, it also lets you write down your appointments.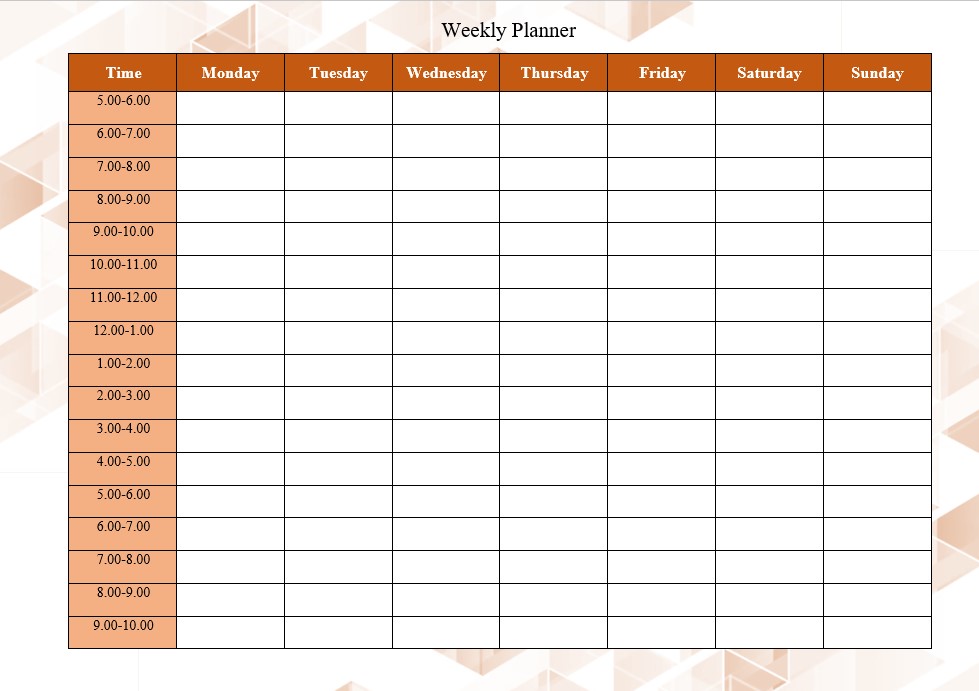 This planner contains the names of the day in a week arranged vertically. So, you should fulfill the box of each day with your planned activities. On the right side, there are 2 boxes for tasks and notes. If there are some important tasks and notes you have to do in a week, you have to list down there completely.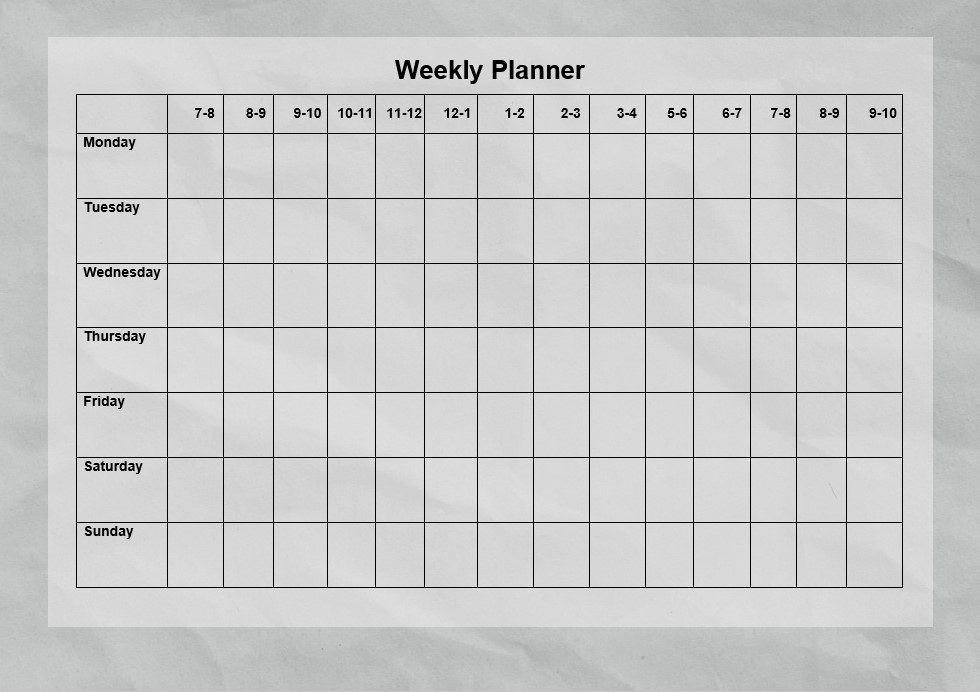 The second weekly planner comes with simpler template design. It starts with the title at the top. Under the title, it is the names of the day in a week put in boxes. This weekly planner allows you to write down your important activities such as appointments, meetings, interviews, exhibitions, or any other event.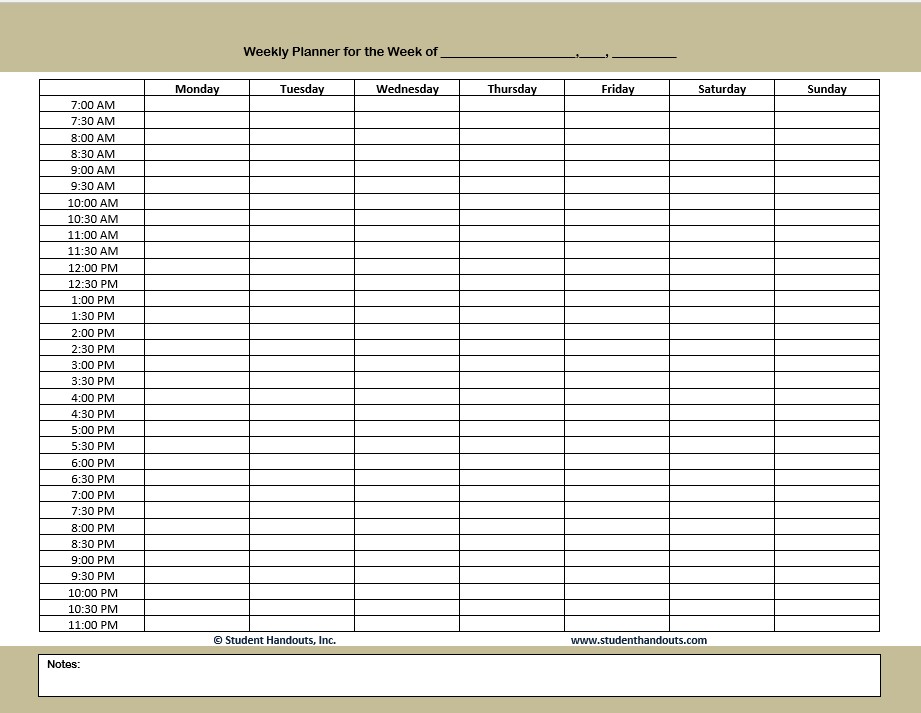 The third weekly planner has simple and clean lines. It lets you to write down your activities in a week in more detailed. This downloadable & printable weekly planner template starts with "Week of". In this part, you can mention the week you want to schedule. For example, it is the week of 1 in December.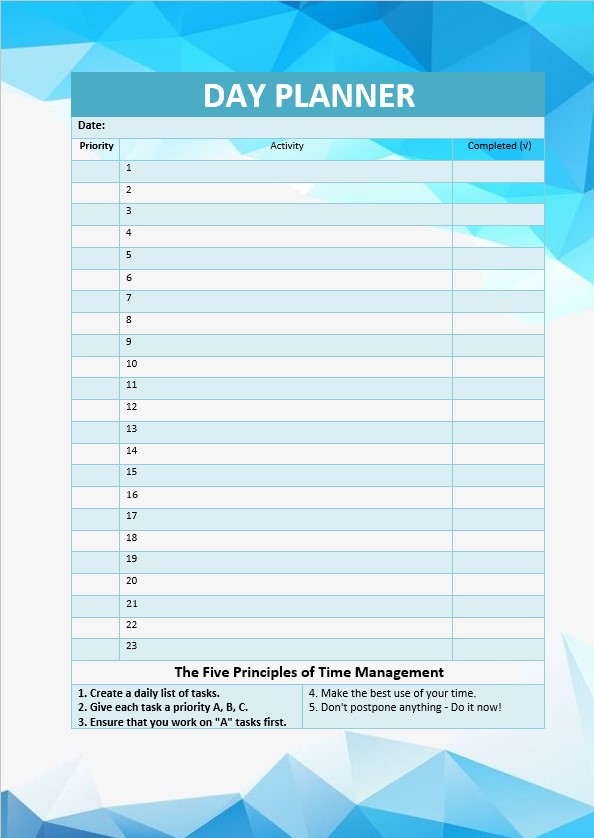 This weekly planner comes with a table. The table has some headers that consist of the names of the day in a week. On the left side, it is the time schedule written from 08.00 a.m. to 08.00 p.m. from the top to the bottom. Now, you can fulfill the table with your activities based on the appropriate time.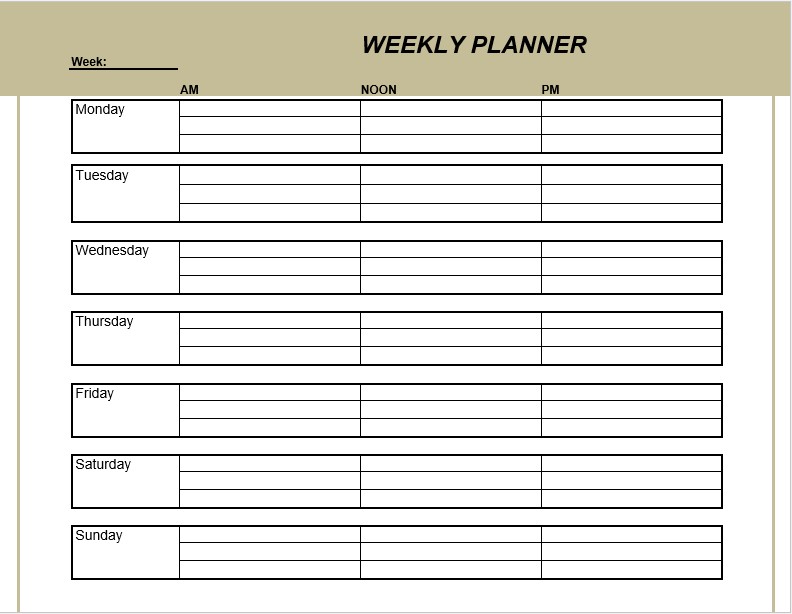 Weekly planner can be used by anyone for any purpose. For example, you want to have a trip for a week. So, you can use this weekly planner to schedule your trip. Or you are going to hold a seminar. Then, this weekly planner will help you schedule your activities to prepare the seminar you will hold.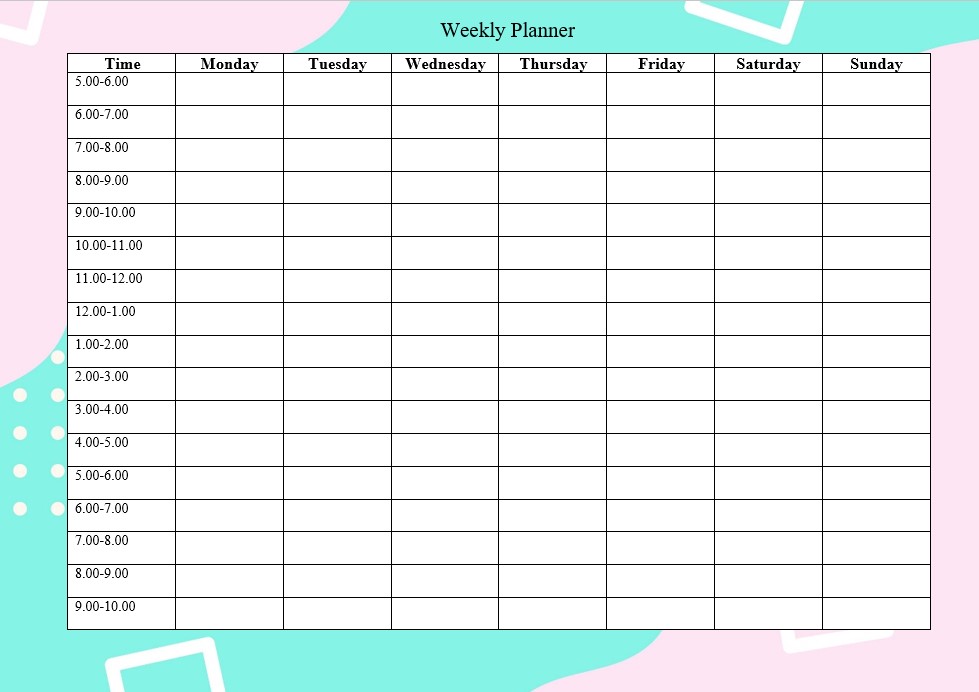 A weekly planner is very useful because it keeps you remember the events you have to come or the activities you have to do. It reminds you every day. So, it helps you ensure that you do not miss any important event or activities in a week. Then, your weekly plan will run well.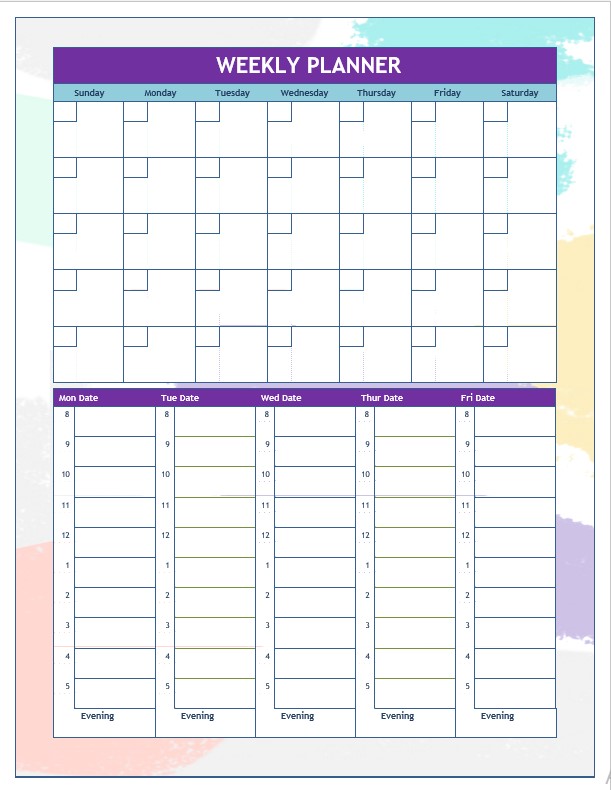 There are many ways to keep remembering your schedules. This printable weekly planner template can be a good and effective tool to help you remember your schedules. With this planner, you can be more focused on your activities without worrying that there is something important to miss.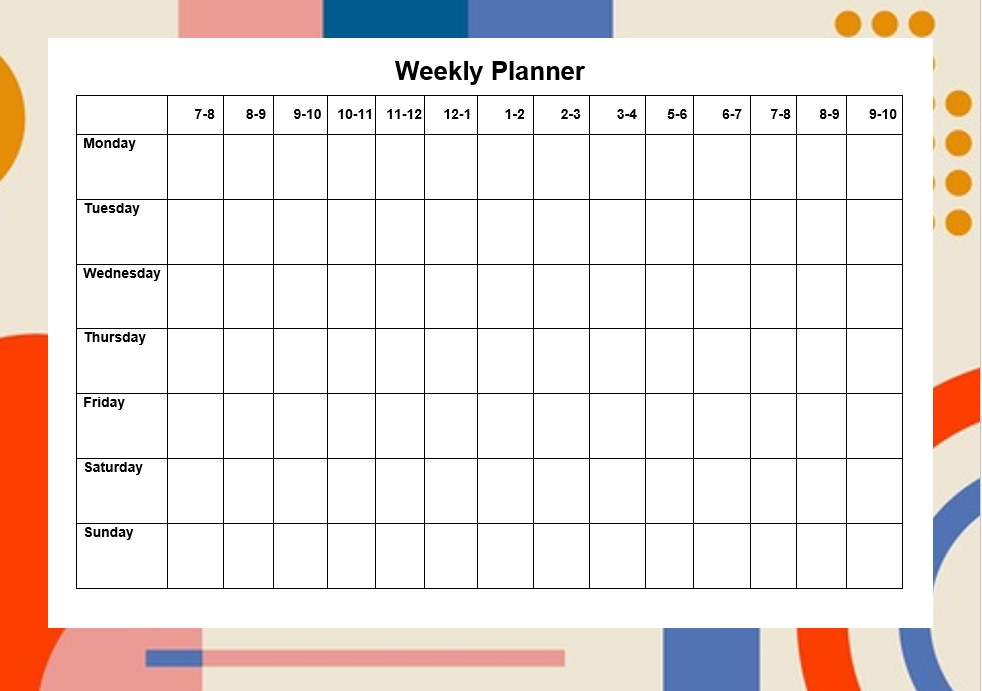 Printable weekly planner template is very useful to remind you about your schedules in a week. It can remind you about appointments, meetings, and other important activities.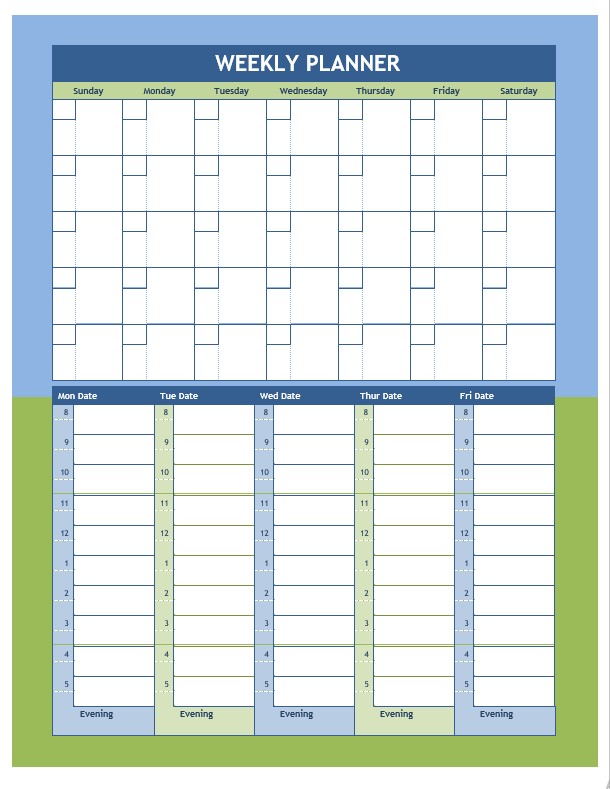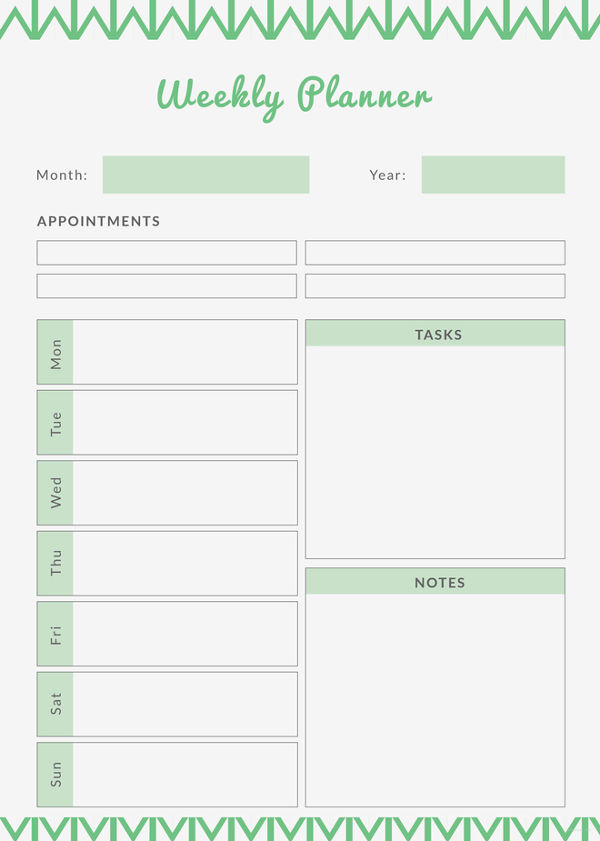 Choose the template you want to use and click Create. When the template is ready, you can complete the crucial details of the business trips for a simple reference. Although it will create the programming automatically, you can still control the programming in many ways. Finding a calendar template for August 2018 is quite fast. The August 2018 calendar templates come in many designs. The blank calendar templates of January 2019 come in several designs.
You can obtain a template to incorporate the purpose of the trip, with a section that includes reminders to customize the travel planner template of your organization, according to your requirements. You will see that some of the templates are completely free to use and others expect a premium account. Providentially, the templates in our next section will help alleviate a number of the financial stress that comes with such an important purchase. They can also be useful when you try to lose or maintain your current weight. Photo templates allow you to take a picture to the calendar. The templates are also offered in a wide range of colors and designs. Our September 2018 calendar templates are made to help make your planning an easy and enjoyable activity.
Everyone is looking for calendars, and it is very easy to get an appropriate schedule according to the requirements. It is also possible to use the calendar without dates and only have a daily and weekly schedule for practically any month. Calendars also come in a wide variety of color selections. It is a system that is used to organize days based on social and religious values. There are many ways in which it is possible to use a printed calendar. You can make your own calendar. A blank daily calendar gives you the freedom to customize the template to coordinate with your requirements.
You can learn to earn a monthly calendar. If you are looking for a monthly calendar of 2018, then you are in the right place. For me, acquiring a physical calendar is one of my most important tools to stay anchored to my goals and tasks. In summary, a printable calendar is remarkably beneficial for all those who wish to stay organized. Calendar for August 2018 The calendar for printing is the ideal approach to try to remember the essential dates.
Planners are not just for adults! It is important not to forget that there are no incorrect tactics to use a planner. The best type of planner is one that works well for you. A blog post planner understands much more than just the action of writing the blog post. It is not an exhaustive list of everything you do to create a blog post.
Paper planners make it easy to observe commitments and meetings at a glance, but they can often be expensive to buy. The printable planner can help you deepen your central focus. A fundamental planner is an excellent method to start teaching time management skills. Now, if you're not a gym enthusiast, an exercise schedule planner is exactly what you need.
Printable weekly planner template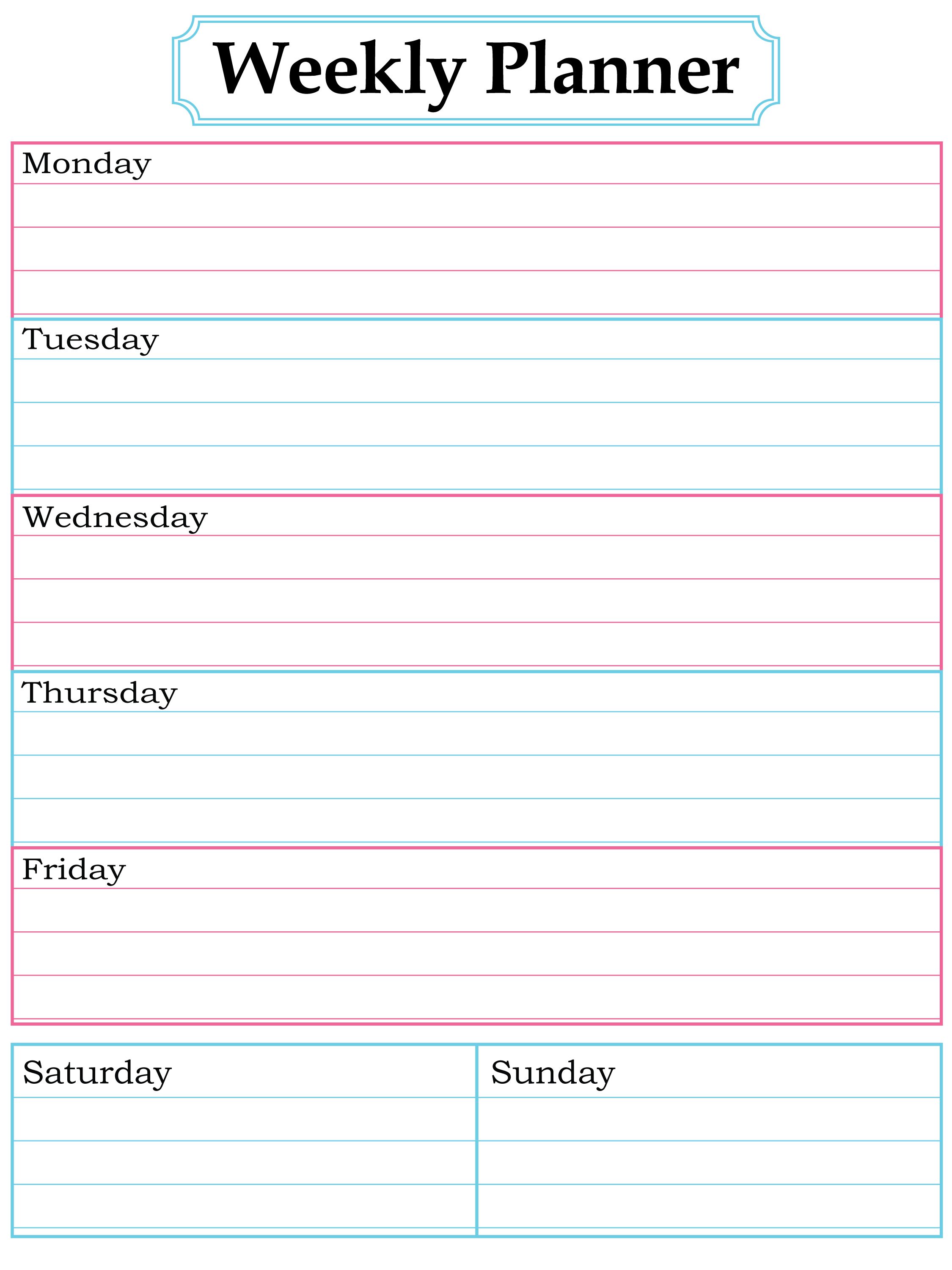 By : www.vertex42.com
Weekly planner printable. Nice, simple, clean lines. | Free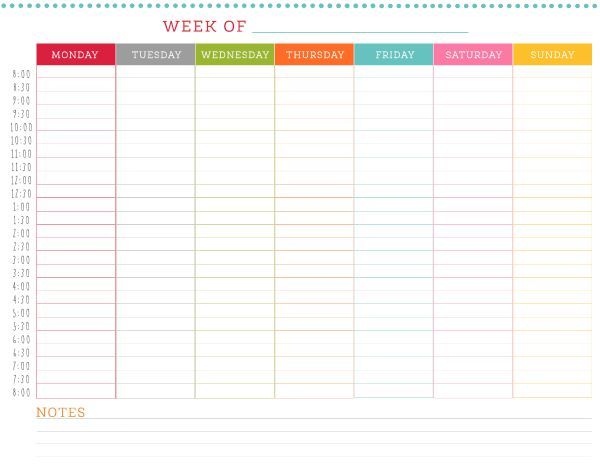 By : www.pinterest.es