Complete a new camp counselor job description from now and hire people to handle this position. It is the right time to prepare and you will have a ready to work for staff when the summer comes. Hopefully, the Coronavirus (COVID-19) already disappears and this summer camp counselor job description can run smoothly. Keep spirit and learn the following information!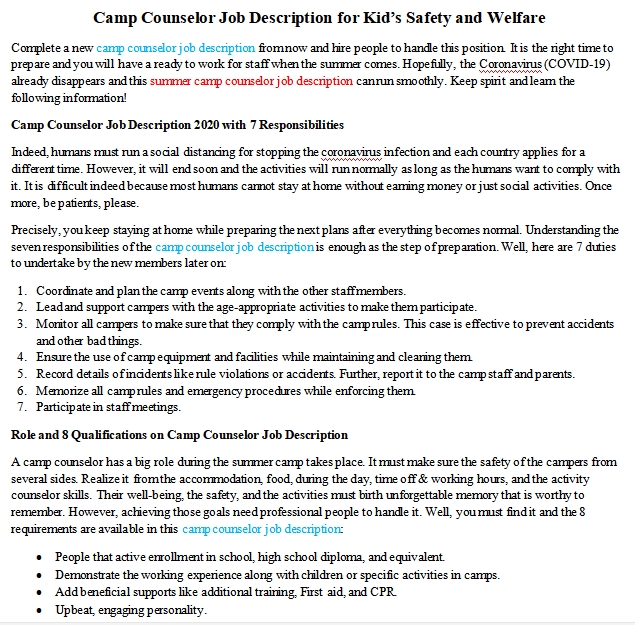 Camp Counselor Job Description 2020 with 7 Responsibilities
Indeed, humans must run a social distancing for stopping the coronavirus infection and each country applies for a different time. However, it will end soon and the activities will run normally as long as the humans want to comply with it. It is difficult indeed because most humans cannot stay at home without earning money or just social activities. Once more, be patients, please.
Precisely, you keep staying at home while preparing the next plans after everything becomes normal. Understanding the seven responsibilities of the camp counselor job description is enough as the step of preparation. Well, here are 7 duties to undertake by the new members later on:
Coordinate and plan the camp events along with the other staff members.
Lead and support campers with the age-appropriate activities to make them participate.
Monitor all campers to make sure that they comply with the camp rules. This case is effective to prevent accidents and other bad things.
Ensure the use of camp equipment and facilities while maintaining and cleaning them.
Record details of incidents like rule violations or accidents. Further, report it to the camp staff and parents.
Memorize all camp rules and emergency procedures while enforcing them.
Participate in staff meetings.
Role and 8 Qualifications on Camp Counselor Job Description
A camp counselor has a big role during the summer camp takes place. It must make sure the safety of the campers from several sides. Realize it from the accommodation, food, during the day, time off & working hours, and the activity counselor skills. Their well-being, the safety, and the activities must birth unforgettable memory that is worthy to remember. However, achieving those goals need professional people to handle it. Well, you must find it and the 8 requirements are available in this camp counselor job description:
People that active enrollment in school, high school diploma, and equivalent.
Demonstrate the working experience along with children or specific activities in camps.
Add beneficial supports like additional training, First aid, and CPR.
Upbeat, engaging personality.
It is proficient in understanding several physical activities. The camp counselor will participate in climbing, running, swimming, lifting, until supporting the children's weight.
Demonstrate pass backgrounds like immunizations and physical checks.
It has a high level of accountability and responsibility.
Strong skills in leadership, communication, and interpersonal.
Hopefully, the camp counselor job description today can kill your boringness at home. It builds your spirit and ideas to move forward to brand a new day. Everything will be okay so feel free to hire new staff. Good luck!
FAQ:
A camp counselor is a staff working for guiding the children during staying in a camp. It also ensures the safety of children to prevent accidents or rule violations. So, the children will come home with a meaningful experience.
What is the Role during the Camp Activities?
The responsibilities include assisting in the process of activity planning. It also receives special training and leads the participants to join the camp events.
What are the Main Responsibilities of a Camp Counselor?
There are some roles that the camp counselor must meet such as accommodation, food, and skill activities. Besides that, it has roles in the working hours, time off, and during the day.
Similar Posts: