A custodian must be one who works at schools, hospitals, or museums to clean the buildings. The custodian job description must include maintaining the building's condition, mowing lawns, shoveling snow, raking fallen leaves, etc. A custodian is also known as a janitor. Usually, a custodian will use the custodian job description template to arrange and manage all of his tasks well.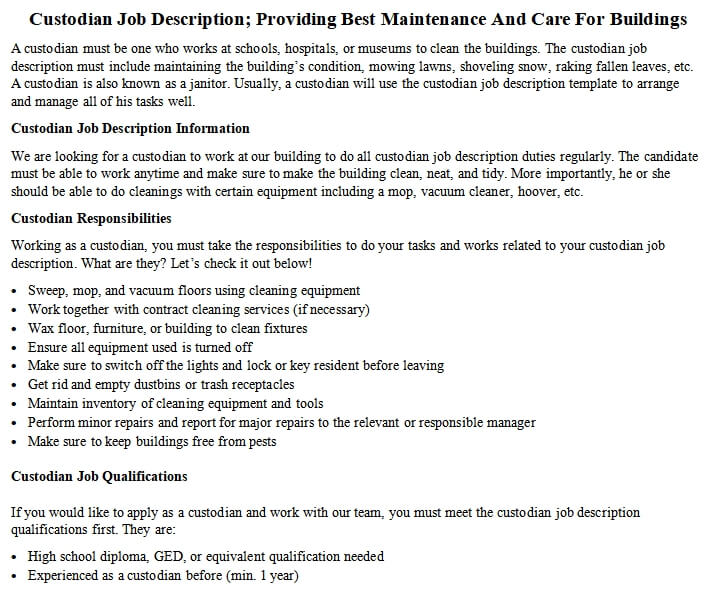 Custodian Job Description Information
We are looking for a custodian to work at our building to do all custodian job description duties regularly. The candidate must be able to work anytime and make sure to make the building clean, neat, and tidy. More importantly, he or she should be able to do cleanings with certain equipment including a mop, vacuum cleaner, hoover, etc.
Custodian Responsibilities
Working as a custodian, you must take the responsibilities to do your tasks and works related to your custodian job description. What are they? Let's check it out below!
Sweep, mop, and vacuum floors using cleaning equipment
Work together with contract cleaning services (if necessary)
Wax floor, furniture, or building to clean fixtures
Ensure all equipment used is turned off
Make sure to switch off the lights and lock or key resident before leaving
Get rid and empty dustbins or trash receptacles
Maintain inventory of cleaning equipment and tools
Perform minor repairs and report for major repairs to the relevant or responsible manager
Make sure to keep buildings free from pests
Custodian Job Qualifications
If you would like to apply as a custodian and work with our team, you must meet the custodian job description qualifications first. They are:
High school diploma, GED, or equivalent qualification needed
Experienced as a custodian before (min. 1 year)
Have further experience of using varied cleaning equipment will be a plus point (not too necessary)
Pay attention to details
Have great communication skills (both verbal and written)
Good teamwork and organizational skills
Excellent attitude and interpersonal skills
Basic mathematic knowledge
Be able to handle basic maintenance repairs with minimal supervision
Be willing to work with an agent
Physically agile and may work for hours
Understand the use of chemical for cleaning
Custodian FAQ
What is a Custodian?
A custodian must be the one with a great cleaning service to maintain the building and make it neat and tidy. He may do several tasks at the same time including vacuuming and mopping the floors, emptying trash, fixing fixtures, doing minor repairs, etc. A custodian is pretty similar to the janitor.
What Should You Include in A Custodian Job Vacancy?
If you are going to post a custodian job vacancy, you should mention all primary requirements, skills, standards, and qualifications needed. Make sure the applicants have excellent communication skills. Therefore, they might work with a team or report major repairs to the manager. A good custodian must be agile and dexterous.
Do You Need to Interview Applicants for A Custodian?
A custodian must require a lot of cleaning works at the same time. He or she must be physically fit and healthy. Plus, he should be able to work anytime whether it is on weekends or during public holidays. Therefore, having a direct interview may be useful to find skillful applicants.
That's all about the custodian job; hopefully, it will be helpful for those who need this information.
Similar Posts: