An electrician becomes the one who works on the electricity to install, maintain, or repair power or lighting. He is a professional and usually works for buildings, homes, factories, or businesses' needs. The electrician job description must also include managing communication and control systems, repairing broken wiring, and many more. An electrician always takes the electrician job description template to make sure he does all his works.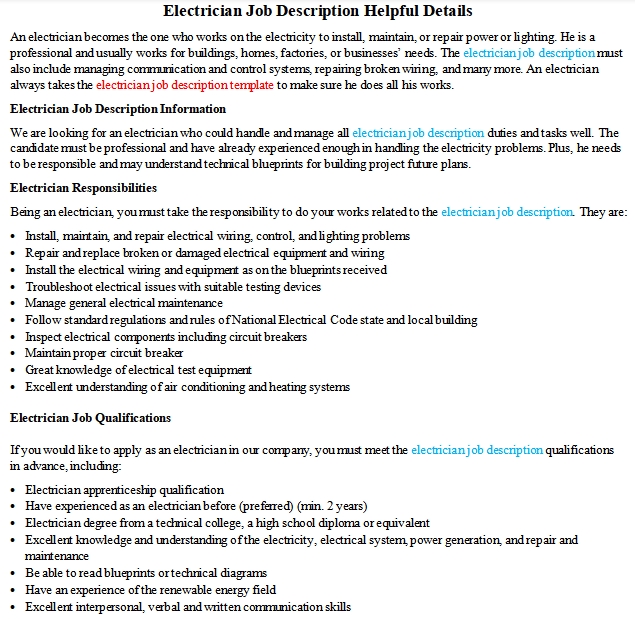 Electrician Job Description Information
We are looking for an electrician who could handle and manage all electrician job description duties and tasks well. The candidate must be professional and have already experienced enough in handling the electricity problems. Plus, he needs to be responsible and may understand technical blueprints for building project future plans.
Electrician Responsibilities
Being an electrician, you must take the responsibility to do your works related to the electrician job description. They are:
Install, maintain, and repair electrical wiring, control, and lighting problems
Repair and replace broken or damaged electrical equipment and wiring
Install the electrical wiring and equipment as on the blueprints received
Troubleshoot electrical issues with suitable testing devices
Manage general electrical maintenance
Follow standard regulations and rules of National Electrical Code state and local building
Inspect electrical components including circuit breakers
Maintain proper circuit breaker
Great knowledge of electrical test equipment
Excellent understanding of air conditioning and heating systems
Electrician Job Qualifications
If you would like to apply as an electrician in our company, you must meet the electrician job description qualifications in advance, including:
Electrician apprenticeship qualification
Have experienced as an electrician before (preferred) (min. 2 years)
Electrician degree from a technical college, ahigh school diploma or equivalent
Excellent knowledge and understanding of the electricity, electrical system, power generation, and repair and maintenance
Be able to read blueprints or technical diagrams
Have an experience of the renewable energy field
Excellent interpersonal, verbal and written communication skills
Great teamwork
Have a valid driving license
Pay attention in detail
Electrician FAQ
What is an Electrician?
An electrician must be the one with great experience to work on electrical equipment under construction. He does not only install electrical power but also maintain, repair, and perform electrical power. Usually, when you build a house, you do not only need the constructor but also the electrician. Without an electrician, you might not be able to enjoy the lighting in your home.
What Should You Include in An Electrician Job Vacancy?
If you are going to post an electrician job vacancy, you should require all the important skills, standards, and qualifications. Make sure the applicant has excellent knowledge of electricity including how to install, repair, or manage electrical control or wiring based on the blueprints or technical diagrams given.
Do You Need to Interview Applicants for An Electrician?
An electrician must be experienced enough to work on electricity. This job is risky for a person without a lack of knowledge and understanding of electrical components and equipment. Therefore, you must interview the applicant to make sure they are from technical college and experienced enough. It is also important to look for the one that enables to read technical blueprints for starting a building project.
That's all about the electrician job; hopefully, it will be useful for those who need this to post an electrician job vacancy.
Similar Posts: