A housekeeping supervisor must be one who is responsible to oversee all the housekeeping staff works. The housekeeping supervisor job description must include ensuring all the office buildings, houses, hotels, hospitals, resorts, universities, etc. clean and tidy. A housekeeping supervisor may also ask all personnel to obey the safety and sanitation standards. To manage his tasks, usually, a housekeeping supervisor will take advantage of the housekeeping supervisor job description template.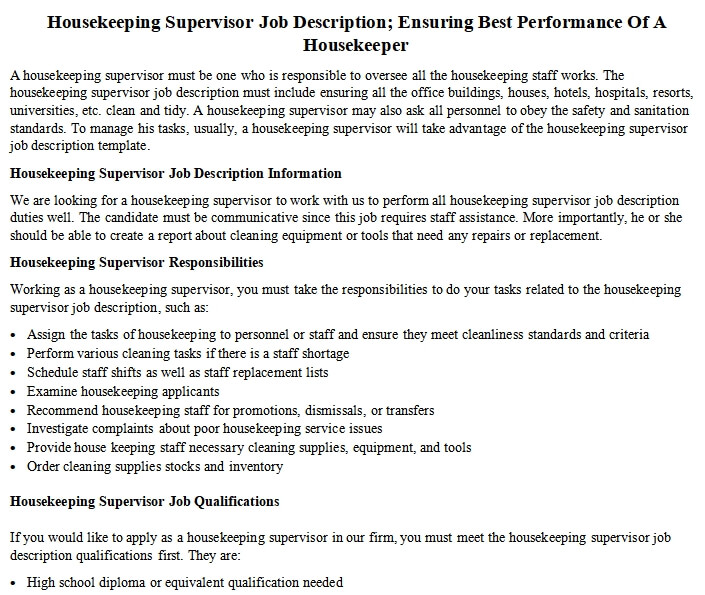 Housekeeping Supervisor Job Description Information
We are looking for a housekeeping supervisor to work with us to perform all housekeeping supervisor job description duties well. The candidate must be communicative since this job requires staff assistance. More importantly, he or she should be able to create a report about cleaning equipment or tools that need any repairs or replacement.
Housekeeping Supervisor Responsibilities
Working as a housekeeping supervisor, you must take the responsibilities to do your tasks related to the housekeeping supervisor job description, such as:
Assign the tasks of housekeeping to personnel or staff and ensure they meet cleanliness standards and criteria
Perform various cleaning tasks if there is a staff shortage
Schedule staff shifts as well as staff replacement lists
Examine housekeeping applicants
Recommend housekeeping staff for promotions, dismissals, or transfers
Investigate complaints about poor housekeeping service issues
Provide house keeping staff necessary cleaning supplies, equipment, and tools
Order cleaning supplies stocks and inventory
Housekeeping Supervisor Job Qualifications
If you would like to apply as a housekeeping supervisor in our firm, you must meet the housekeeping supervisor job description qualifications first. They are:
High school diploma or equivalent qualification needed
Experienced as a housekeeping supervisor before (min. 2 years)
Have housekeeping experience or hospitality will be a preferable
Excellent customer service
Have great communication skills (both verbal and written)
Great teamwork
Strong interpersonal, organizational, and multi-tasking skills
Know how to operate Microsoft Office
Willing to work for an extended period
Housekeeping Supervisor FAQ
What is a Housekeeping Supervisor?
A housekeeping supervisor must be the one with great knowledge and understanding of housekeeping. He or she may do several housekeeping tasks at the same time if housekeeping staff are absent and there is no replacement. A housekeeping supervisor will ensure the works and performances of housekeeping personnel as well as handle and solve complaints from the homeowners.
What Should You Include in A Housekeeping Supervisor Job Vacancy?
If you are going to post a housekeeping supervisor job vacancy, you should mention all the primary requirements and qualifications. Make sure the applicant has excellent communication skills. Remember, a housekeeping supervisor must be the one who will manage and lead housekeeping personnel. A good housekeeping supervisor must be reliable, responsible, and professional.
Do You Need to Interview Applicants for A Housekeeping Supervisor?
A housekeeping supervisor must require a lot of works at one time. He or she must have great time-management and multitasking skills. Plus, he should be able to deal with any clients' complaints and issues related to housekeeping services. Therefore, having a direct interview may be beneficial to test whether or not the candidates perform excellent customer service.
That's all about the housekeeping supervisor job; hopefully, it will be useful for those who want to create a housekeeping template.
Similar Posts: