A lab assistant is a person who helps the technologists or scientists to do their lab research and test. He or she must be professional and have great knowledge of using laboratory equipment and tool. The lab assistant job description must also include processing and identifying samples given, classifying results, and reporting findings. A lab assistant may get the lab assistant job description template to inform him or her about her duties.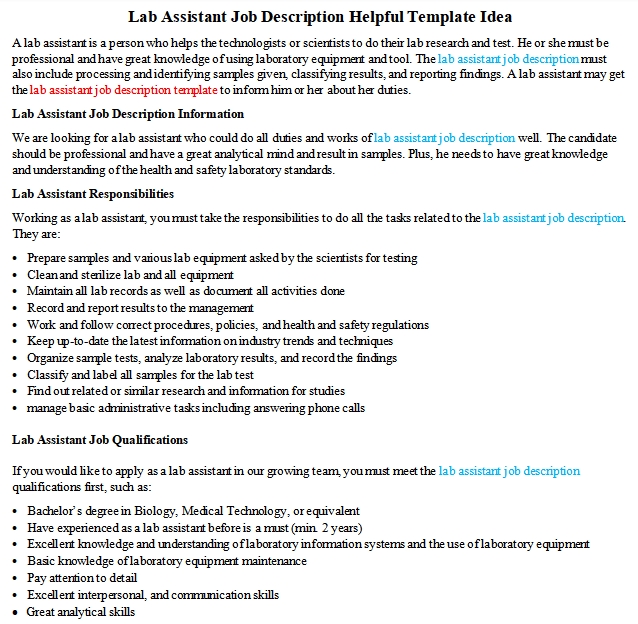 Lab Assistant Job Description Information
We are looking for a lab assistant who could do all duties and works of lab assistant job description well. The candidate should be professional and have a great analytical mind and result in samples. Plus, he needs to have great knowledge and understanding of the health and safety laboratory standards.
Lab Assistant Responsibilities
Working as a lab assistant, you must take the responsibilities to do all the tasks related to the lab assistant job description. They are:
Prepare samples and various lab equipment asked by the scientists for testing
Clean and sterilize lab and all equipment
Maintain all lab records as well as document all activities done
Record and report results to the management
Work and follow correct procedures, policies, and health and safety regulations
Keep up-to-date the latest information on industry trends and techniques
Organize sample tests, analyze laboratory results, and record the findings
Classify and label all samples for the lab test
Find out related or similar research and information for studies
manage basic administrative tasks including answering phone calls
Lab Assistant Job Qualifications
If you would like to apply as a lab assistant in our growing team, you must meet the lab assistant job description qualifications first, such as:
Bachelor's degree in Biology, Medical Technology, or equivalent
Have experienced as a lab assistant before is a must(min. 2 years)
Excellent knowledge and understanding of laboratory information systems and the use of laboratory equipment
Basic knowledge of laboratory equipment maintenance
Pay attention to detail
Excellent interpersonal, and communication skills
Great analytical skills
Lab Assistant FAQ
What is A Lab Assistant?
A lab assistant must be the one with great knowledge of medical technology who works to help the scientists to test samples. He or she may also take the responsibilities to maintain the laboratory equipment as well as clean and sterilize them before and after being used. A lab assistant should know how to use lab equipment for sure
What Should You Include in A Lab Assistant Job Vacancy?
If you are going to post a lab assistant job vacancy, you should mention all needed skills, requirements, and qualifications. Make sure the applicant has a great understanding of laboratory equipment usage. Plus, it is important to look for the communicative lab assistants to get along with the scientists themselves.
Do You Need to Interview Applicants for A Lab Assistant?
A lab assistant must be familiar with the laboratory sample testing. Plus, he or she must know the safety standard, procedure, and other health regulations in advance. Having an interview with the applicants, you must ask them how to sterilize laboratory equipment. You may also ask for experience stories or anything.
That's all about the lab assistant job; hopefully, it might help you to create a template idea for your lab assistant vacancy.
Similar Posts: