A lab technician works in a laboratory to support an investigation by doing some technical experiments. He or she supposes to analyze samples or substances with the required equipment to discover or find a result. The lab technician job description must also include testing the samples given and reporting findings. A lab technician must need the lab technician job description template to manage his or her working schedule.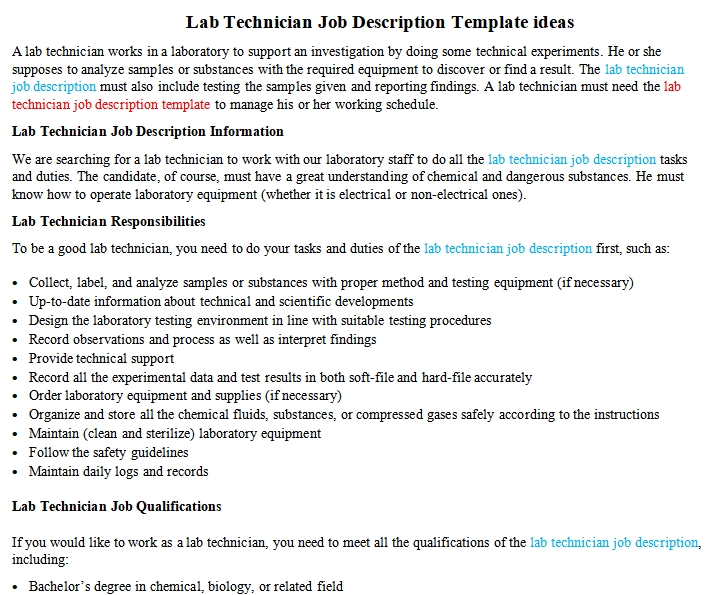 Lab Technician Job Description Information
We are searching for a lab technician to work with our laboratory staff to do all the lab technician job description tasks and duties. The candidate, of course, must have a great understanding of chemical and dangerous substances. He must know how to operate laboratory equipment (whether it is electrical or non-electrical ones).
Lab Technician Responsibilities
To be a good lab technician, you need to do your tasks and duties of the lab technician job description first, such as:
Collect, label, and analyze samples or substances with proper method and testing equipment (if necessary)
Up-to-date information about technical and scientific developments
Design the laboratory testing environment in line with suitable testing procedures
Record observations and process as well as interpret findings
Provide technical support
Record all the experimental data and test results in both soft-file and hard-file accurately
Order laboratory equipment and supplies (if necessary)
Organize and store all the chemical fluids, substances, or compressed gases safely according to the instructions
Maintain (clean and sterilize) laboratory equipment
Follow the safety guidelines
Maintain daily logs and records
Lab Technician Job Qualifications
If you would like to work as a lab technician, you need to meet all the qualifications of the lab technician job description, including:
Bachelor's degree in chemical, biology, or related field
Experienced as a lab technician before (min. 2 years) (preferred)
Possess a valid Laboratory Technician license
Enable to operate electrical and non-electrical laboratory equipment
Great understanding and knowledge of handling dangerous substances including liquids, flammable, etc.
Great verbal and written communication skills
Excellent knowledge of QHSE management system
Could operator computer as well as database systems and Office Suite
Analytical, fast problem-solving ability
Ability to work alone and with a team
Great dexterity and hand-eye coordination skills
Lab Technician FAQ
What is a Lab Technician?
A lab technician must be the one with great knowledge of testing and analyzing samples or substances given to get findings. Usually, he or she does so many experimental tests with samples just to help to solve the case from the policeman. A lab technician is used to handle and manage dangerous substances. Therefore, it is easy to analyze flammable substances.
What Should You Include in A Lab Technician Job Vacancy?
If you are going to post a lab technician job vacancy, you must write down all the requirements and qualifications. Make sure the applicants understand how to use laboratory equipment, how to test samples, how to analyze dangerous substances, etc. A lab technician supposed to have great knowledge and understanding of the chemical to help to test the samples.
Do You Need to Interview Applicants for A Lab Technician?
A lab technician must not only be great in analyzing and testing the samples and substances but also be communicative. He or she will report findings to certain people like policemen, for instance. Therefore, let you interview them directly to find whether or not applicants suit your qualifications.
That's all about the lab technician works description; hopefully, it will be useful for you who want to create a lab technician template.