Never Run Out Of Ideas with Effective Physical Education Lesson Plan
What do you have in mind about using a physical education lesson plan to teach physical lessons? Will it be effectively applied? Well, if you are a physical education teacher, you must have a wide range of physical lessons and activities to keep your students fit and improve their sports skills.
Believe it or not, using this lesson plan is an intelligent way of staying in the class in perfect order. It will never make the teacher run out of ideas of what to teach and what outdoor activities to do as planned. Besides, creating and using this kind of lesson plan is one of the teachers' requirements.
Thus, we come to offer you the effective physical education lesson plan samples to spring your mind that nothing can be retained well without a proper plan.
Simple Physical Education Lesson Plan Template
If you are feeling tired of seeing the complicated lesson plan, here we have a simple lesson plan template of physical education you can download. As its name, it has a simple design along with simple-organized plans. Learning objectives, learning activities, and teaching methods are included after the information details such as the teacher's name, name of the school, grade, and date.
You can surely download this simple lesson plan to teach physical in Google Docs, Pages and MS Word file format with A4 and US letter size.
High School Physical Education Lesson Plan Template
If you look at this lesson plan carefully, it comes with 5 columns enabling you to add the topics, time frame, information and resources, and the next generation sunshine state standards. Though it looks a bit complicated, the easy and structural format of the lesson plan will allow you to understand the lesson plan easily and carry on the implementation effectively.
Now, this high school physical education lesson plan template is available to download freely in PDF file format.
Soccer Physical Education Lesson Plan
So you are opening a soccer class in the afternoon, here are the soccer physical education lesson plan that helps you to organize your soccer class. There are two major sections in this lesson plan. The first major is the detailed break-up of standards, goals, and objectives of the lesson plan. The rest is about the necessary equipment.
Download this soccer lesson plan in PDF file format so that you can use it to focus on teaching soccer as planned.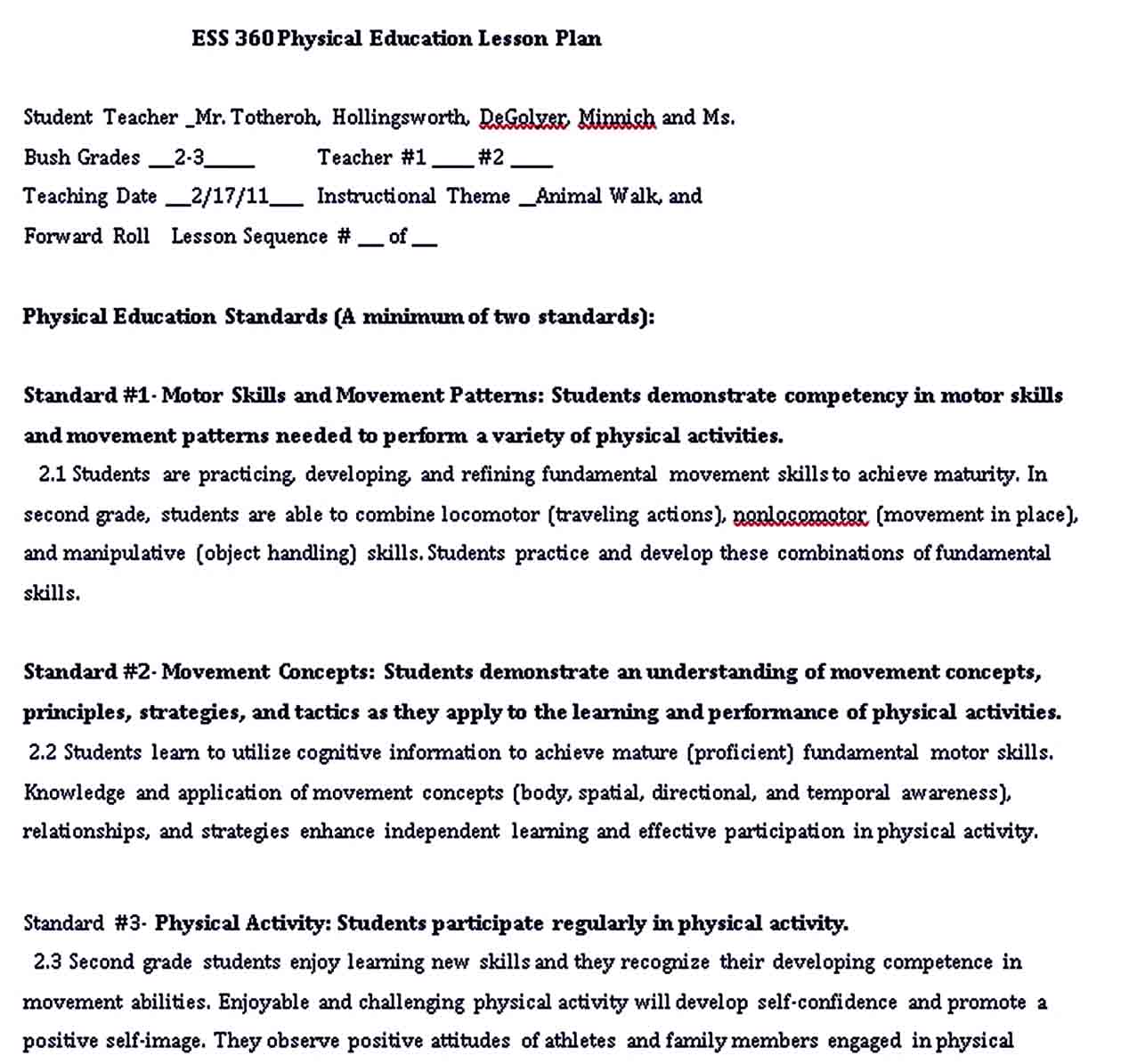 See also other samples of the physical education lesson plan below.