A pipe welder is a professional, well-skilled worker whose work is related to the pipe installation activity. The pipe welder job description will include joining all the pipe parts or tubular components to specific standards. A pipe welder also performs pipe repair and maintenance as well. Usually, he tends to work on-site in any condition and climate. A pipe welder must take advantage of the pipe welder job description details to avoid from doing errors.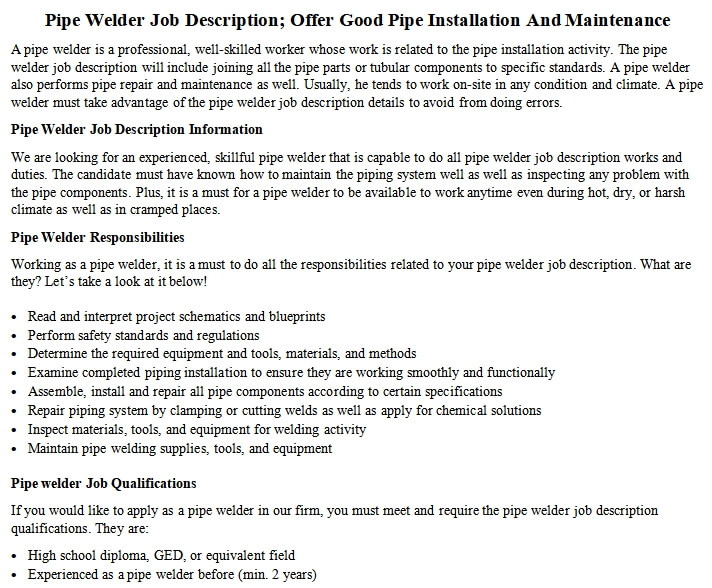 Pipe Welder Job Description Information
We are looking for an experienced, skillful pipe welder that is capable to do all pipe welder job description works and duties. The candidate must have known how to maintain the piping system well as well as inspecting any problem with the pipe components. Plus, it is a must for a pipe welder to be available to work anytime even during hot, dry, or harsh climate as well as in cramped places.
Pipe Welder Responsibilities
Working as a pipe welder, it is a must to do all the responsibilities related to your pipe welder job description. What are they? Let's take a look at it below!
Read and interpret project schematics and blueprints
Perform safety standards and regulations
Determine the required equipment and tools, materials, and methods
Examine completed piping installation to ensure they are working smoothly and functionally
Assemble, install and repair all pipe components according to certain specifications
Repair piping system by clamping or cutting welds as well as apply for chemical solutions
Inspect materials, tools, and equipment for welding activity
Maintain pipe welding supplies, tools, and equipment
Pipe welder Job Qualifications
If you would like to apply as a pipe welder in our firm, you must meet and require the pipe welder job description qualifications. They are:
High school diploma, GED, or equivalent field
Experienced as a pipe welder before (min. 2 years)
Trade School Diploma completion is preferable
AWS certification
Have great communication skills (both verbal and written one)
Strong knowledge and understanding of API, ASME, AWS, and ANSI codes and standards
Great interpersonal skill
Enable to use of welding tools and equipment
Pay attention to details
Great problem-solving and technical skills
Ability to read blueprints and schematics
Physically agile
Pipe Welder FAQ
What is a Pipe Welder?
A pipe welder must be the one who is responsible to weld and install the piping system in any condition and climate. He must physically dexterous and agile so that he may work anywhere even in cramped places.
What Should You Include in a Pipe Welder Job Vacancy?
If you are going to post a pipe welder job vacancy, you should include all required skills, and qualifications. Make sure the applicant is experienced in pipe system installation. Plus, it is a must for her to be able to read the blueprints and schematics for a certain project.
Do You Need to Interview Applicants for a Pipe Welder?
A pipe welder must work in any climate even whether it is warmer, snowy, harsh, or dry. Therefore, it is a must for the pipe welder applicants to have strong physic and energic stamina. By having a direct interview, you might be able to employ the best pipe welder candidate.
That's all about the pipe welder job; hopefully, it will be a useful template for those who want to post a pipe welder vacancy.
Similar Posts: