A practice manager can also be called a medical office manager. He/she oversees the daily operations of medical practice, to ensure that it smoothly runs & meets its financial goals. Of course, there are still many more duties to do. We will discuss the practice manager job description further.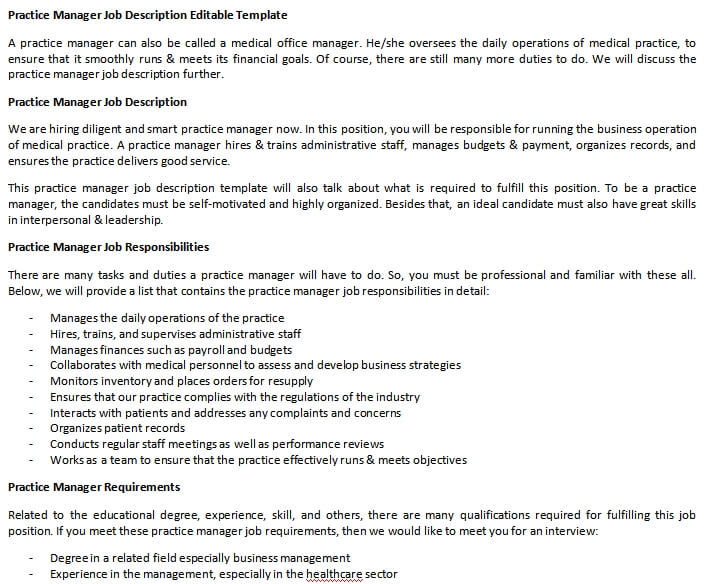 Practice Manager Job Description
We are hiring diligent and smart practice manager now. In this position, you will be responsible for running the business operation of medical practice. A practice manager hires & trains administrative staff, manages budgets & payment, organizes records, and ensures the practice delivers good service.
This practice manager job description template will also talk about what is required to fulfill this position. To be a practice manager, the candidates must be self-motivated and highly organized. Besides that, an ideal candidate must also have great skills in interpersonal & leadership.
Practice Manager Job Responsibilities
There are many tasks and duties a practice manager will have to do. So, you must be professional and familiar with these all. Below, we will provide a list that contains the practice manager job responsibilities in detail:
Manages the daily operations of the practice
Hires, trains, and supervises administrative staff
Manages finances such as payroll and budgets
Collaborates with medical personnel to assess and develop business strategies
Monitors inventory and places orders for resupply
Ensures that our practice complies with the regulations of the industry
Interacts with patients and addresses any complaints and concerns
Organizes patient records
Conducts regular staff meetings as well as performance reviews
Works as a team to ensure that the practice effectively runs & meets objectives
Practice Manager Requirements
Related to the educational degree, experience, skill, and others, there are many qualifications required for fulfilling this job position. If you meet these practice manager job requirements, then we would like to meet you for an interview:
Degree in a related field especially business management
Experience in the management, especially in the healthcare sector
Great computer literacy
Leadership qualities
Good skills in communication
Exceptional organizational skills
Professional appearance
Good understanding of finance management
Different companies may require different qualifications. Sometimes, there are additional required skills, experience, etc.
Practice Manager Job Description FAQs
What does a practice manager do?
A practice or medical office manager oversees the daily operations of medical practice, to ensure that it smoothly runs & meets its financial goals. The more detailed job description can be seen in the template above.
Can I edit the posted job description template here?
Of course, you can. You are allowed to tailor this medical office manager job description to your needs. In fact, you may give different duties and require different qualifications.
Do you have interview questions for a practice manager?
This web does not only contain the practice manager job description but also a collection of questions you can use to interview all candidates.
Similar Posts: