Printable Immunization Records: Recording and Keeping Track on Vaccination
In some situations, you will be asked to show the record of your vaccination or immunization. This record is considered to be essential in certain cases. You can obtain printable immunization records from various sources these days. Thus, you will not need to think about the appropriate format if you do not have this document on hand.
What is an Immunization or Vaccination Record?
An immunization or vaccination record is a document that contains list of vaccines that someone has received throughout their life. Perhaps you will see this document linked to children. Indeed, since a child receives more vaccines in their age compared to adult, the documentation tends to be more comprehensive. Nonetheless, adult can have a record of their vaccination too.
There are so many uses of this record. When you are applying for some types of jobs, you will be required to show it. A student may also need to provide the record at time of school application. If you are planning to travel to certain countries, you may also need to prove that you have gotten specific vaccines. Thus, printable immunization records are very handy.
Content of a Vaccination Record
Person's Personal Information
Reader needs to know who is referred in the vaccination record. Personal information of the vaccine recipient is usually displayed on top of the document. The information included such as person's full name and date of birth (to know the person's age).
Allergies and Other Health Conditions
Another important content that must be included in the record is the recipient's medical conditions such as allergies. This part lists allergies that the person has. It can inform reader about illness that the vaccine recipient has. You can also find notes about their reactions toward vaccines given here.
Names and Types of Vaccines
The names and types of vaccines being given to recipient must have specific spot in the record. This aspect is very important since it informs reader about the kinds of vaccines record owner has gotten and makes them more identifiable.
Administration Date
Administration date for each vaccine must be included in all printable immunization records. The date informs reader if the person has received a vaccine on time and whether they need to redo it.
Vaccine Administrator
The administrator of vaccination must be recorded in this document as well. It can be the doctor's name or health institution where the vaccine was given. The administrator can be held accountable for its result if their name is written clearly on the document.
The Upcoming Schedule
In some records, you will see a column specific for the upcoming vaccination schedule. This is especially important for parents of young children. Knowing when the next vaccination time will ensure that they will do it on time.
Filling the Vaccination Record
Who is responsible for filling the printable immunization records? If you can get the medical personnel who performs vaccination to fill it, then that would be fantastic. However, you can definitely fill it on your own. Parents can also fill the document for their children. In some countries you can find the electronic version of this document in government's health care websites.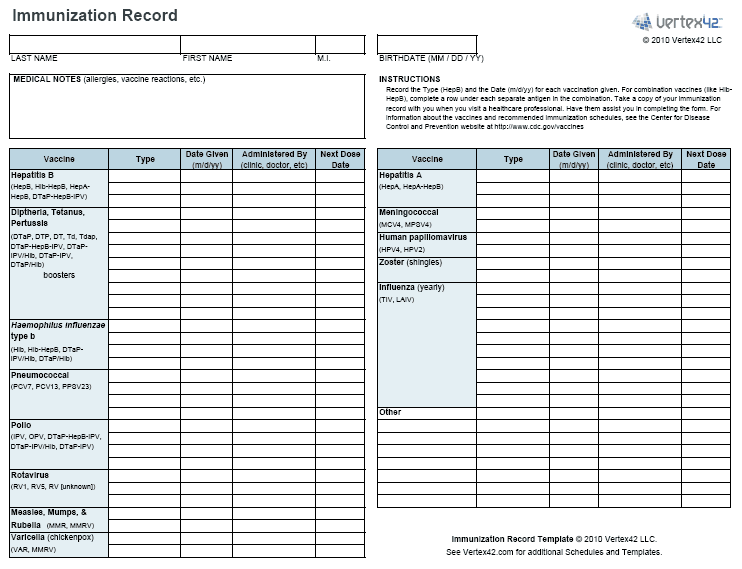 You may be able to obtain records directly from the company, but you may have to pay a fee. Therefore, your records may not be complete. The records that are sealed can then be revealed by the individual and can be used in the event of a declared public health emergency. Immunization records are essential for you and your loved ones. If you can not find any vaccination record, you may need to repeat some vaccines. Finding old vaccination records can be a challenge. If you still can not track the precise vaccination record, enter your email address.
If you are looking for your vaccination records, the health unit can have a copy. Remember that most doctors' offices only store vaccination records for a couple of years after they have stopped attending, so they may not be there. Immunization records are a critical part of the immunization approach. An NDIIS immunization record can also be initiated through a health care provider at the appropriate time of the young person's first immunizations.
As a way to access ICON, you will need your Ontario Health Card (or your child's). If you can not discover your child's immunization records from your health care provider or health department or if your records are incomplete, your child should be considered susceptible to the disease and needs to be vaccinated (or revaccinated). In case you or your child was not born in the city, your provider will require a duplicate vaccination history to increase the CIR record. Your immunization information (and your children's) can be provided by phone, fax, mail or you may pick it up in person. If you have children, the form will be particularly useful. Meanwhile, the young man must be admitted to school. Children and adolescents who have received all the recommended vaccines according to the vaccination schedule will not require more immunizations.
Vaccines are the safest approach to protect you, your children and your community from a host of serious and life-threatening illnesses. It is safe for your child to receive a vaccine, even if they have already received it. When you can not document having received a previously needed vaccine, you may need to get a vaccination again. Each recipient of the vaccine must receive a permanent record of personal vaccination. Immunizations, also known as vaccines, are among our best defenses against many serious diseases. The selected vaccines are offered in the health departments. Teen vaccines, including Tdap, can also be purchased at your neighborhood health department.
Purged information can not be recovered. Immunization information should be readily available and should not be filed in a health record. Gathering old immunization information can be a challenge and take a long time. The CDC offers additional information and suggestions on how to locate your immunization records.
JPEG files should be avoided. It is crucial to share a copy of your vaccination record with your health care provider if you are pregnant or planning a pregnancy. You should also keep a backup copy of your paper immunization record in a safe place.
printable immunization records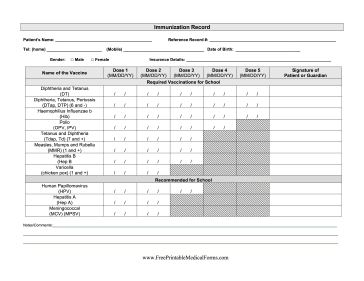 By : www.freeprintablemedicalforms.com
Free printable Immunization Record (PDF) from Vertex42.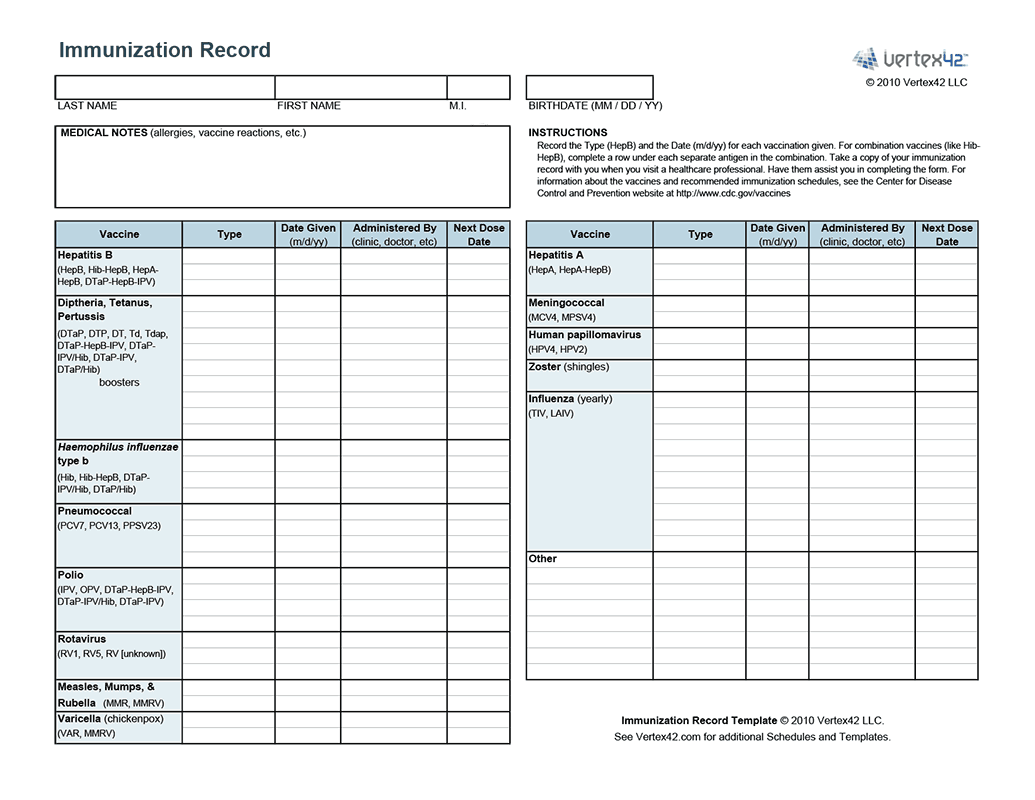 By : www.pinterest.com
Similar Posts: