A quality inspector becomes the one that monitors and oversees the quality importing and exporting of the company products. Usually, he or she will work in line with the production department. Anyway, the quality inspector job description may also include analyzing measurement, conducting tests, and watching over the production process. A quality inspector job description template works for a quality inspector to remind his tasks well.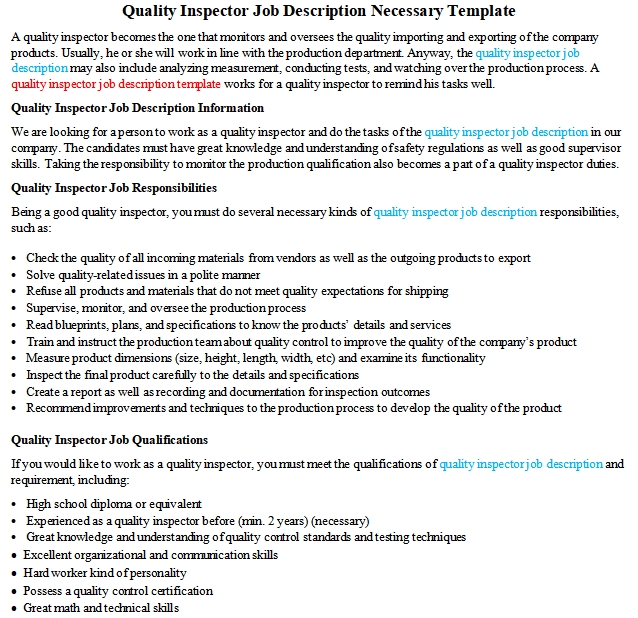 Quality Inspector Job Description Information
We are looking for a person to work as a quality inspector and do the tasks of the quality inspector job description in our company. The candidates must have great knowledge and understanding of safety regulations as well as good supervisor skills. Taking the responsibility to monitor the production qualification also becomes a part of a quality inspector duties.
Quality Inspector Job Responsibilities
Being a good quality inspector, you must do several necessary kinds of quality inspector job description responsibilities, such as:
Check the quality of all incoming materials from vendors as well as the outgoing products to export
Solve quality-related issues in a polite manner
Refuse all products and materials that do not meet quality expectations for shipping
Supervise, monitor, and oversee the production process
Read blueprints, plans, and specifications to know the products' details and services
Train and instruct the production team about quality control to improve the quality of the company's product
Measure product dimensions (size, height, length, width, etc) and examine its functionality
Inspect the final product carefully to the details and specifications
Create a report as well as recording and documentation for inspection outcomes
Recommend improvements and techniques to the production process to develop the quality of the product
Quality Inspector Job Qualifications
If you would like to work as a quality inspector, you must meet the qualifications of quality inspector job description and requirement, including:
High school diploma or equivalent
Experienced as a quality inspector before (min. 2 years) (necessary)
Great knowledge and understanding of quality control standards and testing techniques
Excellent organizational and communication skills
Hard worker kind of personality
Possess a quality control certification
Great math and technical skills
Ability to operate the computer as well as Microsoft office
Passionate about quality control management
Quality Inspector FAQ
What is a Quality Inspector?
A quality inspector becomes the person who inspects, checks, and monitors whether the products sent and received meet the quality standards. He may reject and refuse the unqualified products to shipping. He becomes a very important representative of the company that supervises all production process and guarantees qualified products.
What Should You Include in a Quality Inspector Job Vacancy?
If you are about to post a quality inspector job vacancy, you must refer to all major qualifications and requirements. Remember to think of picking up the one who has great knowledge and experience to inspect the products' quality nd result. Also, you may think to mention math skills as well as great communication ability.
Do You Need to Interview Applicants for Quality Inspectors?
It is a must to interview the applicants for a quality inspector. You could ask them to do math questions or the ones related to the technical subject. Also, you might check directly whether or not the applicants could understand the standards of quality checking.
Finally, this quality inspector job information may work for you who need it to create a quality inspector template.
Similar Posts: