A songwriter can also be called a lyricist or composer. He/she makes lyrics & melodies for songs in various genres. He/she is sometimes employed as a staff writer. However, he/she usually works on a freelance basis. The more detailed songwriter job description will be discussed further below.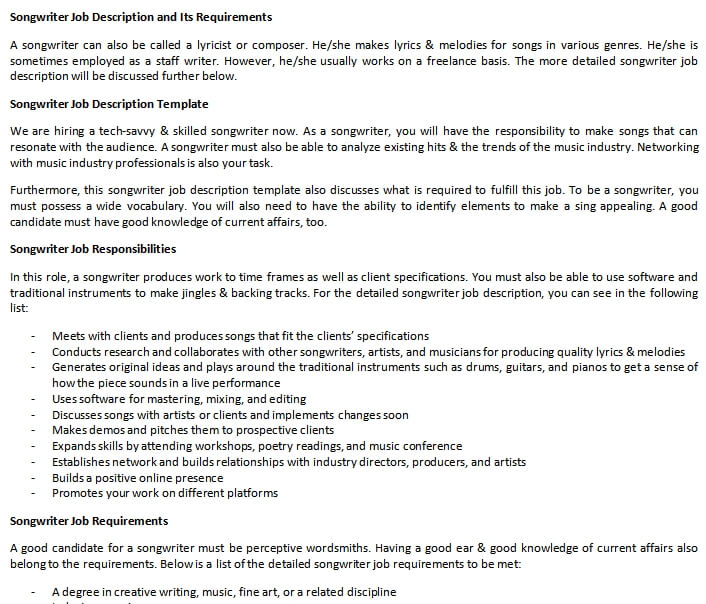 Songwriter Job Description Template
We are hiring a tech-savvy & skilled songwriter now. As a songwriter, you will have the responsibility to make songs that can resonate with the audience. A songwriter must also be able to analyze existing hits & the trends of the music industry. Networking with music industry professionals is also your task.
Furthermore, this songwriter job description template also discusses what is required to fulfill this job. To be a songwriter, you must possess a wide vocabulary. You will also need to have the ability to identify elements to make a sing appealing. A good candidate must have good knowledge of current affairs, too.
Songwriter Job Responsibilities
In this role, a songwriter produces work to time frames as well as client specifications. You must also be able to use software and traditional instruments to make jingles & backing tracks. For the detailed songwriter job description, you can see in the following list:
Meets with clients and produces songs that fit the clients' specifications
Conducts research and collaborates with other songwriters, artists, and musicians for producing quality lyrics & melodies
Generates original ideas and plays around the traditional instruments such as drums, guitars, and pianos to get a sense of how the piece sounds in a live performance
Uses software for mastering, mixing, and editing
Discusses songs with artists or clients and implements changes soon
Makes demos and pitches them to prospective clients
Expands skills by attending workshops, poetry readings, and music conference
Establishes network and builds relationships with industry directors, producers, and artists
Builds a positive online presence
Promotes your work on different platforms
Songwriter Job Requirements
A good candidate for a songwriter must be perceptive wordsmiths. Having a good ear & good knowledge of current affairs also belong to the requirements. Below is a list of the detailed songwriter job requirements to be met:
A degree in creative writing, music, fine art, or a related discipline
Industry experience
A good understanding of lyrics, music, poetry, and melody
Strong abilities of analytical & time management
Good skills in marketing and research
Superb skills in interpersonal and communication both written & verbal
Deadline-driven, diligent, & willing to work with other artists
Songwriter Job Description FAQs
Can I edit the posted job description here?
Yes, you can. This composer job description can easily be edited to fit your needs. In fact, you may give different tasks and duties depending on the project.
Do you have interview questions for a songwriter?
Besides the songwriter job description, a collection of interview questions can also be found here. You can find the interview questions on another page.
Similar Posts: