Carpenter job description is useful for various areas of construction industries. It is responsible to construct structures that use woods as the main materials. This profession is responsible to make wooden furniture items, crafts, until building frameworks. Add your insight by undertaking the Carpenter job description for resume below!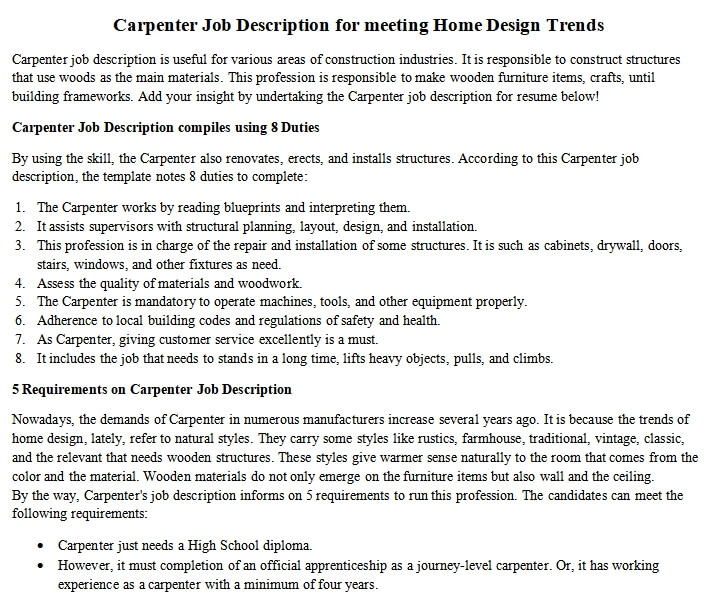 Carpenter Job Description compiles using 8 Duties
By using the skill, the Carpenter also renovates, erects, and installs structures. According to this Carpenter job description, the template notes 8 duties to complete:
The Carpenter works by reading blueprints and interpreting them.
It assists supervisors with structural planning, layout, design, and installation.
This profession is in charge of the repair and installation of some structures. It is such as cabinets, drywall, doors, stairs, windows, and other fixtures as need.
Assess the quality of materials and woodwork.
The Carpenter is mandatory to operate machines, tools, and other equipment properly.
Adherence to local building codes and regulations of safety and health.
As Carpenter, giving customer service excellently is a must.
It includes the job that needs to stands in a long time, lifts heavy objects, pulls, and climbs.
5 Requirements on Carpenter Job Description
Nowadays, the demands of Carpenter in numerous manufacturers increase several years ago. It is because the trends of home design, lately, refer to natural styles. They carry some styles like rustics, farmhouse, traditional, vintage, classic, and the relevant that needs wooden structures. These styles give warmer sense naturally to the room that comes from the color and the material. Wooden materials do not only emerge on the furniture items but also wall and the ceiling.
By the way, Carpenter's job description informs on 5 requirements to run this profession. The candidates can meet the following requirements:
Carpenter just needs a High School diploma.
However, it must completion of an official apprenticeship as a journey-level carpenter. Or, it has working experience as a carpenter with a minimum of four years.
Perhaps, it requires additional certification.
Possessing good communication skills and knowledge of mathematics.
The Carpenter must possess fit physic with good hand-eye coordination.
However, the Carpenter must realize that the use of wood in plenty of numbers is not good for nature. It is the same as damaging nature because it will cut a lot of trees. Precisely, the Carpenters and manufacturers not only explore nature without assisting to nurture. Combine the wood material with metal like brass, steel, Bronx, iron, and the similar. You may combine it with bamboo or use various kinds of woods. On the other hand, you should follow to reforestation and only use the old woods.
Thank you for following the Carpenter job description until finishing along with this template.  Produce various kinds of wooden structures without damaging nature. Good luck!
FAQ:
Carpenter is an artist with outstanding skills to create numerous structures by constructing, erecting, installing, and then renovating.
What Items that Carpenter generate?
It produces various kinds of wooden structures that combine with other materials. The Carpenter can produce windows, doors, furniture, drywall, stair, ceiling, floor, and others.
What Carpenter's educational background?
The Carpenter quite graduates from high school but it must master mathematical knowledge and good communication skills. Know more about this template!