A computer teacher can also be called a computer instructor or computer science teacher. He or she provides theoretical & applied instructions on the computer functionally. Usually, he or she works in a school. Now, we will discuss it further focusing on the computer teacher job description.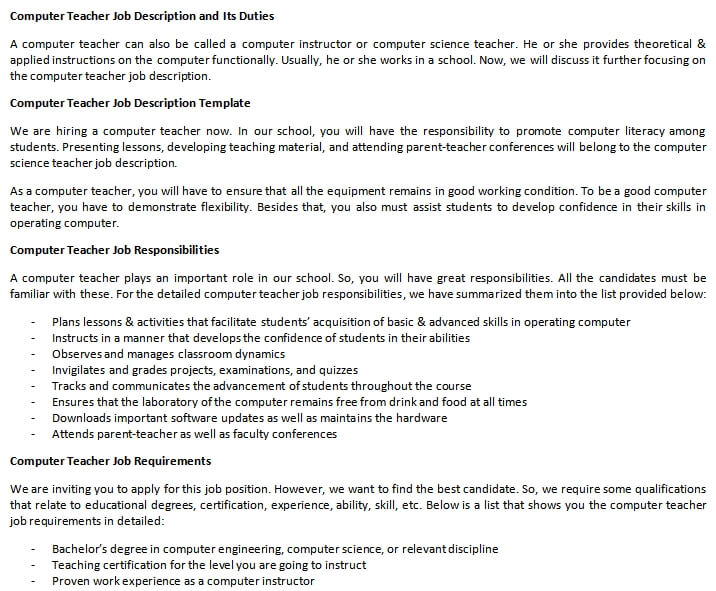 Computer Teacher Job Description Template
We are hiring a computer teacher now. In our school, you will have the responsibility to promote computer literacy among students. Presenting lessons, developing teaching material, and attending parent-teacher conferences will belong to the computer science teacher job description.
As a computer teacher, you will have to ensure that all the equipment remains in good working condition. To be a good computer teacher, you have to demonstrate flexibility. Besides that, you also must assist students to develop confidence in their skills in operating computer.
Computer Teacher Job Responsibilities
A computer teacher plays an important role in our school. So, you will have great responsibilities. All the candidates must be familiar with these. For the detailed computer teacher job responsibilities, we have summarized them into the list provided below:
Plans lessons & activities that facilitate students' acquisition of basic & advanced skills in operating computer
Instructs in a manner that develops the confidence of students in their abilities
Observes and manages classroom dynamics
Invigilates and grades projects, examinations, and quizzes
Tracks and communicates the advancement of students throughout the course
Ensures that the laboratory of the computer remains free from drink and food at all times
Downloads important software updates as well as maintains the hardware
Attends parent-teacher as well as faculty conferences
Computer Teacher Job Requirements
We are inviting you to apply for this job position. However, we want to find the best candidate. So, we require some qualifications that relate to educational degrees, certification, experience, ability, skill, etc. Below is a list that shows you the computer teacher job requirements in detailed:
Bachelor's degree in computer engineering, computer science, or relevant discipline
Teaching certification for the level you are going to instruct
Proven work experience as a computer instructor
Own, reliable transport can be preferred
First aid training can be a benefit
Excellent abilities of presentation
Strong administrative & written skills
Nurturing, adaptable approach to instructing
Passionate about fostering academic excellence and computer literacy
Computer Teacher Job Description FAQs
What does a computer teacher do in school?
A computer teacher or computer instructor, or computer science teacher provides theoretical & applied instructions on computer functionally and usually works in a school.
Can I edit the posted computer teacher job description here?
Yes, you can. Since this computer instructor job description is editable, you are allowed to customize it to fit your needs. In fact, different schools may give different responsibilities and require different qualifications.
Do you have interview questions for a computer teacher?
Besides containing the computer teacher job description, this web also contains a collection of some interview question samples.