Database Administrator job description shows the responsibilities to maintain and manage company databases. There are many duties after this template outlines the main liabilities. Meanwhile, the requirements are various and not careless. Let's upgrade your understanding in this Database Administrator job description sample!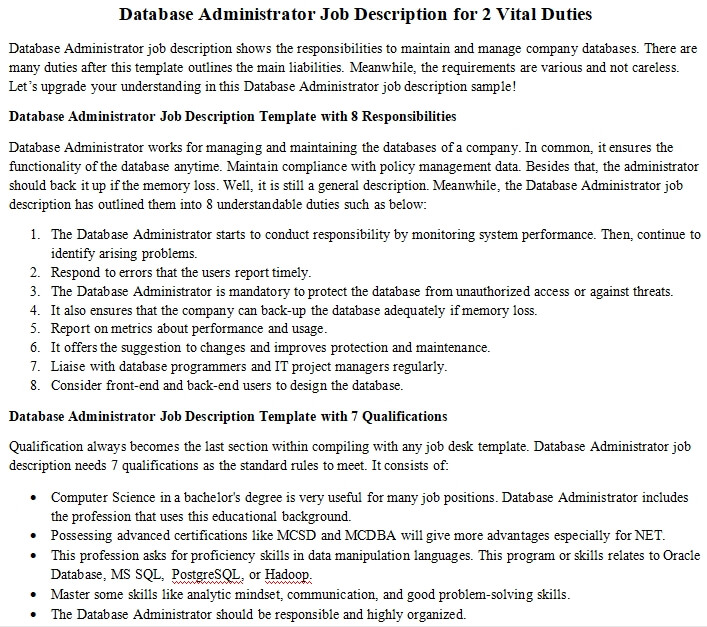 Database Administrator Job Description Template with 8 Responsibilities
Database Administrator works for managing and maintaining the databases of a company. In common, it ensures the functionality of the database anytime. Maintain compliance with policy management data. Besides that, the administrator should back it up if the memory loss. Well, it is still a general description. Meanwhile, the Database Administrator job description has outlined them into 8 understandable duties such as below:
The Database Administrator starts to conduct responsibility by monitoring system performance. Then, continue to identify arising problems.
Respond to errors that the users report timely.
The Database Administrator is mandatory to protect the database from unauthorized access or against threats.
It also ensures that the company can back-up the database adequately if memory loss.
Report on metrics about performance and usage.
It offers the suggestion to changes and improves protection and maintenance.
Liaise with database programmers and IT project managers regularly.
Consider front-end and back-end users to design the database.
Database Administrator Job Description Template with 7 Qualifications
Qualification always becomes the last section within compiling with any job desk template. Database Administrator job description needs 7 qualifications as the standard rules to meet. It consists of:
Computer Science in a bachelor's degree is very useful for many job positions. Database Administrator includes the profession that uses this educational background.
Possessing advanced certifications like MCSD and MCDBA will give more advantages especially for NET.
This profession asks for proficiency skills in data manipulation languages. This program or skills relates to Oracle Database, MS SQL,  PostgreSQL, or Hadoop.
Master some skills like analytic mindset, communication, and good problem-solving skills.
The Database Administrator should be responsible and highly organized.
Then, keep feeling confident although work under pressure.
It is also mandatory to maintain an awareness of database administration developments and trends.
Is it enough for less for you? You should answer enough because the Database Administrator job description is complete. This page compiles it as effectively as possible with a purpose to use efficiently. There is no reason to say that you cannot apply for this template because the content is concise and understandable easily. Now, you do not allow thinking about the template but you can continue to display a job advertisement. Many candidates have been waiting for your announcement to read, understand, and enroll. Thank you for reading. Good luck!
FAQ:
What is Database Administrator?
Database Administrator is a professional staff that works for a company database maintenance and management.
What are the three Main Database Administrator job responsibilities?
The administrator of Database manages and maintains data through 3 chief duties. Ensure the functionality of company databases at all times. Secondly, the duty is preventing memory loss by back them up. The third is to maintain adherence to management policy data.
What Advanced Certifications will give more advantageous especially or NET?
Possess some certifications to complete the qualifications. It is such as MCDBA or MCSD.