A groundsman is a person who maintains the institutions' grounds aesthetically and functionally. For examples are public parks, universities, schools, etc. A groundsman can also be called a grounds laborer, grounds maintenance worker, groundskeeper, or landscaper. Here is the groundsman job description.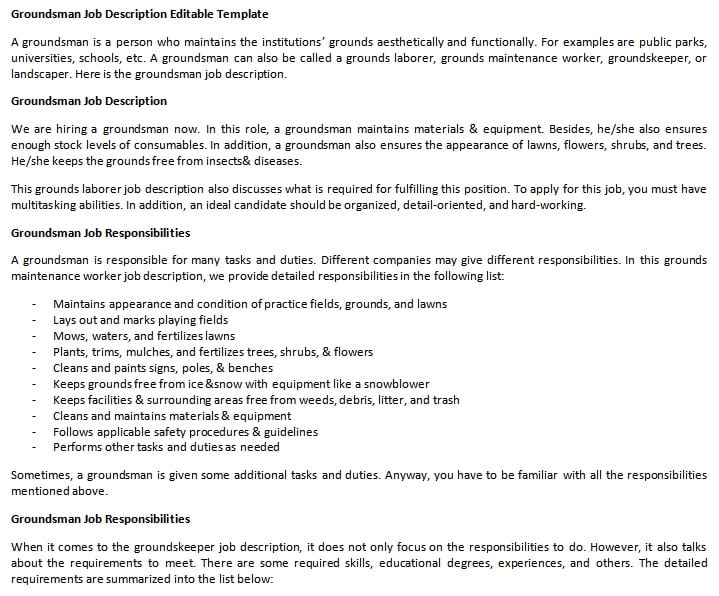 Groundsman Job Description
We are hiring a groundsman now. In this role, a groundsman maintains materials & equipment. Besides, he/she also ensures enough stock levels of consumables. In addition, a groundsman also ensures the appearance of lawns, flowers, shrubs, and trees. He/she keeps the grounds free from insects& diseases.
This grounds laborer job description also discusses what is required for fulfilling this position. To apply for this job, you must have multitasking abilities. In addition, an ideal candidate should be organized, detail-oriented, and hard-working.
Groundsman Job Responsibilities
A groundsman is responsible for many tasks and duties. Different companies may give different responsibilities. In this grounds maintenance worker job description, we provide detailed responsibilities in the following list:
Maintains appearance and condition of practice fields, grounds, and lawns
Lays out and marks playing fields
Mows, waters, and fertilizes lawns
Plants, trims, mulches, and fertilizes trees, shrubs, & flowers
Cleans and paints signs, poles, & benches
Keeps grounds free from ice &snow with equipment like a snowblower
Keeps facilities & surrounding areas free from weeds, debris, litter, and trash
Cleans and maintains materials & equipment
Follows applicable safety procedures & guidelines
Performs other tasks and duties as needed
Sometimes, a groundsman is given some additional tasks and duties. Anyway, you have to be familiar with all the responsibilities mentioned above.
Groundsman Job Responsibilities
When it comes to the groundskeeper job description, it does not only focus on the responsibilities to do. However, it also talks about the requirements to meet. There are some required skills, educational degrees, experiences, and others. The detailed requirements are summarized into the list below:
GED, high school diploma, or suitable equivalent
Work experience for 2+ years in a similar role
Good knowledge of maintaining grounds, fields, and lawns
A valid license of hoisting is preferred
Valid driver's license
Proficient with groundskeeping equipment operation like forklifts, power mowers, tractors, etc
Good skills in written & verbal communication
Ability to follow instructions, both written & verbal
Physically strong, agile, fit, and dexterous
Groundsman Job Description FAQs
What does a groundsman do?
A groundsman maintains the institutions' grounds aesthetically and functionally. For examples are public parks, universities, schools, etc.
Can I edit the posted job description here?
Of course, you can. This groundsman job description template is easy to edit. So, just feel free to tailor it to your needs. In fact, you may give different responsibilities or require different qualifications.
Do you have interview questions for a groundsman?
This web does not only provide the groundsman job description but also a collection of questions you can use for interviewing the candidates.