Free Customizable Attractive Ice Cream Letterhead Templates
These ice cream letterhead templates are the perfect materials for business purposes with great graphic designs. You can download these professionally designed templates and customize the layouts, artwork, photos, and text. Everything is easily editable, resizable, and replace without losing any of quality. All the themes are created in colorful and bubbly themes to match with the cheerfulness of ice cream.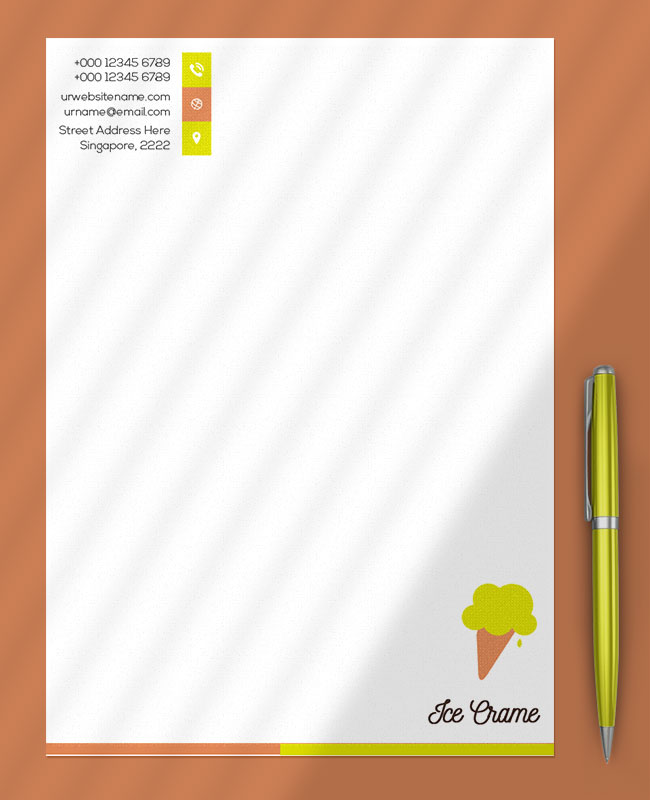 Ice Cream Letterhead PSD Templates
You might be unfamiliar with the letterhead if you are new in the business world. Think of it as personalized stationery, where you can print out a business message on the letter instead of the basic, blank section on top of it.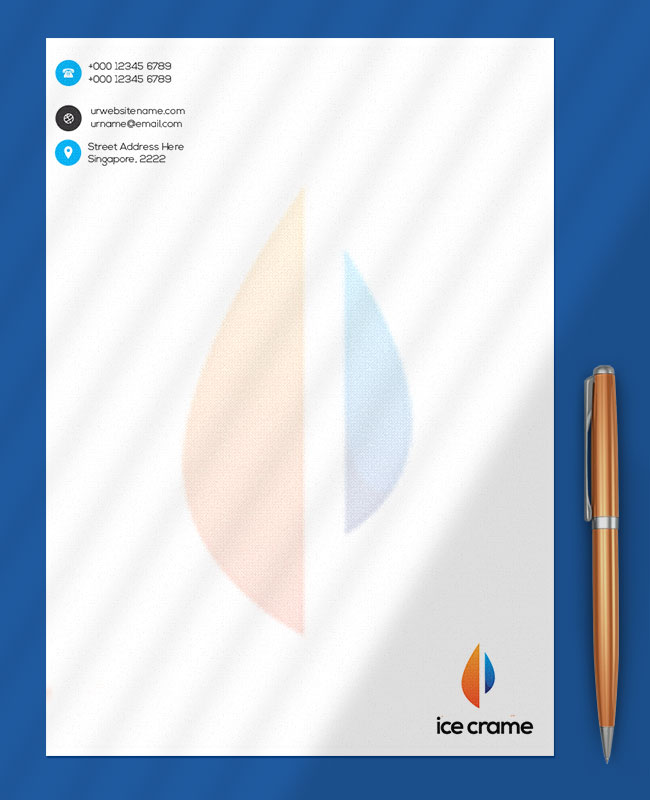 Letterhead is a common business marketing component. It is a simple yet effective tool to provide brief insight of the company and what it offers. That's why it is important to create a suitable letterhead design to match the business. Feel free to download these PSD templates of ice cream letterhead, and use the thick and high-quality paper to match with the customized design.
Ice Cream Letterhead Design Tips
A letterhead design has several basic elements to it, whether it is just a standard or the luxurious designed ones. Follow these design tips below to create the best letterhead design for your ice cream business company:
Make it functional and visually pleasing
Letterhead is not meant to be as detailed as a flyer or brochure, but it still needs to be designed with attention to providing both function and visual attributes. You want to integrate a letterhead design that is appealing to the readers and contain an aesthetic value. Color is one of the elements to utilize if you desire an impactful design. By using the correct combination of multiple colors and tones it is possible to compose the beautiful design. Integrate your company's color as the main shades and few matching secondary colors.
Create a clean and legible design
You indeed have to pay a lot of thought into designing a letterhead, but it is important to remember that the result must be easy and simple enough to read. Incorporate clean cuts, crisp lines, and neat layout. Take the amount of white space area into consideration to avoid overly crowded design.
Choose a distinctive look
You want to impress your existing and potential clients by the letterhead when they open the letter. Adding borders or side columns is a simple yet creative solution to take to create a remarkable impression. This method ensures the letter is still readable even with all the design.
Ice Cream Letterhead Design
Before you download, use, or create your ice cream letterhead, it is necessary to understand its value. A personalized letterhead helps the company to settle its images to the business partners and customers. The design has to reflect key qualities of a successful business which are professionalism, personality, and creativity.
Free Download Ice Cream PSD Letterhead
Find dozens of ice cream letterhead PSD templates in the design and concept that you prefer. By using ready-made templates, you can save much effort and time needed instead of creating the design from zero. These amazing and useful templates are ready to be downloaded for free.