A prep cook, who is also known as a food preparation worker, becomes the one that prepares for materials and ingredients for cooking. Prep cook job description must also include cleaning and maintaining the kitchen, ensuring sanitization, monitoring stocks, ordering supplies, etc. A prep cook must work with a chef to do basic cooking tasks. To remind him of his duties, a prep cook tends to make use of the prep cook job description lists as well.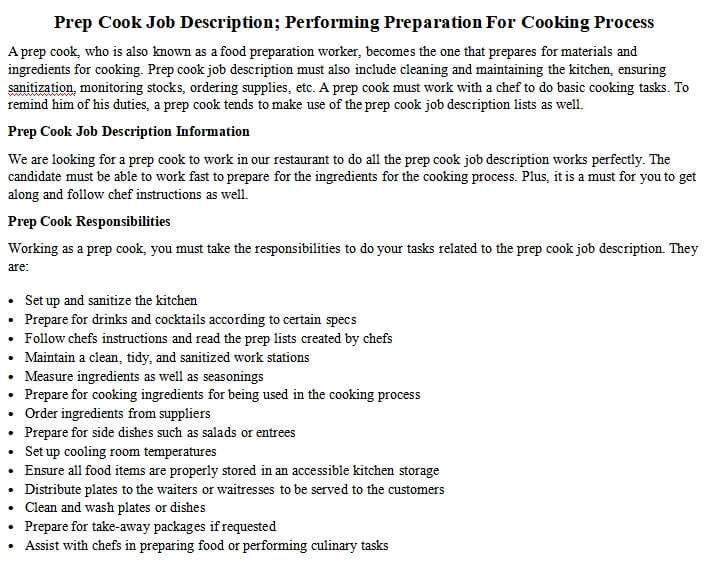 Prep Cook Job Description Information
We are looking for a prep cook to work in our restaurant to do all the prep cook job description works perfectly. The candidate must be able to work fast to prepare for the ingredients for the cooking process. Plus, it is a must for you to get along and follow chef instructions as well.
Prep Cook Responsibilities
Working as a prep cook, you must take the responsibilities to do your tasks related to the prep cook job description. They are:
Set up and sanitize the kitchen
Prepare for drinks and cocktails according to certain specs
Follow chefs instructions and read the prep lists created by chefs
Maintain a clean, tidy, and sanitized work stations
Measure ingredients as well as seasonings
Prepare for cooking ingredients for being used in the cooking process
Order ingredients from suppliers
Prepare for side dishes such as salads or entrees
Set up cooling room temperatures
Ensure all food items are properly stored in an accessible kitchen storage
Distribute plates to the waiters or waitresses to be served to the customers
Clean and wash plates or dishes
Prepare for take-away packages if requested
Assist with chefs in preparing food or performing culinary tasks
Prep Cook Job Qualifications
If you would like to apply as a prep cook to work with us, you must meet the prep cook job description qualifications first. What are they? Let's check it out below!
High school diploma or equivalent
Experienced as a prep cook before (min. 6 months)
Continual culinary training is preferable
Ability to operate kitchen tools such as knives
Have great communication skills (both verbal and written)
Willing to work for hours anytime during the holidays or on weekends (in shifts)
Strong, health physics
Ability to work in a stressful environment
Prep Cook FAQ
What is a Prep Cook?
A prep cook must be the one who follows chefs' instructions to help them to prepare for food ingredients. He or she also does clean the dishes, help contributing dishes for orders to waiters, and prepare for takeaway packages. Usually, a prep cook will get a working-list from the chef.
What Should You Include in A Prep Cook Job Vacancy?
If you are going to post a prep cook job vacancy, you should write down all the main requirements, standards, and qualifications. Also, make sure the applicant has experienced working as a prep cook before. Therefore, he will not be stressed to do a lot of works in a fast-paced environment.
Do You Need to Interview Applicants for A Prep Cook?
A prep cook must be the person who will prepare for ingredients for the chef. He or she even helps him to make side dishes. Therefore, the applicants must be able to use kitchen stuff such as a knife. Interviewing the candidates for a prep cook is important.
That's all about prep cook job; hopefully, it will be beneficial information for those especially you who need it.