A room attendant must be one working at the hotel to clean and maintain the guest room. A room attendant job description must include servicing guest rooms, ensuring guest needs, providing customer services, dealing with complaints, etc. A room attendant must be cooperative and polite in answering guests' questions. To handle his or her works, a room attendant tends to prepare for the room attendant job description template.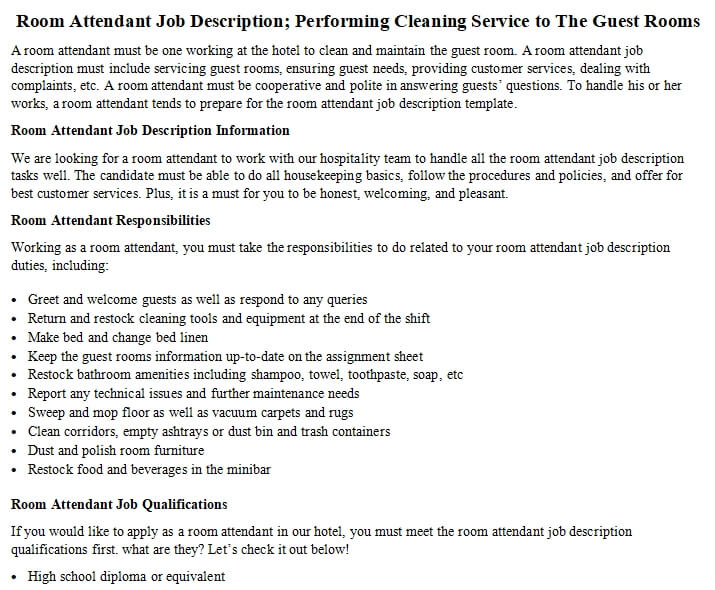 Room Attendant Job Description Information
We are looking for a room attendant to work with our hospitality team to handle all the room attendant job description tasks well. The candidate must be able to do all housekeeping basics, follow the procedures and policies, and offer for best customer services. Plus, it is a must for you to be honest, welcoming, and pleasant.
Room Attendant Responsibilities
Working as a room attendant, you must take the responsibilities to do related to your room attendant job description duties, including:
Greet and welcome guests as well as respond to any queries
Return and restock cleaning tools and equipment at the end of the shift
Make bed and change bed linen
Keep the guest rooms information up-to-date on the assignment sheet
Restock bathroom amenities including shampoo, towel, toothpaste, soap, etc
Report any technical issues and further maintenance needs
Sweep and mop floor as well as vacuum carpets and rugs
Clean corridors, empty ashtrays or dust bin and trash containers
Dust and polish room furniture
Restock food and beverages in the minibar
Room Attendant Job Qualifications
If you would like to apply as a room attendant in our hotel, you must meet the room attendant job description qualifications first. what are they? Let's check it out below!
High school diploma or equivalent
Experienced as a room attendant, a guest service, or a housekeeper before (min. 6 months)
Enable to work with cleaning tools, products, and equipment
Be able to work with no assistance or supervision
Have great communication skills (both verbal and written)
Polite, passionate, and professional kind of person
Capable to follow the cleaning instructions
Physically fit, healthy, and strong
Willing to work anytime during the holiday or on weekends
Room Attendant FAQ
What is a Room Attendant?
A room attendant must be the one with a great cleaning service and maintenance. He or she works to clean the guest room; make it neat, tidy, and comfortable with the use of cleaning tools, equipment, and products. A room attendant tends to provide great customer service to the clients by answering their questions and meeting their needs.
What Should You Include in A Room Attendant Job Vacancy?
If you are going to post a room attendant job vacancy, you should mention all primary requirements, standards, and qualifications. Make sure the applicant has experienced working as a room attendant before. Plus, it is a must for them to be able to operate cleaning equipment such as a vacuum cleaner.
Do You Need to Interview Applicants for A Room Attendant?
A room attendant must be the person who will maintain the cleanliness and tidiness of the guest rooms. Interviewing room attendant applicants sound great to know whether or not they could deal with the clients. After all, he or she must offer excellent customer services.
That's all about room attendant job; hopefully, it will be useful for those who need this room attendant template.