An audit manager is a person who organizes & manages internal audits based on the audit plans. He/she oversees the audit process, makes recommendations on policies, & ensures that the company fulfills governmental & international obligations of compliance. Here is the audit manager job description.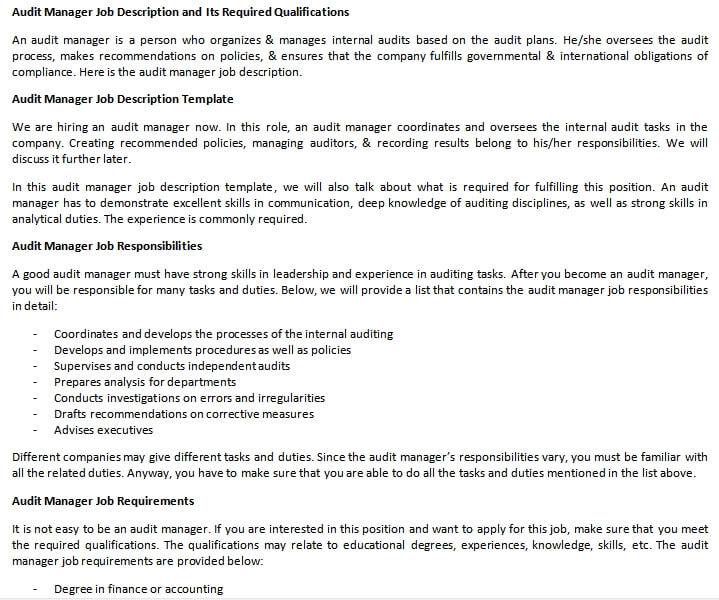 Audit Manager Job Description Template
We are hiring an audit manager now. In this role, an audit manager coordinates and oversees the internal audit tasks in the company. Creating recommended policies, managing auditors, & recording results belong to his/her responsibilities. We will discuss it further later.
In this audit manager job description template, we will also talk about what is required for fulfilling this position. An audit manager has to demonstrate excellent skills in communication, deep knowledge of auditing disciplines, as well as strong skills in analytical duties. The experience is commonly required.
Audit Manager Job Responsibilities
A good audit manager must have strong skills in leadership and experience in auditing tasks. After you become an audit manager, you will be responsible for many tasks and duties. Below, we will provide a list that contains the audit manager job responsibilities in detail:
Coordinates and develops the processes of the internal auditing
Develops and implements procedures as well as policies
Supervises and conducts independent audits
Prepares analysis for departments
Conducts investigations on errors and irregularities
Drafts recommendations on corrective measures
Advises executives
Different companies may give different tasks and duties. Since the audit manager's responsibilities vary, you must be familiar with all the related duties. Anyway, you have to make sure that you are able to do all the tasks and duties mentioned in the list above.
Audit Manager Job Requirements
It is not easy to be an audit manager. If you are interested in this position and want to apply for this job, make sure that you meet the required qualifications. The qualifications may relate to educational degrees, experiences, knowledge, skills, etc. The audit manager job requirements are provided below:
Degree in finance or accounting
Wide experience in auditing
Deep knowledge of guidelines and regulations
A record of success in both external and internal audits
Excellent skills in communication
Strong skills in time management
Different companies may add requirements. Anyway, the requirements above are the most common qualifications. If you meet all the required qualifications above, we would like to meet you for an interview.
Audit Manager Job Description FAQs
Can I edit the posted audit manager job description template here?
Of course, you can. As we know, the responsibilities and requirements of an audit manager can vary depending on the company. So, just feel free to tailor this editable audit manager job description template to fit your needs.
Do you have interview questions for an audit manager?
Besides providing the audit manager job description, this web also provides a collection of question samples you can use for interviewing all candidates who apply for this job position.
Similar Posts: