The Budtender is the worker by the recreational cannabis dispensary or medical. Of course, they only work in the region that legalizes the cannabis. Based on the Budtender job description, a person in this position will assist the customers with their purchase. They also will recommend suitable cannabis to the customers based on their needs and ensure that the stocks are safe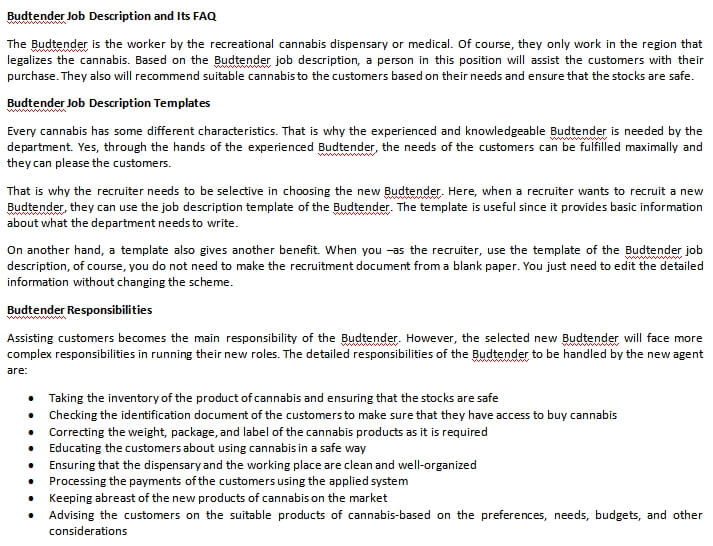 Budtender Job Description Templates
Every cannabis has some different characteristics. That is why the experienced and knowledgeable Budtender is needed by the department. Yes, through the hands of the experienced Budtender, the needs of the customers can be fulfilled maximally and they can please the customers.
That is why the recruiter needs to be selective in choosing the new Budtender. Here, when a recruiter wants to recruit a new Budtender, they can use the job description template of the Budtender. The template is useful since it provides basic information about what the department needs to write.
On another hand, a template also gives another benefit. When you –as the recruiter, use the template of the Budtender job description, of course, you do not need to make the recruitment document from a blank paper. You just need to edit the detailed information without changing the scheme.
Budtender Responsibilities
Assisting customers becomes the main responsibility of the Budtender. However, the selected new Budtender will face more complex responsibilities in running their new roles. The detailed responsibilities of the Budtender to be handled by the new agent are:
Taking the inventory of the product of cannabis and ensuring that the stocks are safe
Checking the identification document of the customers to make sure that they have access to buy cannabis
Correcting the weight, package, and label of the cannabis products as it is required
Educating the customers about using cannabis in a safe way
Ensuring that the dispensary and the working place are clean and well-organized
Processing the payments of the customers using the applied system
Keeping abreast of the new products of cannabis on the market
Advising the customers on the suitable products of cannabis-based on the preferences, needs, budgets, and other considerations
Budtender Requirements
To be the selected Budtender, the candidate needs to fill some requirements. The requirements here become the tool to measure the competency of the candidate. Of course, only those who pass the requirements will be accepted as the new Budtender.
Some requirements that can be the material of the recruitment document are:
GED or high school diploma
Experiences as a Budtender or similar fields
A valid license of the worker permit
Familiar with cannabis and its medical benefits
Proficiency in operating Microsoft Office
Excellent organizational skills
Good analytical skills
Good problem-solving skills
Effective communication skills, both verbal and writing
Excellent customer services skills
Budtender FAQ
What are the main duties of the Budtender?
Assisting the customer to get kinds of cannabis as their need becomes the main duty of the Budtender. However, a Budtender also needs to educate the customers about the benefits of cannabis, especially in the medical field.
Can I edit the job description template of the Budtender on this page?
Of course, you can. All samples and templates of the Budtender job description on this page can be edited. You can get it by clicking the download button and then edit it using Microsoft Office.