A pediatric surgeon is a person who is specially trained to perform different operative procedures on young adults and children. He/she diagnoses and provides operative care for various diseases, illnesses, & health conditions. Now, let's discuss the pediatric surgeon job description further.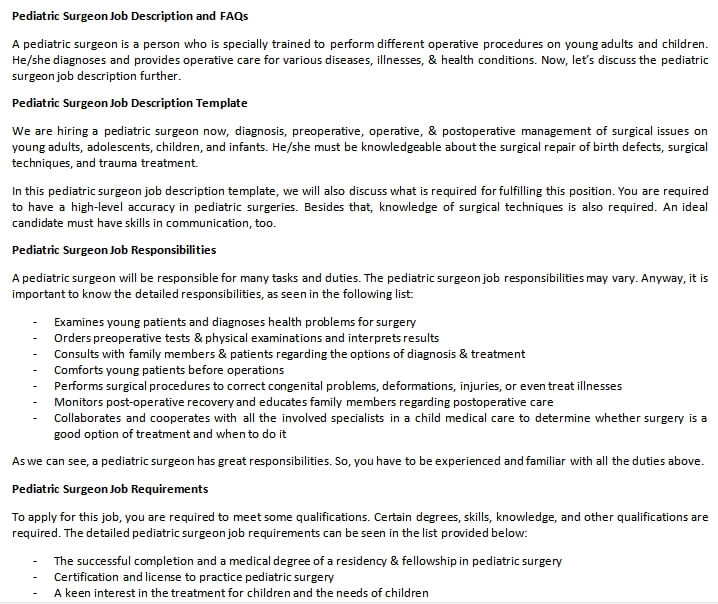 Pediatric Surgeon Job Description Template
We are hiring a pediatric surgeon now, diagnosis, preoperative, operative, & postoperative management of surgical issues on young adults, adolescents, children, and infants. He/she must be knowledgeable about the surgical repair of birth defects, surgical techniques, and trauma treatment.
In this pediatric surgeon job description template, we will also discuss what is required for fulfilling this position. You are required to have a high-level accuracy in pediatric surgeries. Besides that, knowledge of surgical techniques is also required. An ideal candidate must have skills in communication, too.
Pediatric Surgeon Job Responsibilities
A pediatric surgeon will be responsible for many tasks and duties. The pediatric surgeon job responsibilities may vary. Anyway, it is important to know the detailed responsibilities, as seen in the following list:
Examines young patients and diagnoses health problems for surgery
Orders preoperative tests & physical examinations and interprets results
Consults with family members & patients regarding the options of diagnosis & treatment
Comforts young patients before operations
Performs surgical procedures to correct congenital problems, deformations, injuries, or even treat illnesses
Monitors post-operative recovery and educates family members regarding postoperative care
Collaborates and cooperates with all the involved specialists in a child medical care to determine whether surgery is a good option of treatment and when to do it
As we can see, a pediatric surgeon has great responsibilities. So, you have to be experienced and familiar with all the duties above.
Pediatric Surgeon Job Requirements
To apply for this job, you are required to meet some qualifications. Certain degrees, skills, knowledge, and other qualifications are required. The detailed pediatric surgeon job requirements can be seen in the list provided below:
The successful completion and a medical degree of a residency & fellowship in pediatric surgery
Certification and license to practice pediatric surgery
A keen interest in the treatment for children and the needs of children
Working knowledge of pediatric pharmacology & physiology
Excellent dexterity and precision in surgery
A compassionate as well as caring nature
Strong abilities of team working, leadership, and decision-making
Different healthcare facilities may add some other requirements. Anyway, if you meet all the required qualifications above, we invite you to meet for an interview or further recruitment process.
Pediatric Surgeon Job Description FAQs
Can I edit the posted job description template here?
Yes, you can. This pediatric surgeon job description editable template can easily be customized to fit your needs. You may require different qualifications and give different responsibilities.
Do you have interview questions for a pediatric surgeon?
On this web, you can find the pediatric surgeon job description in detail. Furthermore, we also provide question samples for a pediatric surgeon on another page.
Similar Posts: