A school psychologist assists students and children to manage behavioral, emotional, social, and learning problems. He or she works at community service, school, university, or mental health institution. The school psychologist job description can be seen in the following template.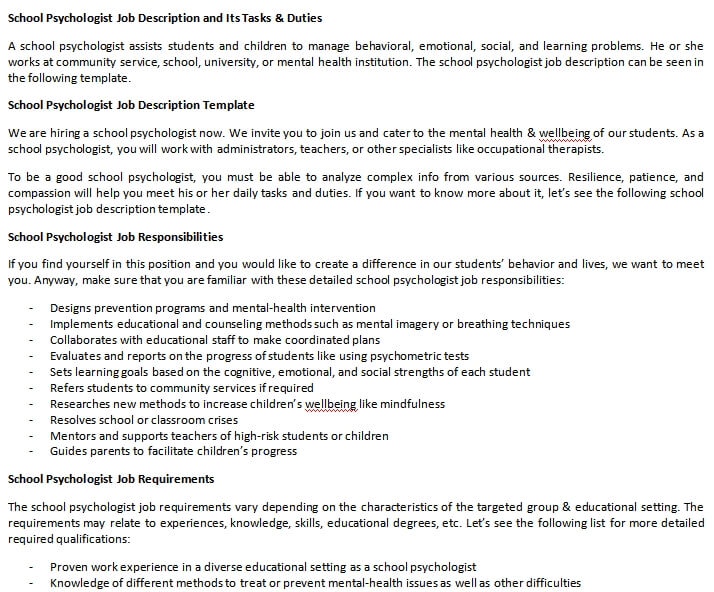 School Psychologist Job Description Template
We are hiring a school psychologist now. We invite you to join us and cater to the mental health & wellbeing of our students. As a school psychologist, you will work with administrators, teachers, or other specialists like occupational therapists.
To be a good school psychologist, you must be able to analyze complex info from various sources. Resilience, patience, and compassion will help you meet his or her daily tasks and duties. If you want to know more about it, let's see the following school psychologist job description template.
School Psychologist Job Responsibilities
If you find yourself in this position and you would like to create a difference in our students' behavior and lives, we want to meet you. Anyway, make sure that you are familiar with these detailed school psychologist job responsibilities:
Designs prevention programs and mental-health intervention
Implements educational and counseling methods such as mental imagery or breathing techniques
Collaborates with educational staff to make coordinated plans
Evaluates and reports on the progress of students like using psychometric tests
Sets learning goals based on the cognitive, emotional, and social strengths of each student
Refers students to community services if required
Researches new methods to increase children's wellbeing like mindfulness
Resolves school or classroom crises
Mentors and supports teachers of high-risk students or children
Guides parents to facilitate children's progress
School Psychologist Job Requirements
The school psychologist job requirements vary depending on the characteristics of the targeted group & educational setting. The requirements may relate to experiences, knowledge, skills, educational degrees, etc. Let's see the following list for more detailed required qualifications:
Proven work experience in a diverse educational setting as a school psychologist
Knowledge of different methods to treat or prevent mental-health issues as well as other difficulties
Good understanding of state education regulations and policies
Effective skills in counseling and communication
Professionalism and integrity
A resilient, patient, and positive personality
State license to work in the same role
Master's degree in School Psychology or other similar education fields like Psy.D or Ph.D can be a plus
School Psychologist Job Description FAQs
What does a school psychologist do in a school?
School psychologist designs & implements interventions for a wide spectrum of difficulties children will face. For examples are such as anger management issues, learning difficulties, and performance anxiety.
Can I edit the posted job description here?
Yes, you can. This editable school psychologist job description template can be customized to fit your needs easily.
Do you have interview questions for a school psychologist?
This web does not only contain the school psychologist job description but also a collection of interview question samples.
Similar Posts: