Be Professional with the Civil Engineer Letterhead
If you are a professional civil engineer, you may need to make your official documents or letters. To show that you are professional and prestigious, you might be required to have your letterhead. By having this, it will make your work easier, especially when you need to use the letters. In this article, we will discuss the tips for designing your civil engineer letterhead and letterhead templates. Eventually, you won't find yourself worrying about how to have your letterhead anymore.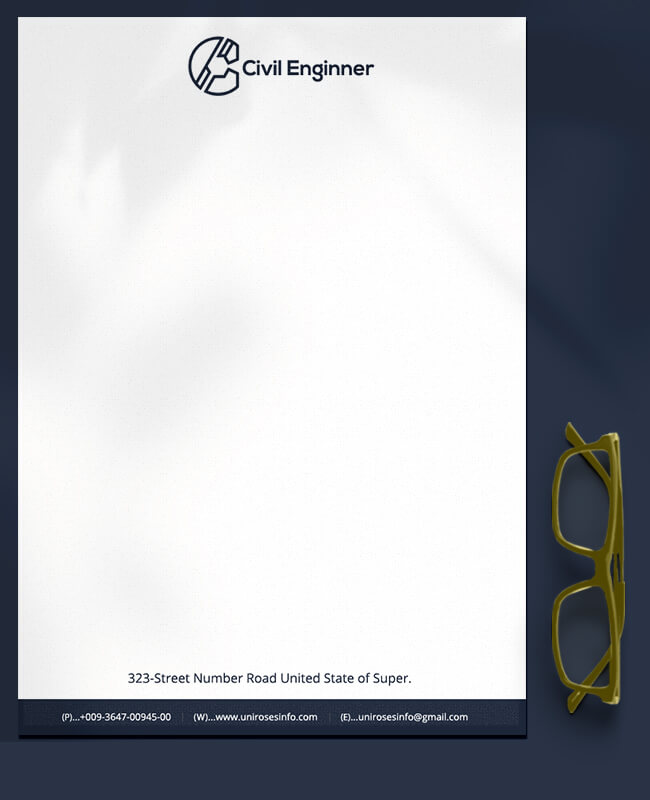 The Creative Design Civil Engineer Letterhead Tips
A well-designed letterhead will demonstrate your professionalism. Here, you will find tips for designing the letterhead.
Consider the Size
The standard sizes of your paper for letterhead design are Letter or A4.
Think about the Grid of Layout
Although the letterhead is quite simple, you still need to think of a grid structure. You may take a look at other well-designed letterheads, and apply the grids on it.
Keep It Simple
Make sure you don't distract the content of the letter by having spontaneously-designed letterhead. By using one or two accent colors and layouts, you can keep the letterhead clean yet professional.
Focus on Typography
Try to make it classy by focusing on the typography. You may mix some fonts or styles to create an attractive design feature.
The PSD Civil Engineer Letterhead Layout Design Guidelines
Here are a few guidelines to design the civil engineer letterhead layout.
Two or Three Contrasting Colors
One way to decide the color selection is to choose two complementary colors, such as blue and orange, yellow and purple, etc. Using bright and bold colors is suggested to highlight the graphic design.
Logo Position
Logo plays an important part in business letters. Since the purpose of the letterhead is to make your business or company recognized, you surely need to put the logo on the top of letters. That's why you must use accents that match the logo.
Colorful Border
Utilizing a simple border will help the letterhead stand out more. You may use a shade like grey or even a bold color to make the border subtle.
Dark Colored Background
If you want to create the letterhead layout more outstanding, try to give the text a dark background. Don't forget to use light text, so your letter will be readable.
The PSD Civil Engineer Letterhead Ideas
Check out some civil engineer letterhead ideas for your reference in creating a letterhead. Don't forget your letterhead must include the contact information, like name, address, phone number, and email address as the core. Those are the main details to include in the letterhead.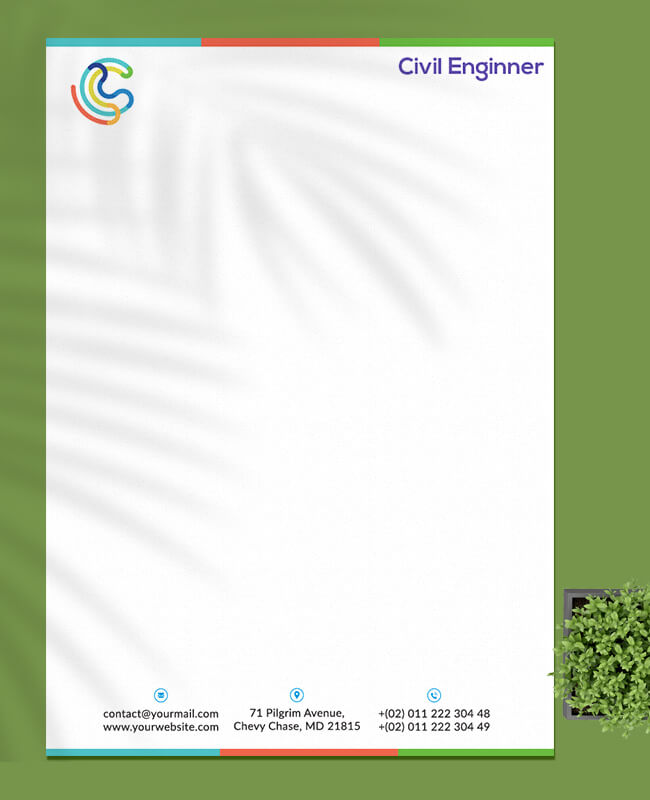 The PSD Civil Engineer Letterhead Templates
Your custom civil engineer letterhead will increase the possibility to reach prospective clients. A unique letterhead will also help to brand your company or work. Make sure to use some available letterhead templates as your reference. They are designed for your convenience to edit, customize, and download freely. Now, creating your professional letterhead doesn't sound difficult anymore.