Showing the Professionalism with Makeup Artist Letterhead
Nowadays, people know the truth that being a makeup artist is a promising job. Whether you are a male or a female, you can be recognized as a professional makeup artist when you have experiences and clients' positive reviews. Yet, being a makeup artist is not as easy as it seems. You need to do a lot of practice and try many different looks. When your talent and name have been heard widely, it's time to show your brand more professionally. One way to achieve that ultimate goal is by having your letterhead as you do formal correspondence. In this article, you will be provided with information about how to create your makeup artist letterhead without you need to hire a professional graphic designer.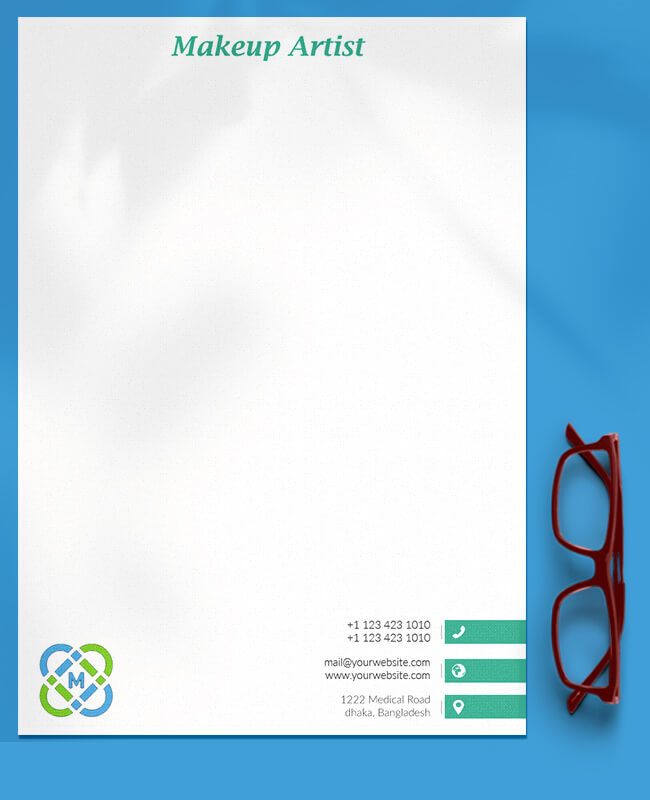 Elements of Professional Makeup Artist Letterhead
There are three essential elements to be included in a professional letterhead. Here they are.
Logo
It's strongly suggested to place your logo at the top of your professional yet attractive letterhead, whether it's above or next to your business name. Hence, it is not a problem if you would love to put your logo as the background of your letter.
Name
Of course, it is a must to put the business name at the top of the letterhead. You can place your business name or your name next to or below the logo. Besides showing off your brand, the business name also proves that the business is real.
Contact
Contact details are usually placed below the business name and logo. The details should include the complete address, phone number, email address, website, or even social media account.
Design Tips of PSD Makeup Artist Letterhead
Here are some tips in designing beautiful PSD makeup artist letterhead.
Borderline
Besides separating the letterhead and the content, the border also makes the letter look more special. You need to think of the color in creating the letterhead borderline.
Colored Column
Use a colored column to highlight the contact details, such as phone number, email address, website, or social media account. The combination of color and column will hopefully catch the clients' attention.
Colors
Make sure to utilize the colors by knowing what you want for the business brand. For the professional look in letterhead, it is suggested not to use rainbow colors.
Design Ideas of PSD Makeup Artist Letterhead
If you need new creative ideas for your makeup artist letterhead, you have come to the right place. Here, you may find various template ideas in PSD format that you can simply customize. Feel free to edit, download them instantly, and adjust with your need.
PSD Makeup Artist Letterhead Templates
Find the most suitable makeup artist letterhead template for your prestigious business. Customize these letterhead templates and download them in PSD format. You can also easily edit the layouts and artwork. Your letterhead is not only for the marketing material but also for your business identity. Now, there is no more limitation to have your professional and beautifully-designed business letterhead.