A construction manager is a person who oversees and directs construction projects wholly. He/she also reviews the project deeply to estimate costs and schedule deliverables. In relation to the construction manager job description, he/she also oversees offsite & onsite construction to monitor compliance.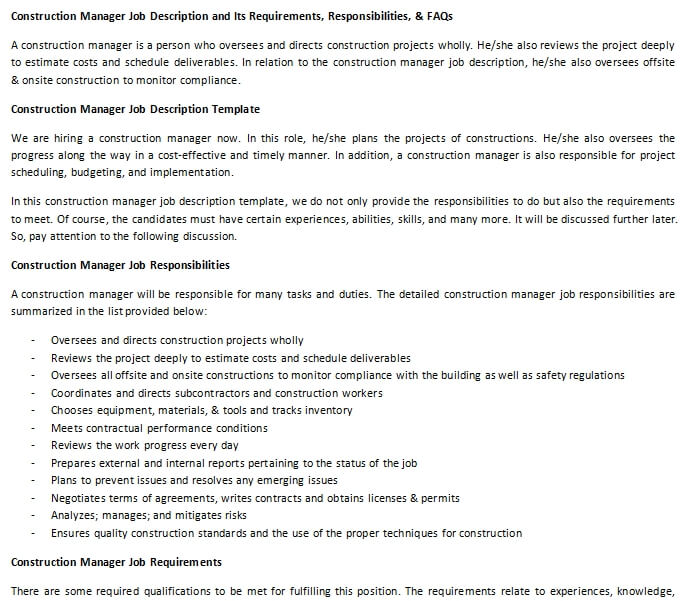 Construction Manager Job Description Template
We are hiring a construction manager now. In this role, he/she plans the projects of constructions. He/she also oversees the progress along the way in a cost-effective and timely manner. In addition, a construction manager is also responsible for project scheduling, budgeting, and implementation.
In this construction manager job description template, we do not only provide the responsibilities to do but also the requirements to meet. Of course, the candidates must have certain experiences, abilities, skills, and many more. It will be discussed further later. So, pay attention to the following discussion.
Construction Manager Job Responsibilities
A construction manager will be responsible for many tasks and duties. The detailed construction manager job responsibilities are summarized in the list provided below:
Oversees and directs construction projects wholly
Reviews the project deeply to estimate costs and schedule deliverables
Oversees all offsite and onsite constructions to monitor compliance with the building as well as safety regulations
Coordinates and directs subcontractors and construction workers
Chooses equipment, materials, & tools and tracks inventory
Meets contractual performance conditions
Reviews the work progress every day
Prepares external and internal reports pertaining to the status of the job
Plans to prevent issues and resolves any emerging issues
Negotiates terms of agreements, writes contracts and obtains licenses & permits
Analyzes; manages; and mitigates risks
Ensures quality construction standards and the use of the proper techniques for construction
Construction Manager Job Requirements
There are some required qualifications to be met for fulfilling this position. The requirements relate to experiences, knowledge, abilities, skills, etc. You can see the detailed construction manager job requirements in the following list:
Proven experience working in construction management
Knowledge of the methods, means, and processes of construction management
Knowledge of regulations & quality standards, construction details & relevant rules, and building products
Understanding of all facets of the construction process
Familiar with construction management software
Able to plan & see the "big picture"
Competent in crisis and conflict management
Good skills in human resources management and leadership
Excellent skills in project management and time
Bachelor's degree in a related field, especially engineering, architecture, or construction management
Construction Manager Job Description FAQs
Can I edit the posted job description template here?
Of course, you can. This construction manager job description editable template can easily be customized. So, just feel free to tailor it to your needs.
Do you have interview questions for a construction manager?
On this web, we do not only provide the construction manager job description. However, we also provide a collection of questions you can use to interview candidates who apply for this job position.