A little bit people know about the profession of Content Writer but it starts popular lately. Suddenly, a lot of media needs Content Writer job description to fill their platforms. Indeed, not all bloggers, website owners, or relevant can write content.  Therefore, they must possess the Content Writer job description workable to hire the writer.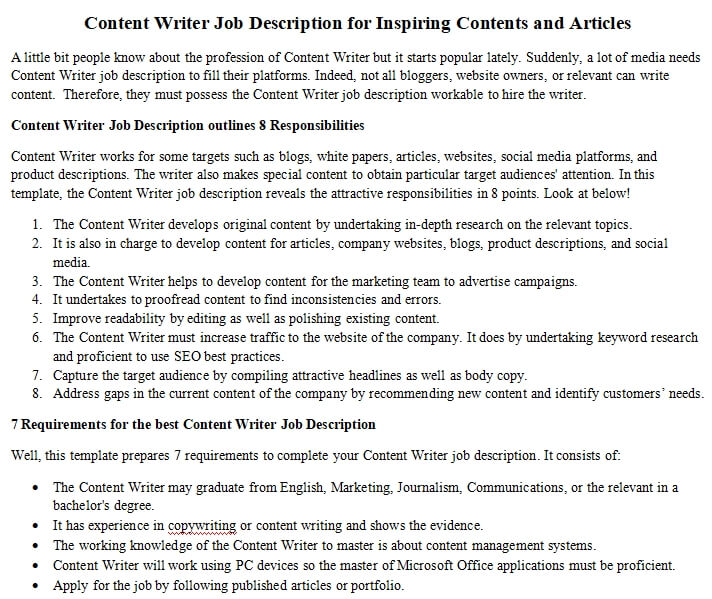 Content Writer Job Description outlines 8 Responsibilities
Content Writer works for some targets such as blogs, white papers, articles, websites, social media platforms, and product descriptions. The writer also makes special content to obtain particular target audiences' attention. In this template, the Content Writer job description reveals the attractive responsibilities in 8 points. Look at below!
The Content Writer develops original content by undertaking in-depth research on the relevant topics.
It is also in charge to develop content for articles, company websites, blogs, product descriptions, and social media.
The Content Writer helps to develop content for the marketing team to advertise campaigns.
It undertakes to proofread content to find inconsistencies and errors.
Improve readability by editing as well as polishing existing content.
The Content Writer must increase traffic to the website of the company. It does by undertaking keyword research and proficient to use SEO best practices.
Capture the target audience by compiling attractive headlines as well as body copy.
Address gaps in the current content of the company by recommending new content and identify customers' needs.
7 Requirements for the best Content Writer Job Description
Well, this template prepares 7 requirements to complete your Content Writer job description. It consists of:
The Content Writer may graduate from English, Marketing, Journalism, Communications, or the relevant in a bachelor's degree.
It has experience in copywriting or content writing and shows the evidence.
The working knowledge of the Content Writer to master is about content management systems.
Content Writer will work using PC devices so the master of Microsoft Office applications must be proficient.
Apply for the job by following published articles or portfolio.
The skills in editing and writing must be outstanding. Nonetheless, it keeps asking for effective communication skills.
Ability to handle multiple projects at the same time and the writer must work in a fast-paced environment.
Being a Content Writer is extremely pleasurable where this job does not only for looking for income. However, writing for content or articles means the writer is learning and upgrading the insight. This staff gets new knowledge every time because they must handle various kinds of topics. Even, the writer often meets a new topic that they never suppose before. Unluckily, it needs passion where all people can write. But, this profession is more than write but it needs a good sentiment and understanding in writing.
However, this profession is as well unique where mood, place, and condition truly influence on the writing. Nonetheless, all people can learn it and the company can get the most inspiring writers. Moreover, you apply for the Content Writer job description. Good luck!
FAQ:
Content Writer is a writer that works for generating readable and attractive content. The Contents or articles will apply for company websites, blogs, social media, and white paper, and product descriptions.
What is the educational background of Content Writer?
This profession asks for a bachelor's degree in some studies. It must study from English, Communications, Journalism, Marketing, and the relevant.
What other duties of the Content Writer besides writing?
The Content Writer is in charge to edit, proofread, using SEO, and looking for keywords.