ED Tech becomes the one who assists with emergency operations. The ED Tech job description must include delivering medical care, assisting with basic medical care, cleaning and organizing emergency room for operation, etc. ED Tech is also known as ED Technician, ER Tech, ER Technician, or Emergency Department Technician. Usually, this professional ER Tech will make use of the ED Tech job description template to support him to manage his duties better.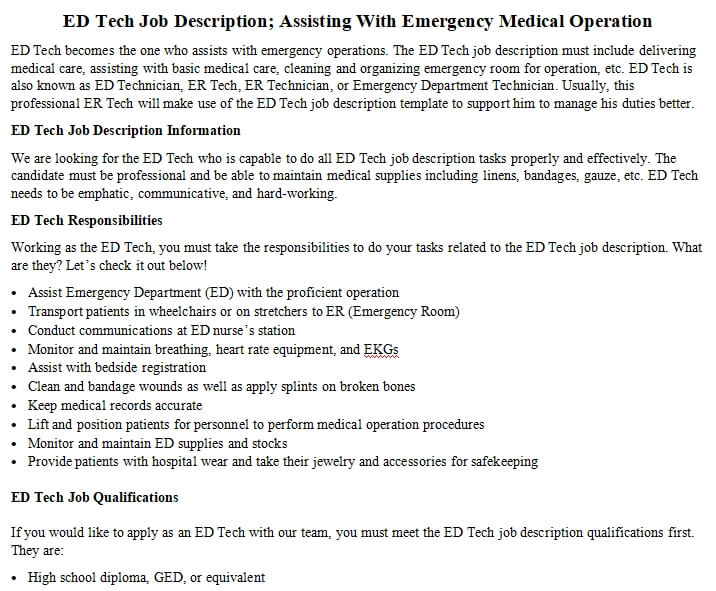 ED Tech Job Description Information
We are looking for the ED Tech who is capable to do all ED Tech job description tasks properly and effectively. The candidate must be professional and be able to maintain medical supplies including linens, bandages, gauze, etc. ED Tech needs to be emphatic, communicative, and hard-working.
ED Tech Responsibilities
Working as the ED Tech, you must take the responsibilities to do your tasks related to the ED Tech job description. What are they? Let's check it out below!
Assist Emergency Department (ED) with the proficient operation
Transport patients in wheelchairs or on stretchers to ER (Emergency Room)
Conduct communications at ED nurse's station
Monitor and maintain breathing, heart rate equipment, and EKGs
Assist with bedside registration
Clean and bandage wounds as well as apply splints on broken bones
Keep medical records accurate
Lift and position patients for personnel to perform medical operation procedures
Monitor and maintain ED supplies and stocks
Provide patients with hospital wear and take their jewelry and accessories for safekeeping
ED Tech Job Qualifications
If you would like to apply as an ED Tech with our team, you must meet the ED Tech job description qualifications first. They are:
High school diploma, GED, or equivalent
Have a valid BLS or CPR certification
Have experienced as an ED Tech before (preferred)
Excellent knowledge and understanding of ED assisting
Strong, dexterous, fit, agile and hard-worker type of person
Proficient in computer and typing
Excellent interpersonal and communication skills (verbal and written)
Great teamwork with other professional medical healthcare
Willing to work anytime during holidays, over the weekends, or in shifts
ED Tech FAQ
What is an ED Tech?
An ED Tech must be the one who assists doctors and nurses with ER by delivering basic operation supplies. He also does healthcare for the patients such as cleaning their wounds, dressing them, performing splints, etc. An ED Tech used to transport patients around the hospital for having fresh air in wheelchairs.
What Should You Include in an ED Tech Job Vacancy?
If you are going to post an ED Tech job vacancy, you should mention all skills, requirements, and qualifications needed. Make sure the applicants have great communication skills because they will communicate with doctors and nurses directly or by phone. Let you mention computer and typing skills, too. Remember, ED Tech will create a medical report for patients.
Do You Need to Interview Applicants for an ED Tech?
An ED Tech must also take an important role in a hospital because he performs emergency actions. He will be the one who lifts patients on stretchers, prepares for complete medical equipment and supplies for emergency operation, etc. Therefore, it is important to interview all the ED Tech applicants to get the best candidate.
That's all about the ED Tech job; hopefully, it will be advantageous for those especially ED Techs who need it.