A house cleaner must be a person whose main job is to clean houses with cleaning equipment and tools. The house cleaner job description also includes cleaning windows, mopping the floor, vacuuming, removing grease from varied surfaces, scrubbing kitchen fixtures, etc. A house cleaner is also responsible for the clients' satisfaction. The house cleaner job description template may be helpful for him to plan his duties well.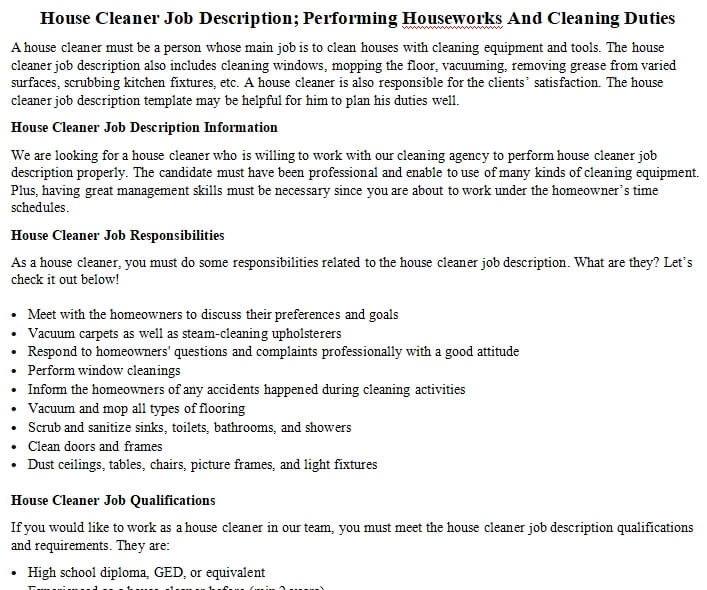 House Cleaner Job Description Information
We are looking for a house cleaner who is willing to work with our cleaning agency to perform house cleaner job description properly. The candidate must have been professional and enable to use of many kinds of cleaning equipment. Plus, having great management skills must be necessary since you are about to work under the homeowner's time schedules.
House Cleaner Job Responsibilities
As a house cleaner, you must do some responsibilities related to the house cleaner job description. What are they? Let's check it out below!
Meet with the homeowners to discuss their preferences and goals
Vacuum carpets as well as steam-cleaning upholsterers
Respond to homeowners' questions and complaints professionally with a good attitude
Perform window cleanings
Inform the homeowners of any accidents happened during cleaning activities
Vacuum and mop all types of flooring
Scrub and sanitize sinks, toilets, bathrooms, and showers
Clean doors and frames
Dust ceilings, tables, chairs, picture frames, and light fixtures
House Cleaner Job Qualifications
If you would like to work as a house cleaner in our team, you must meet the house cleaner job description qualifications and requirements. They are:
High school diploma, GED, or equivalent
Experienced as a house cleaner before (min 2 years)
Excellent knowledge and understanding of cleaning supplies, equipment, and cleaning technique
Understand and follow the instructions
Great verbal and written communication skills
Willing to work within contracts (for the extended period)
Gorgeous customer service
Willing to work under the homeowners' schedule
Professional, responsible, and reliable kind of a person
House Cleaner FAQ
What is a House Cleaner?
A house cleaner becomes the person whose job is to clean the homeowners' houses or apartments. He or she has great knowledge and understanding of cleaning equipment as well as tools. A house cleaner's task is not only to clean the area but also to meet the clients' preferences and satisfaction.
What Should You Include in a House Cleaner Job Vacancy?
If you are about to post a house cleaner job vacancy, you mention all the primary qualifications and requirements referred. Do not forget to mention work team skills because a house cleaner will work in a team when cleaning larger houses.
Do You Need to Interview Applicants for House Cleaners?
A house cleaner must be very important to the company since he or she is the one that will meet the clients' requests. He will communicate with the clients about cleaning schedules and deadlines. Having a communicative house cleaner is a must. Therefore, you need to interview applicants to get the best one. Make sure you test them whether or not they know how to use cleaning equipment and supplies.
That's all about house cleaner details; hopefully, it will be beneficial for all people especially those who need this information.