Kids Certificate with Simple Layout and Design
A certificate for kids has an important purpose. It shows that kids can accomplish something. Your kids may attend kindergarten and receive a diploma certificate. Of course, the design is not as formal as you see in college. At least, parents have something to justify that their kids have passed all things in the school. This is what kids' certificates supposed to be.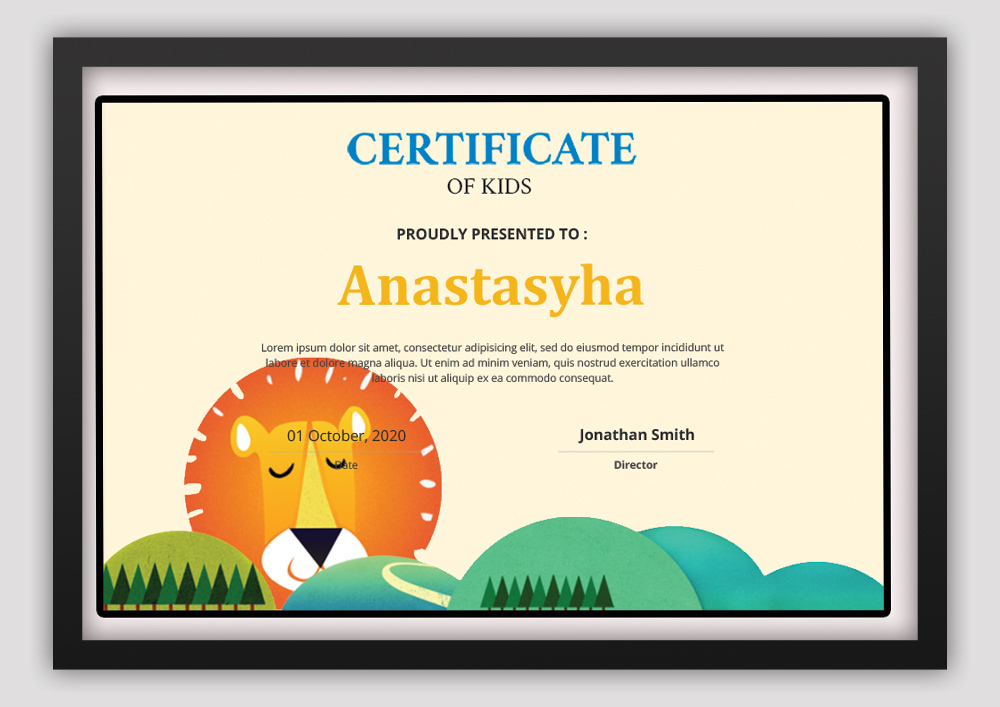 The certificate is not just about school. As a parent, you can consider giving the certificate for appreciation, for example when your kids finish a certain task at home. They may get the card or anything that resembles the certificates. For such a purpose, you must have some templates with various designs.
Kids Certificate Design Ideas
Kids certificate relies on attractive design and appearance. It is not about the list, of course, degree, qualification, and anything complicated. On the contrary, kids deserve certification as a gift after completing the task. They will feel that people appraise their contribution, work, and life. Here are several things you should consider when making this kind of certificate.
Attractive design
This is a certificate for kids, which means the design has to be child-friendly without improper material. You can get rid of the complex pattern, and choose the simple style. In general, the design has to be very attractive from a kid's perspective.
Bright color
One thing you cannot forget is color. The design and style should have bright colors. You can start with the common ones, such as green, blue, red, and yellow.
Simple words
Then, the certificate should contain simple words and phrases. There are no complicated sentences and long paragraphs. Kids just start learning, and the certificate must be adjusted to their reading level.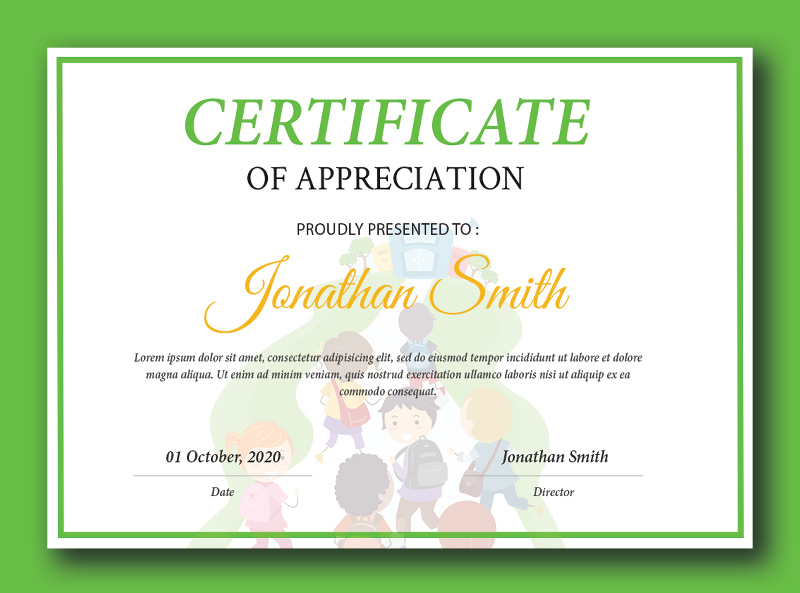 From the list above, now you know what the certificate looks like.  Your kids can read it easily since the design is properly styled to be in their minds. If you do not know the style and design for this certificate, using a ready-made template is the best solution.
Kids Certificate PSD Design
Designing a kid's certificate quite challenges. It is not about complexity and skill. On the other side, you must see it from the kid's eyes. For the certificate project for the kids, you can use the PSD design platform. If you work in the design and digital field, PSD is the most recognizable extension that comes from Photoshop. This software is what most designers use for creating digital design, including a template for this certificate.
Kids Certificate Template PSD
The template has various designs and styles. You can choose the one for the academic field that's usually applied in the preschool. Some templates are for fun activities and events. Moreover, most of them are used for academic achievement, diploma, task completion, sports certificate, and home chore certificate.
Printable Kids Certificate Template
From those templates, you just need to pick one that's compatible with your needs. After that, you can edit the name and few things. The template is ready to be the certificate. The last task is to print and give it to your kids at the right moment. Well, kids' certificate is designed in printable mode, so the kids can read, touch, and keep it in their room.