Free Highly-Customizable Wedding Certificate with Wonderful Designs
Looking for a unique additional gift for your long-time spouse on the next wedding anniversary of yours? Including a fancy faux customized wedding certificate inside your gift can be a creative way to show how appreciative you are of them. Each of the certificate templates in PSD format is designed with beautiful border and layout, to fill some information about your name and your partner, the wedding date, wedding reception location, and many other details.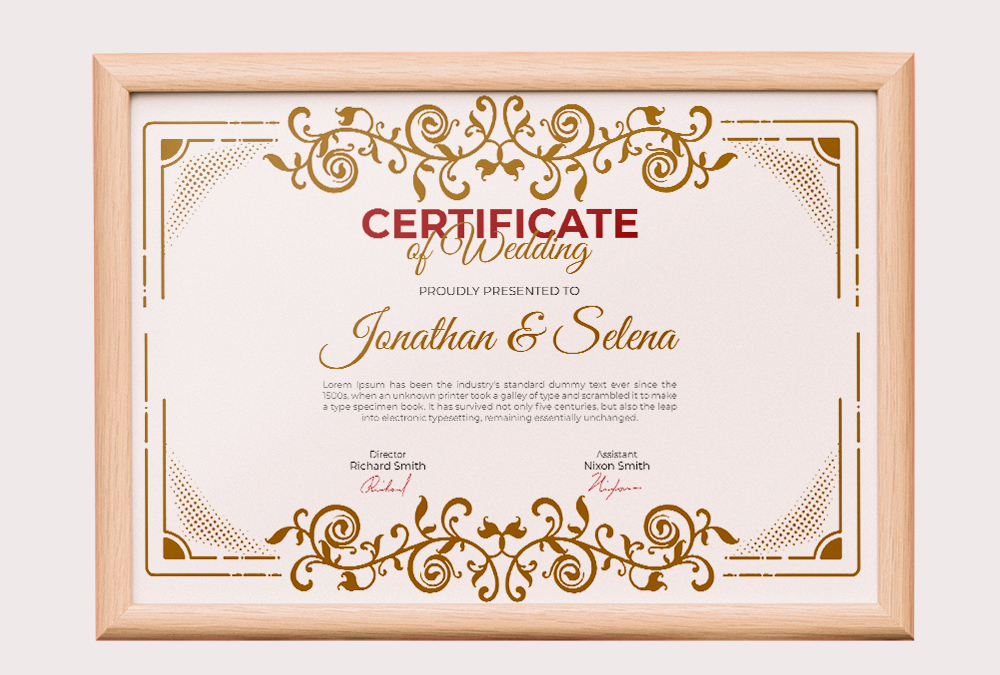 Wedding Certificate PSD Templates
A legal, government-issued wedding certificate is a certificate to record and confirm that a couple is married lawfully. In most countries or regions, the certificate is considered a public record. The document is required for plenty of reasons, such as issues of child legitimacy, change of the party's name, visa purpose, genealogical history, or to use during the process of divorce.
Even if these PSD templates cannot be used for legal affairs, it can be still a great gift to give to your partner. You will be able to put your details or customize the design as much as you want.
Wedding Certificate Contents
If you want to make the certificate as close as to the real one, you have to input the components of a real legal certificate. A wedding certificate that has legal force typically possesses this information and details below:
Each partner full name that's used during the wedding ceremony
The location of the wedding, including information of area, city, and state
The date of the wedding, including day, month, and year details
The wedding certificate's purpose
Photo ID of both partners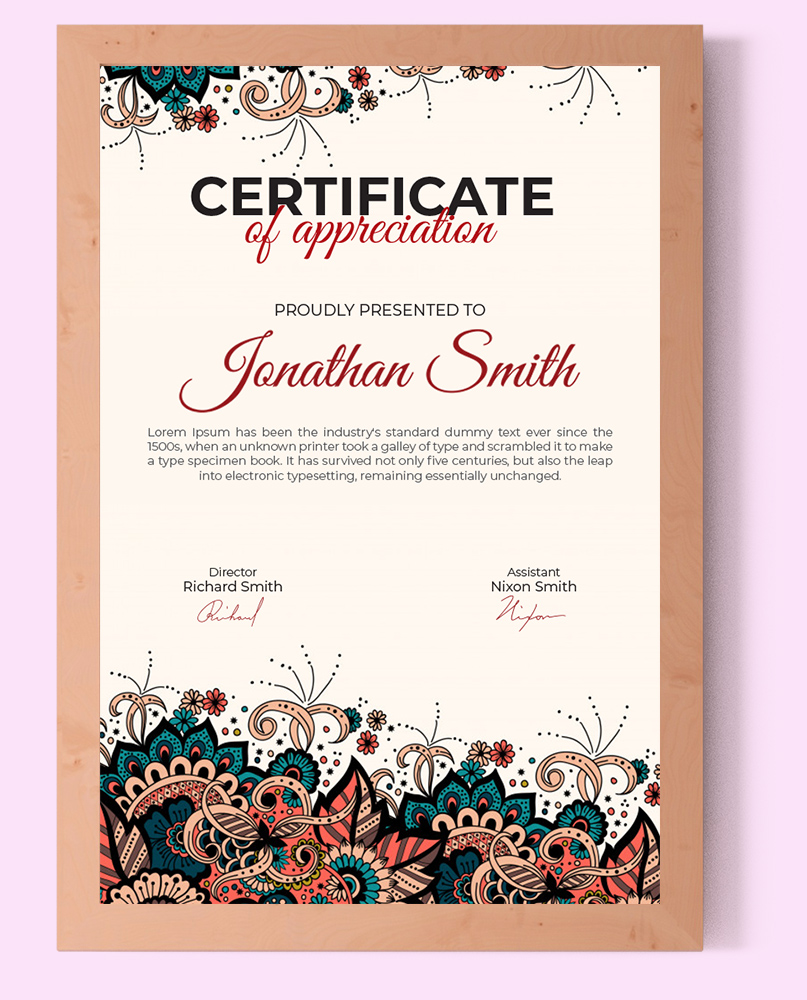 Now, if you want to create and print a custom-made certificate, it is possible and easier to use the templates provided on this page. The templates are available in PSD format so they are all highly customizable and editable. You can edit the size of the certificate, add your photo, change the color palettes and the text to fit with how you desire it has to be.
Wedding Certificate PSD
Gifting these free self-print certificates is a great way to celebrate you and your partner's union. It can still be an entertaining addition to put inside your gift box to let them know how appreciative you are of them and their presence in your life, as well as the special day of both of you. Here are the steps to use the templates:
Select the free certificate that appeals to you the most from the collection of templates here.
Download the PSD templates that you have chosen.
Open the downloaded template with Adobe Photoshop software.
Do as much or as little edit as you want, by filling the blank sections such as your name or the wedding date.
Finally, print the template out and you are done.
Download Wedding Certificate
These wonderfully designed templates will be great to print out, hang, or put on your wedding album. Choose and download the wedding certificate template that you want for free and have fun with customizing it.