Free Laundry Letterhead PSD Template for Your Business
Laundry services have been found in urban and rural areas. People usually are lazy to wash their clothes. Besides, the cost of laundry service is relatively cheap. For some people, laundry is a service that helps their homework. You may even want to open the laundry service in your home. I run this business, you need to set up the washing machines and a large place. Moreover, you need digital promotional media, such as laundry letterhead. Create your letterhead using the free PSD templates.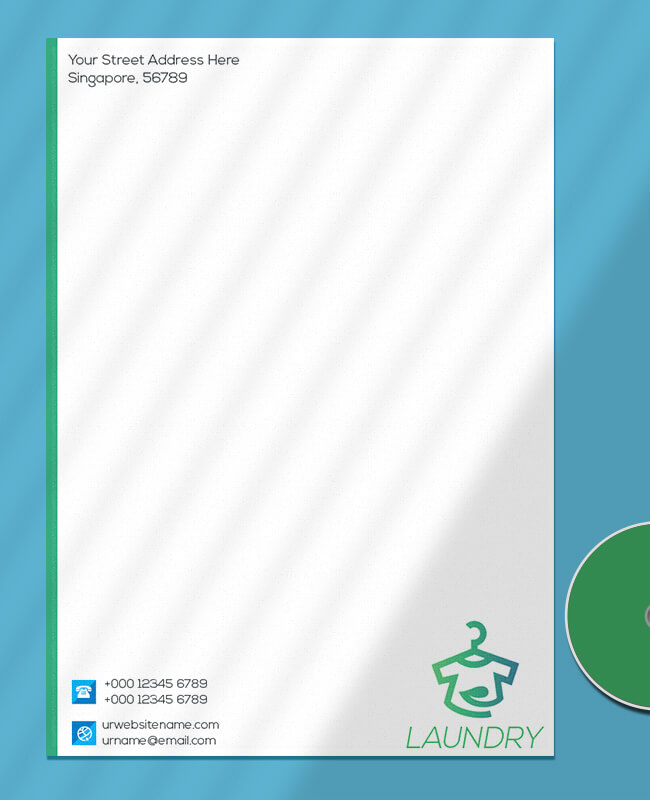 Making Your Laundry Letterhead
Create a beautiful border
There are many borders that you can use on two-dimensional software designs. Well, putting a border into a letterhead is a good idea. Border works like a frame in your photo. This will help the readers to focus on the message in your letter.
Add a creative touch to the header
Moreover, the header is also a part that's generally as a place for logo and company name. In this section, you can add your creative touches, such as the colors and simple geometry lines. This will make your letterhead look more attractive. Also, just add a suitable background with pictures of clothes.
Pay attention to your target audience
Letterhead may vary, depending on your target audiences. The balance between the design and the audience is surely needed. For example, if you make a laundry letterhead, it would be very nice if the design is not as rigid as a formal letterhead. You should use a more flexible design by the laundry services.
Don't hesitate to play colors
Color can manipulate the psychological impact of your letterhead. Bright colors like yellow and red will give a cheerful and upbeat mood. Also, you can play with rainbow color combinations that will never fail to impress people.
Create uniform stationery
Making a letterhead is not enough to help your promotion to the fullest. You need a package of stationery, such as envelopes and business cards. You only need a little time to do it because every part of the stationery is always connected
Create the Simple Laundry Letterhead Using Free Templates
After reading the tips above, you may feel confused because it looks complicated. Well, don't worry as you can use the ready-made templates to create a letterhead. It is very easy and practical. You can make the letterhead in a fast and instant way just by using the PSD templates.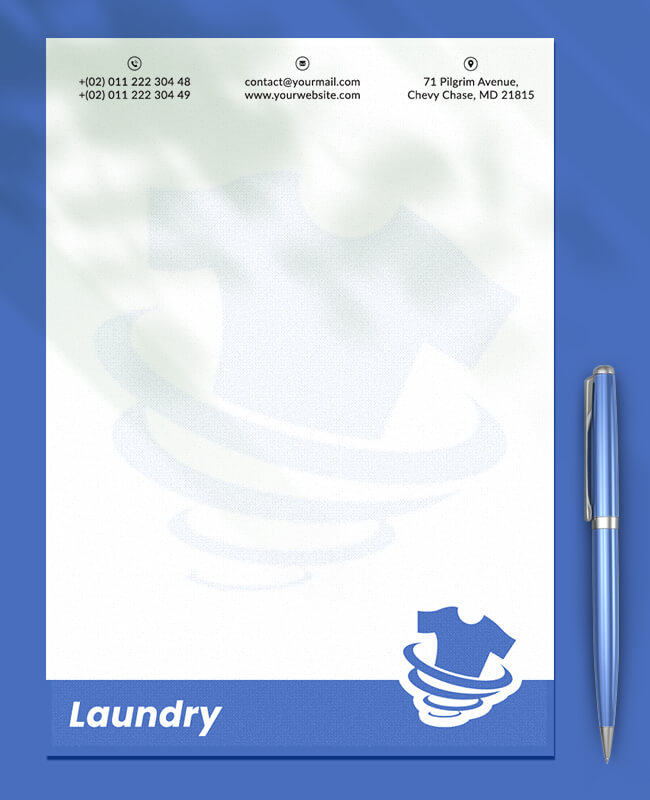 Laundry Letterhead Details
You can download the free PSD laundry letterhead template with high-resolution photos in it. By using this template, you can make adjustments based on your need. Also, the template is suitable for commercial printing. There are some text suggestions that you can replace with your text or logo.
Benefits of Using Laundry Letterhead PSD Templates
Laundry letterhead PSD templates can ease your work to design the letterhead. Also, the template can be used as a reference for standard layouts in several companies. Using the PSD ready-made template will showcase your creativity as well.