A travel agent is a person or company that offers tickets, hotel rooms' arrangement for people going on a trip. The travel agent job description includes arranging accommodation and transportation, advising certain traveling destinations, processing payments, etc. A travel agent is also responsible to prepare for an itinerary tour. The travel agent job description template will be a useful work design idea for him.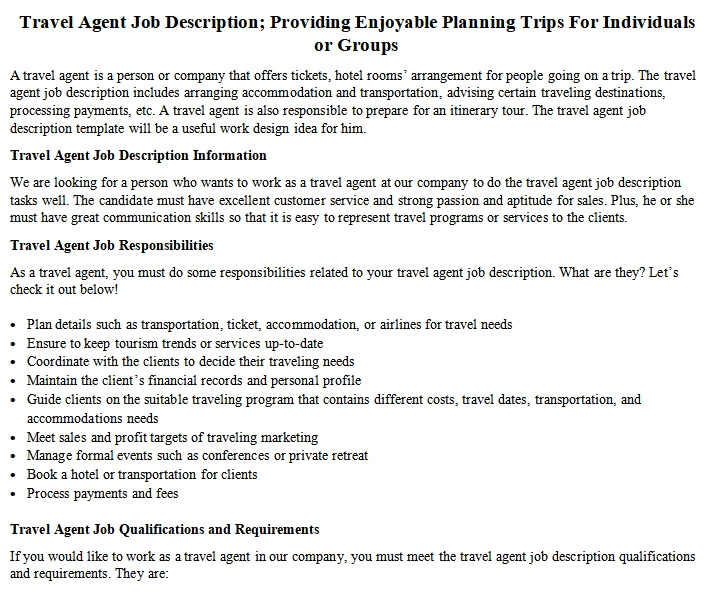 Travel Agent Job Description Information
We are looking for a person who wants to work as a travel agent at our company to do the travel agent job description tasks well. The candidate must have excellent customer service and strong passion and aptitude for sales. Plus, he or she must have great communication skills so that it is easy to represent travel programs or services to the clients.
Travel Agent Job Responsibilities
As a travel agent, you must do some responsibilities related to your travel agent job description. What are they? Let's check it out below!
Plan details such as transportation, ticket, accommodation, or airlines for travel needs
Ensure to keep tourism trends or services up-to-date
Coordinate with the clients to decide their traveling needs
Maintain the client's financial records and personal profile
Guide clients on the suitable traveling program that contains different costs, travel dates, transportation, and accommodations needs
Meet sales and profit targets of traveling marketing
Manage formal events such as conferences or private retreat
Book a hotel or transportation for clients
Process payments and fees
Travel Agent Job Qualifications and Requirements
If you would like to work as a travel agent in our company, you must meet the travel agent job description qualifications and requirements. They are:
Bachelor's degree in Tourism, Hospitality, or related subject
Have experienced working as a travel agent before (min. 2 years) (necessary)
Great understanding and knowledge of domestic and foreign travel destination and attraction
Excellent sales and customer service skills
Strong verbal and written communication skills
Willing to look for information about the newest tourism trends
Great interpersonal skills
Excellent negotiation skills
Travel Agent FAQ
What is a Travel Agent?
A travel agent becomes the person who will promote a tourism plan and destination to the clients for sales and marketing goals. He or she has great knowledge and understanding of domestic and foreign travel destinations. Therefore, he might explain a proper tourism program for the clients based on their interests and budgets.
What Should You Include in a Travel Agent Job Description?
If you are about to look for a travel agent to work at your company, you must write down all the necessary qualifications and requirements. Do not forget to mention that the participants must be able to manage traveling plans and tasks. They include booking ticket and hotel reservations for the clients, processing payment, etc.
Do You Need to Interview Applicants for Travel Agents?
A travel agent must lead to the company's success. That is because he or she will be the one that represent the company's traveling program to the clients. Therefore, it is necessary to interview travel agent applicants. Let you test them, give some questions, or ask them to perform how to promote traveling plans.
That's all about travel agent job details; hopefully, it will be a beneficial template for you who need it.