A forest ranger is a person who helps in preserving forests. He/she maintains public lands, trails, roads, and campgrounds. He/she also helps to prevent and fight fires. In relation to the forest ranger job description, he/she also advises lumber industry representatives and landowners on forestry matters.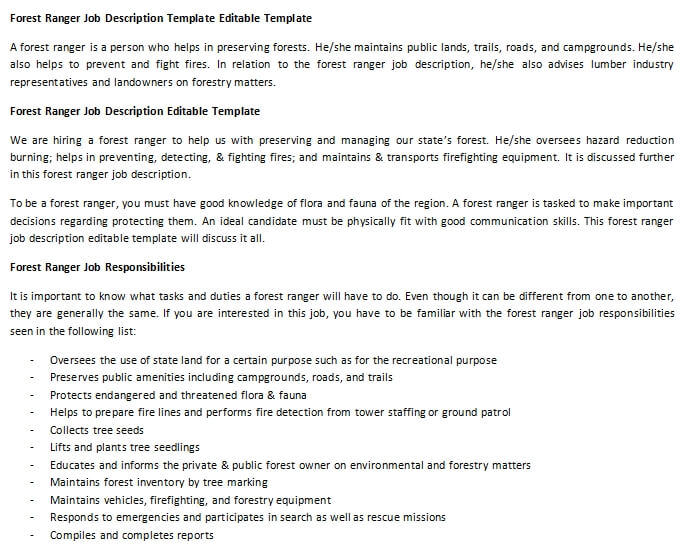 Forest Ranger Job Description Editable Template
We are hiring a forest ranger to help us with preserving and managing our state's forest. He/she oversees hazard reduction burning; helps in preventing, detecting, & fighting fires; and maintains & transports firefighting equipment. It is discussed further in this forest ranger job description.
To be a forest ranger, you must have good knowledge of flora and fauna of the region. A forest ranger is tasked to make important decisions regarding protecting them. An ideal candidate must be physically fit with good communication skills. This forest ranger job description editable template will discuss it all.
Forest Ranger Job Responsibilities
It is important to know what tasks and duties a forest ranger will have to do. Even though it can be different from one to another, they are generally the same. If you are interested in this job, you have to be familiar with the forest ranger job responsibilities seen in the following list:
Oversees the use of state land for a certain purpose such as for the recreational purpose
Preserves public amenities including campgrounds, roads, and trails
Protects endangered and threatened flora & fauna
Helps to prepare fire lines and performs fire detection from tower staffing or ground patrol
Collects tree seeds
Lifts and plants tree seedlings
Educates and informs the private & public forest owner on environmental and forestry matters
Maintains forest inventory by tree marking
Maintains vehicles, firefighting, and forestry equipment
Responds to emergencies and participates in search as well as rescue missions
Compiles and completes reports
Forest Ranger Job Requirements
We want to find the best candidate for our forest ranger. So, we require some qualifications related to educational degrees, skills, and many more. Below are the detailed forest ranger job requirements:
GED, high school diploma, or suitable equivalent
Completion of criminal background investigation, medical exam, and fingerprint check
Submission of the sworn affidavit to confirm no usage of tobacco or other related products
Commercial driver's license
Ability to repair and maintain vehicles
Good knowledge of fire regulations and laws
Proficient skills in a computer
Excellent skills in communication, both written & verbal
Good moral character
Physically strong and fit, with expected navigational skills
Underrated by working during extreme conditions of weather, in dangerous & hazardous conditions, and on rough terrain
Availability to work on short notice and extended hours
Forest Ranger Job Description FAQs
Can I edit the posted job description here?
Yes, you can. You can easily edit this job description to fit your needs.
Do you have interview questions for a forest ranger?
Besides the forest ranger job description, some interview questions for a forest ranger are also available here.