Ground staff can also be called a ground crew. He/she works in the aviation industry. He/she is engaged in different roles at the airport. He/she ensures the passengers' comfort and safety. Now, let's discuss the ground staff job description further in this article.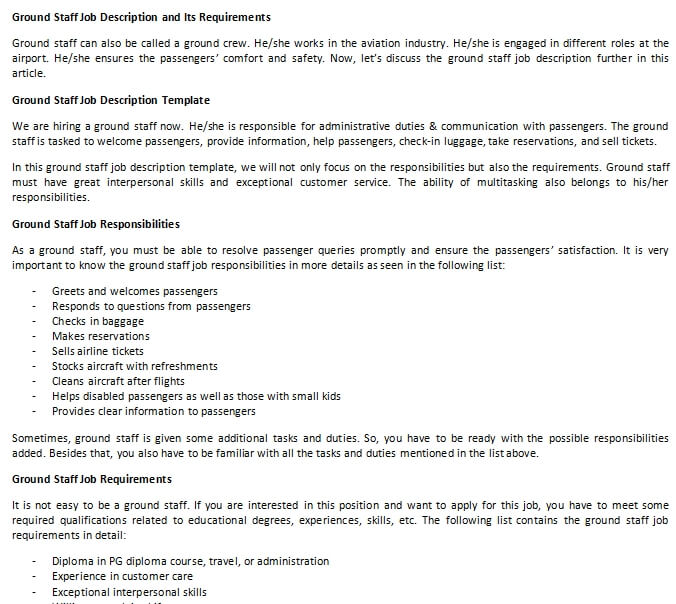 Ground Staff Job Description Template
We are hiring a ground staff now. He/she is responsible for administrative duties & communication with passengers. The ground staff is tasked to welcome passengers, provide information, help passengers, check-in luggage, take reservations, and sell tickets.
In this ground staff job description template, we will not only focus on the responsibilities but also the requirements. Ground staff must have great interpersonal skills and exceptional customer service. The ability of multitasking also belongs to his/her responsibilities.
Ground Staff Job Responsibilities
As a ground staff, you must be able to resolve passenger queries promptly and ensure the passengers' satisfaction. It is very important to know the ground staff job responsibilities in more details as seen in the following list:
Greets and welcomes passengers
Responds to questions from passengers
Checks in baggage
Makes reservations
Sells airline tickets
Stocks aircraft with refreshments
Cleans aircraft after flights
Helps disabled passengers as well as those with small kids
Provides clear information to passengers
Sometimes, ground staff is given some additional tasks and duties. So, you have to be ready with the possible responsibilities added. Besides that, you also have to be familiar with all the tasks and duties mentioned in the list above.
Ground Staff Job Requirements
It is not easy to be a ground staff. If you are interested in this position and want to apply for this job, you have to meet some required qualifications related to educational degrees, experiences, skills, etc. The following list contains the ground staff job requirements in detail:
Diploma in PG diploma course, travel, or administration
Experience in customer care
Exceptional interpersonal skills
Willing to work in shifts
Well-groomed
Computer literate
It is possible that some other qualifications are added. It can relate to certification, abilities, or others. Anyway, if you meet all the required qualifications above, you may be an ideal candidate for our ground staff. So, we invite you to meet us for an interview.
Ground Staff Job Description FAQs
What does the ground staff do in the aviation industry?
Working in the aviation industry, a ground staff or ground crew ensures the passengers' comfort and safety. He/she welcomes passengers, provides information, helps passengers, checks in luggage, takes reservations, and sells tickets.
Can I edit the posted job description here?
Yes, you can. This ground worker job description template is editable. So, just feel free to customize it to fit your needs.
Do you have interview questions for a ground staff?
Besides the ground staff job description, this web also contains some interview questions for the candidates of ground staff. The interview questions are available on another page.