Free Templates of Academic Paper Outline
Writing a paper is a part of academic life – even though it has to be done frequently, but for some people, it will still be challenging all the same. To create a well-crafted research paper, sometimes you have to take a lot of time. These paper outline templates are created to help the paper writers to create accurate and comprehensive content in a shorter time and easier required process.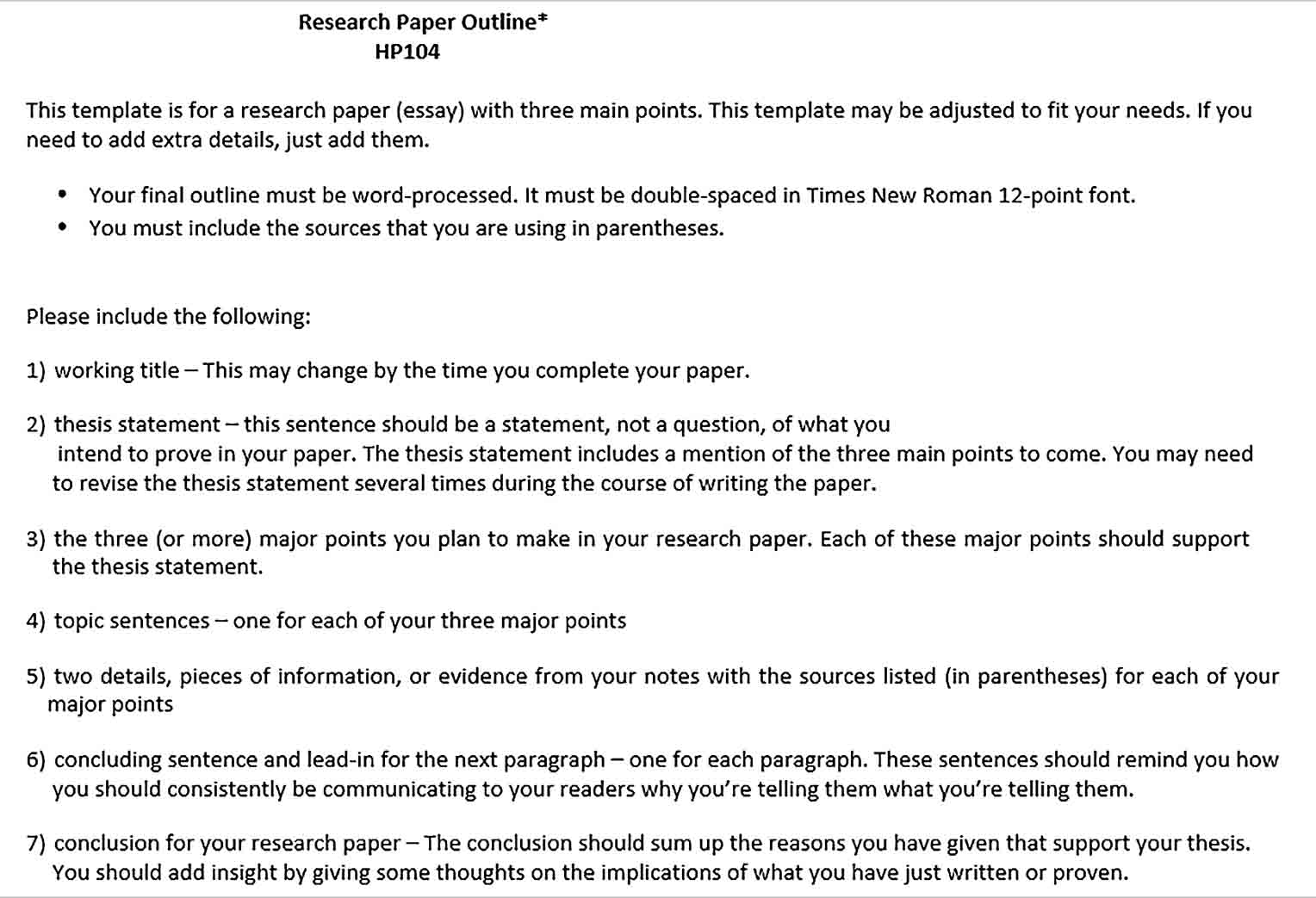 Paper Outline Formats
The outline is the foundation of paper, in which you build the content. It typically consists of three major parts, which are the introduction, body, and conclusion paragraph. The more detailed outline you create before you write the paper, the better it will turn out to be. An outline provides a way to organize your ideas and researched information into a structured and logical order. Even though it is merely a rough basement of the substance you'd input later, it still can help you to keep track of a lot of information needed.
To create a proper paper outline, you have to:
Put your thesis statement in the beginning part.
Write your points that support the main statements and label them in the numeral of Romans (I, II, III, …).
Write your argument for each point and label them in capital letters (A, B, C, …).
Continue to divide the idea if it's necessary to ensure that the outline is well-developed and label them in order of 1, 2, 3, …, then a, b, c, … and so on.
Paper Outline Guides
There are several styles of the paper outlining method, such as APA, MLA, Chicago, Harvard Business, and many more. Here are two of the most common academic writing guides:
APA outline
There are some general rules of APA format that you have to follow if you're using it. The title is written at the beginning with uppercase letters. Next, you have to organize the topics and subtopics. State your main thesis and the details of it in the subheadings part. It is also possible to create outline headings and various options.
MLA outline
This outlining guide is different from the APA format. You do not have to insert a title page here. Instead, create a header that contains your name, the teacher or educator's name, the course title, and the current date. Insert 'Outline' word in the center section of the page. The thesis must be stated at the beginning of the paper without the use of subheadings.
Paper Outline Components
Regardless of what paper outline format guide that you're using, a paper outline will always have three major elements that have been mentioned above. First is the introduction where you present the background information about the topic, thesis, and relevance. Then, the body part is where you deliver your ideas and arguments. Last is the conclusion where you draw the general result of the paper.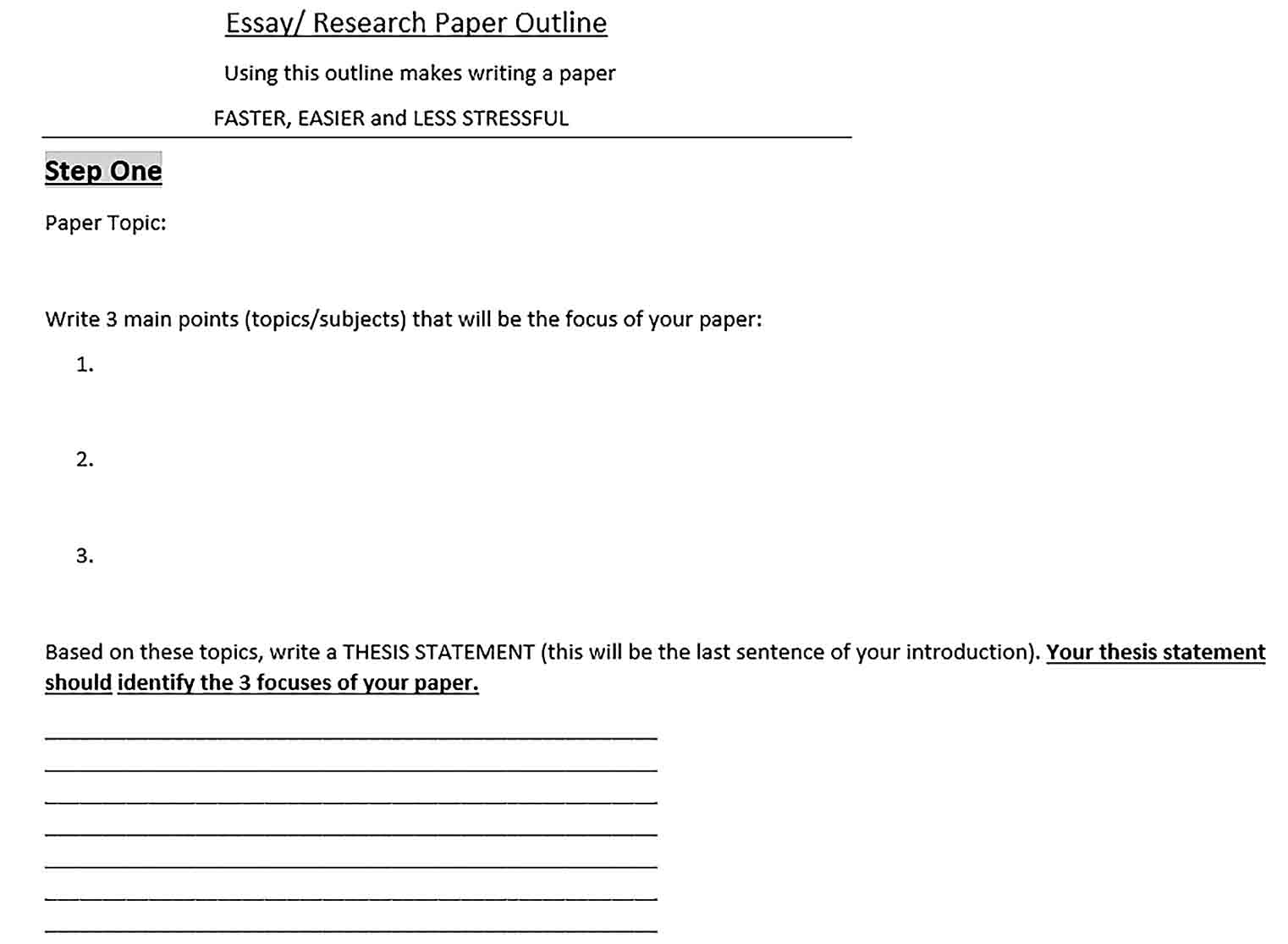 Get Paper Outline for Free
By using paper outline templates, you will be able to create a paper with the correct format, organized structure, and delivered details properly and scientifically. These templates are all accessible for anyone to download for free, so click on any that you like and get it right away.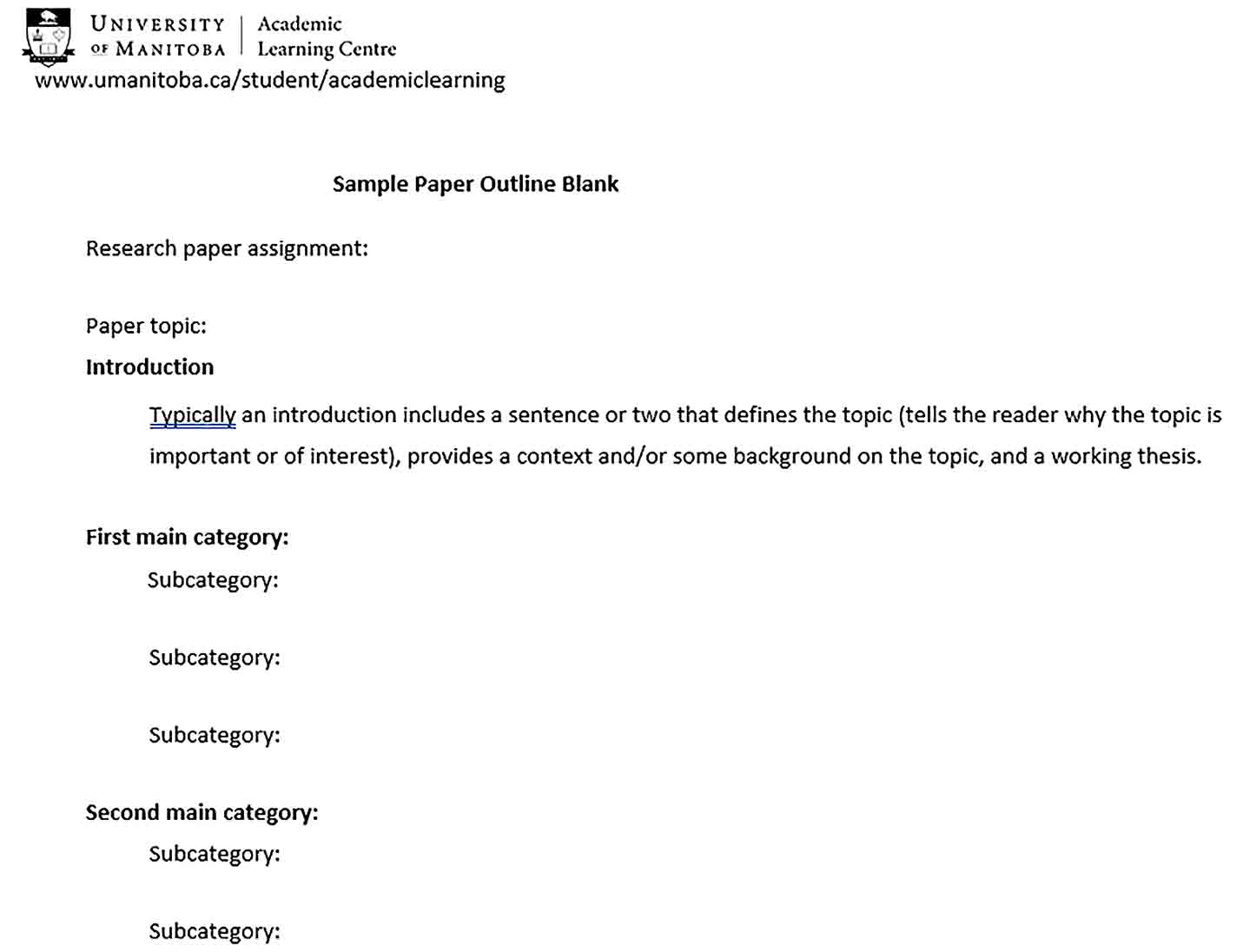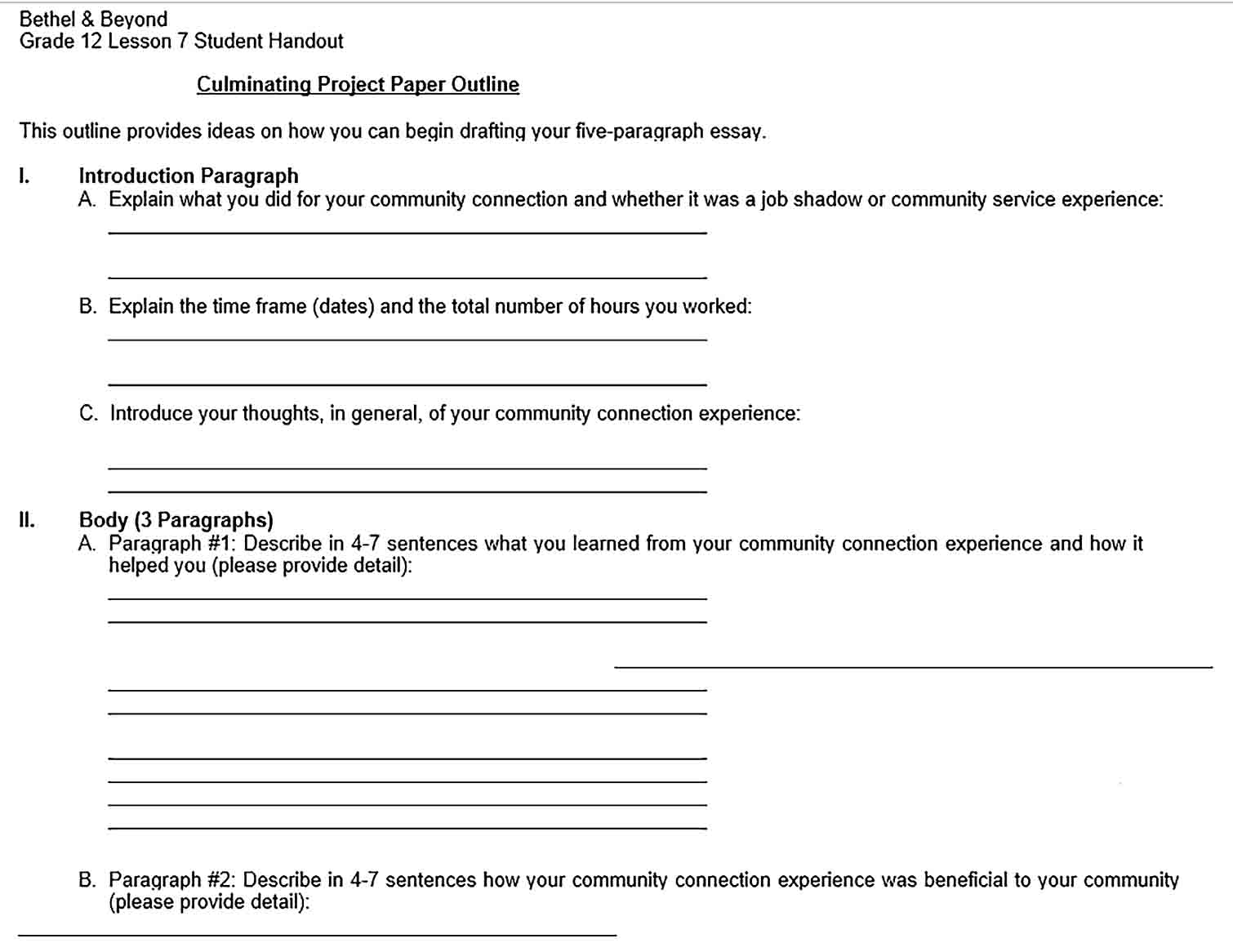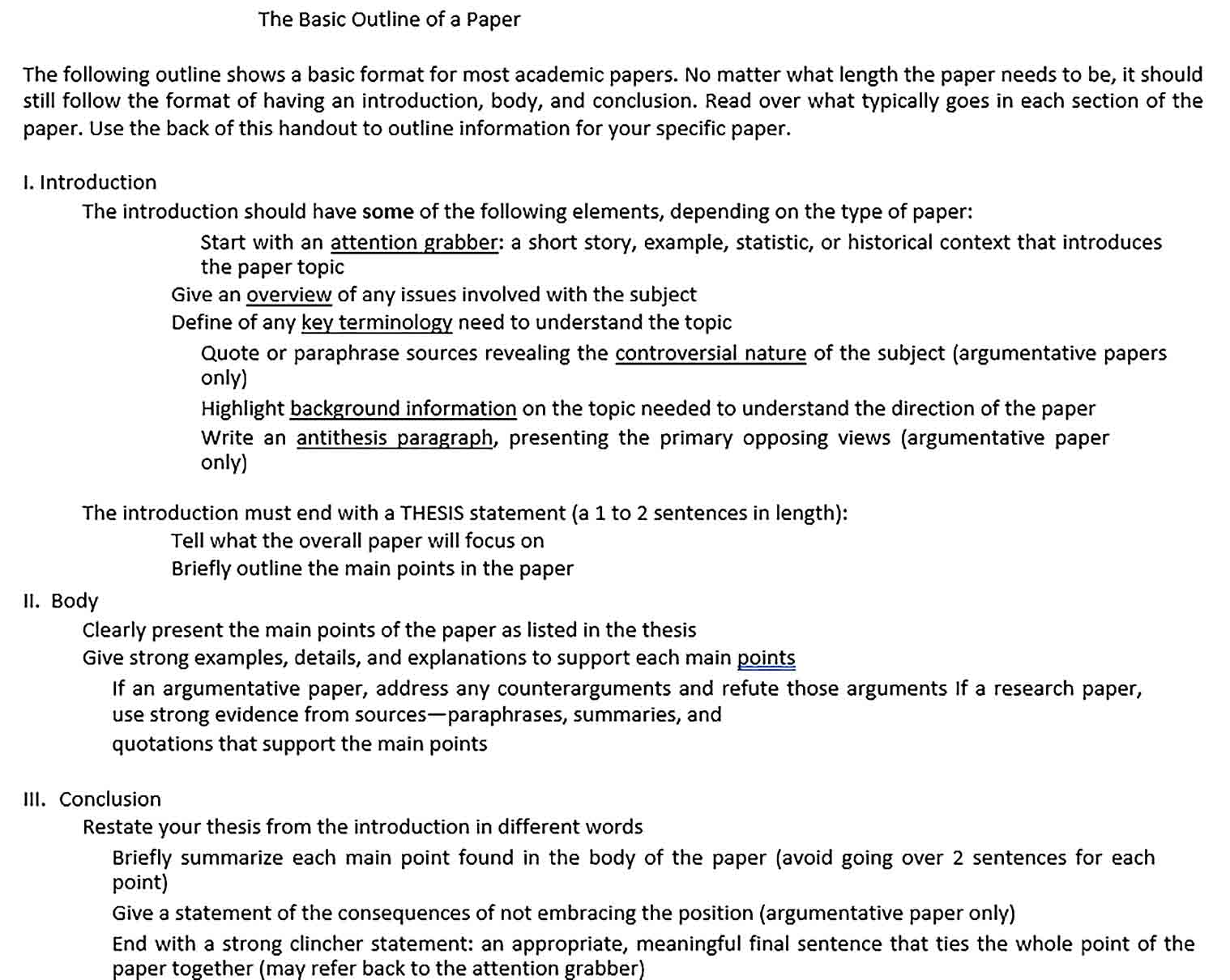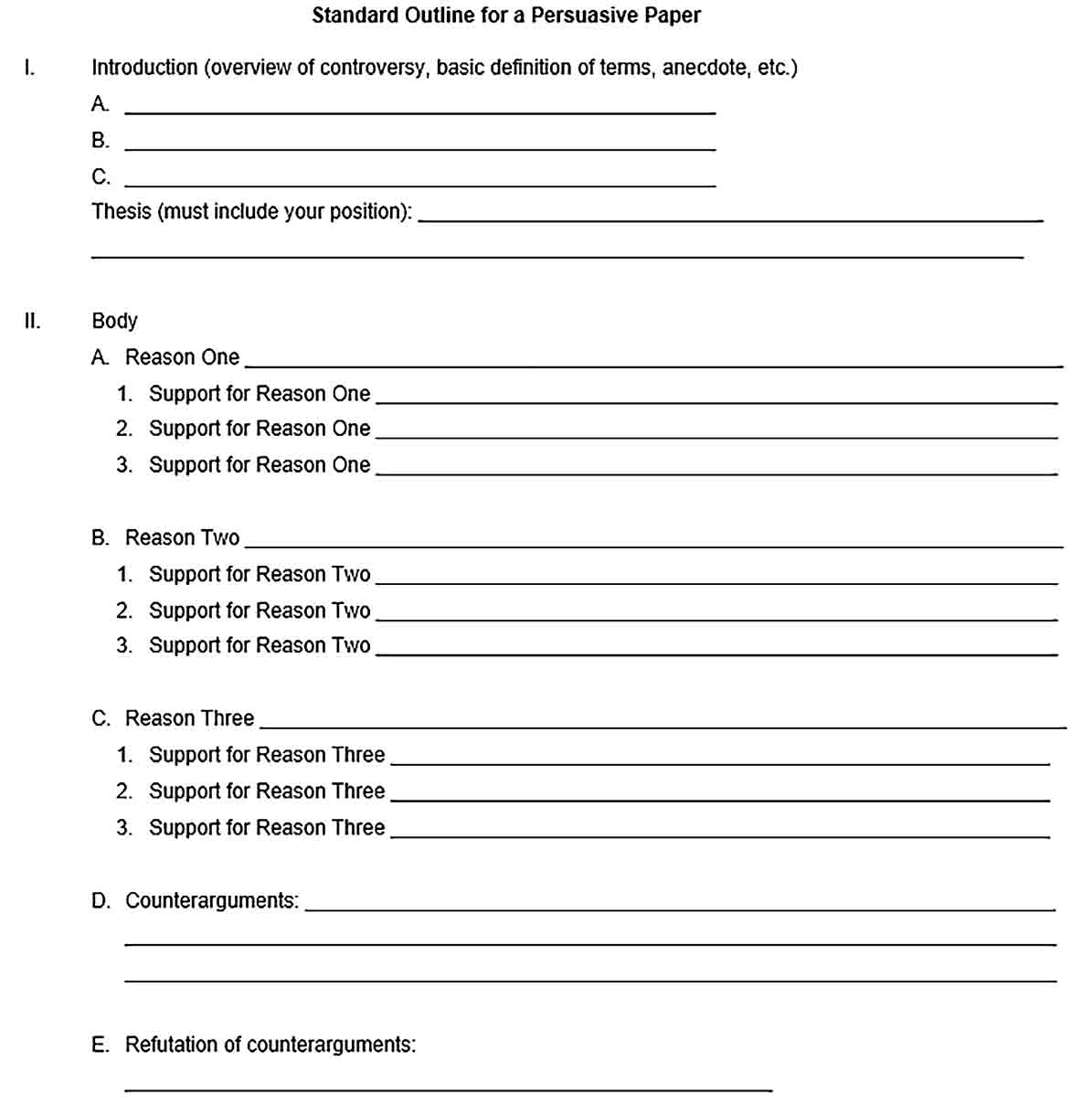 Similar Posts: