You must speak in front of people for the presentation session. In a different time, you are in charge of delivering a speech about a certain topic. Public speaking is the skill that you must have to ensure people can grasp your meaning. Unfortunately, that's not a simple task especially when you are lack confidence and credential. This is where you start with an introduction speech outline.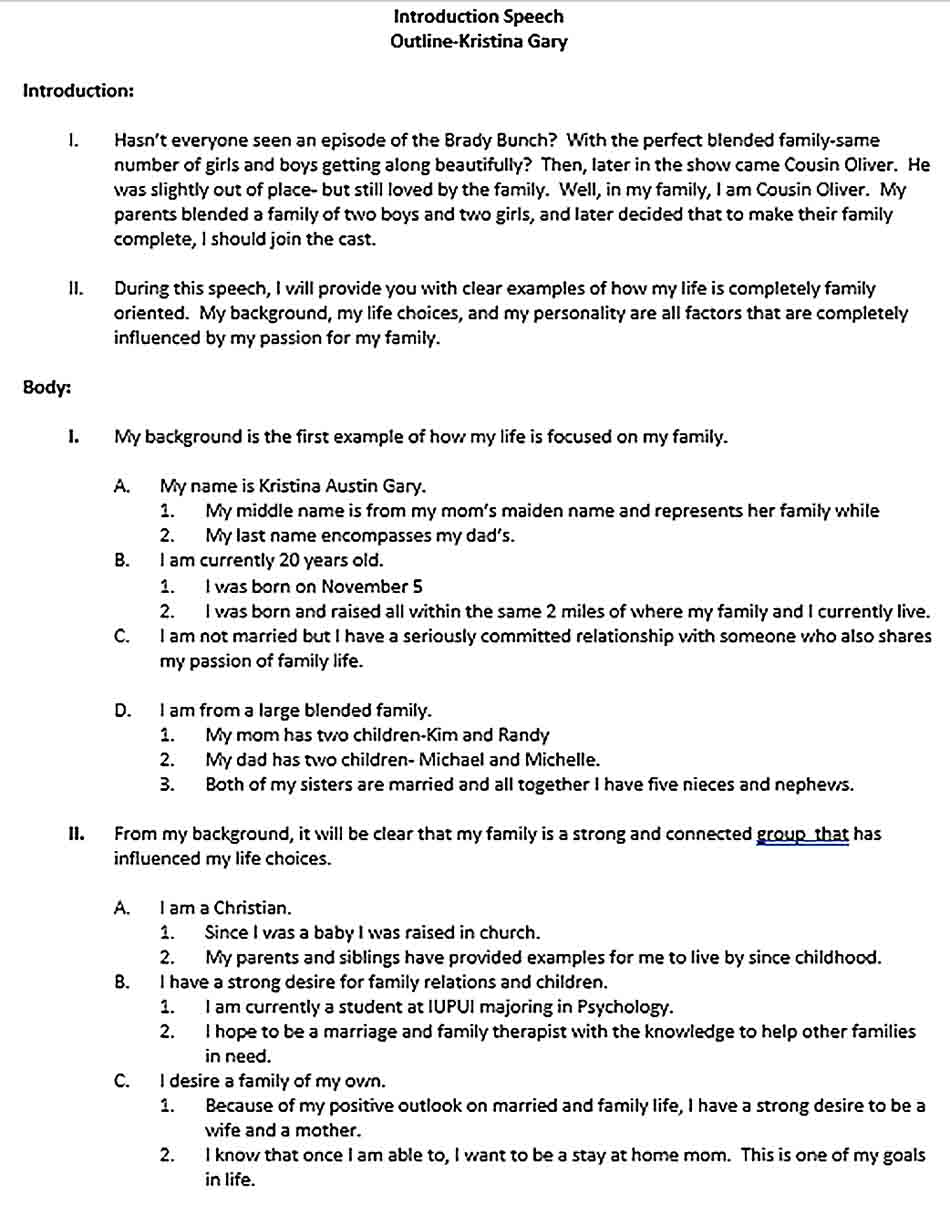 Introduction Speech Outline Main Ideas
You should realize that the first impression is the important thing when speaking in public. People will judge your performance since the first greeting. When you lose their attention in the first place, it is very hard to bring back into the normal state, unless you have an extraordinary method.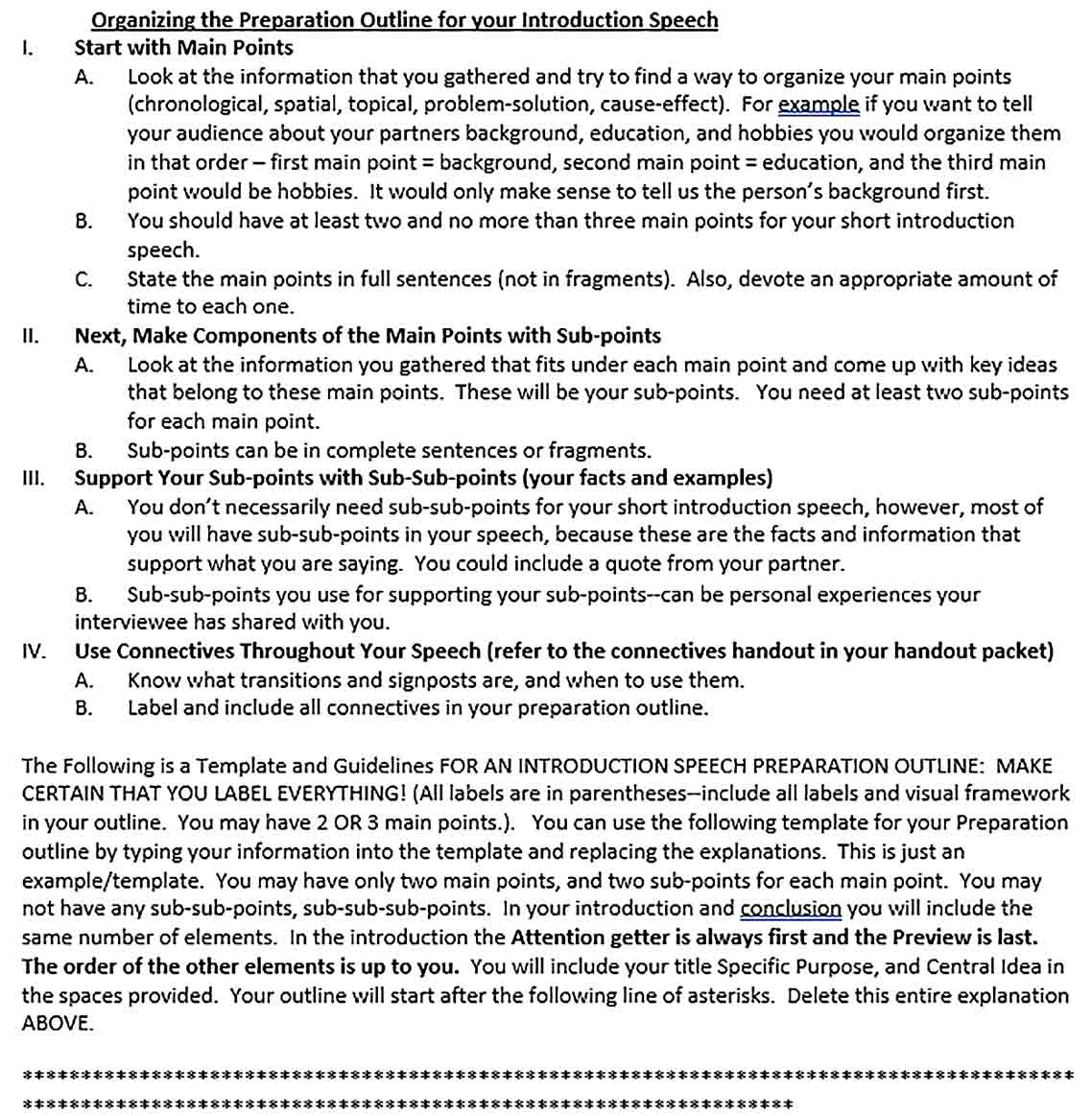 To avoid an unwanted situation, you can start with an introduction speech outline. It gives the idea about the topic and content you must put into the speech. People will speak fluently and well when they know and understand the topic. Therefore, you can learn how to pick the right content and make it into an outline.
Introduction Speech Outline Contents
An introduction speech outline is easy to understand after you check some items as te content. Hesitation and nervousness are common problems when you do not have enough experience for speaking in front of many people. However, you cannot give up, and it is time to show what you can do.
Greetings
The greeting is the key to this outline. It is like an opening that catches people's attention. You can use greeting with the standard form if the event is formal and official. The casual greeting is preferable when the audiences are people you already know.
Attention getter
After greeting, you can start with the attention-getter. It is like something that makes people see you instantly. The easiest choice is using a joke or casual word to relax their mind. Before entering the core content, make sure your audiences are ready.
Transition
You can use the example, experience, illustration, association, or anything to transfer the relaxed condition into a serious situation. The transition has to be smooth and slow.
Main topic
The main topic is where you explain the contents and speech directly. This part has to be precise and straight to the point. Avoid unnecessary illustrations because people cannot keep their attention for long. You should allocate fifteen to twenty minutes for this part.
Credential and credibility
While speaking, you have to show what you are, and the thing you can do. The speaker is the person with credentials and credibility to justify that he/she has the right to be in that place. You can do this thing since the attention-getter until entering the core speech.
Introduction Speech Outline Sample and Template
The below list will show some templates and samples related to this topic. Choose the one that's capable to fulfill your needs.
General introduction speech outline
Informative introduction speech outline
Self-introduction speech
Academic speech
Casual introduction speech outline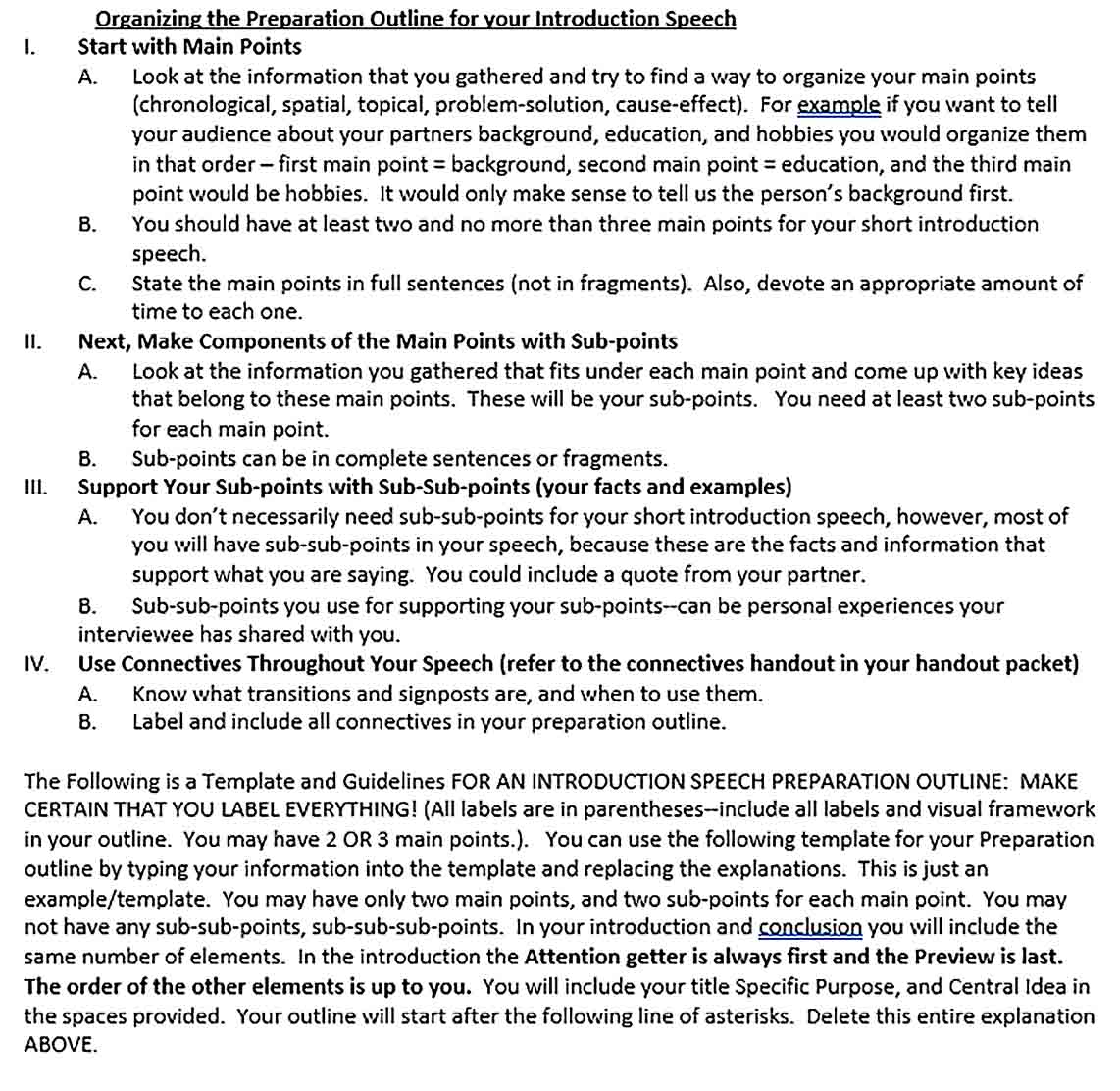 Introduction Speech Outline Layout and Design
Introduction speech outline incorporates simple design. It has an outline of items for each part. You just put anything that will be in the speech. Make sure the content is informative and interesting. As usual, you may modify and edit the items.