Creating Your Own Football Letterhead
Are you a football club chief? Or, do you establish a football federation? Well, you must use the letters for doing formal communication with your clients. One thing for sure is you have to own the letterhead as your brand. If you think you do not have enough time and skills to design a football letterhead, this article can give the solution. Without hiring a pro graphic designer, you can create the professional yet beautifully-designed letterhead. There are useful tips for designing the letterhead along with many choices of letterhead templates.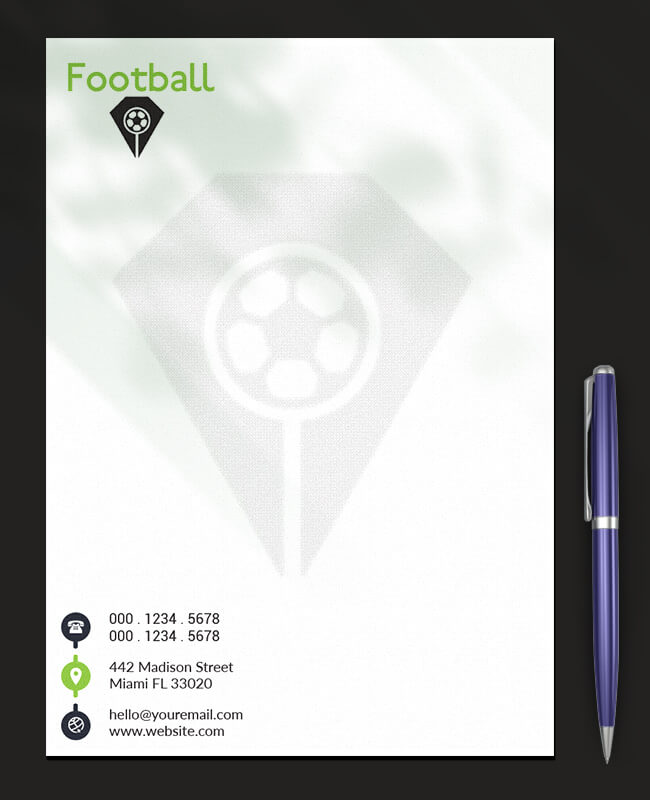 Benefits of Having Professional Football Letterhead
There are three benefits of having your professional football letterhead.
Introducing Your Football Club
You need to introduce the prestigious football club or federation through letterhead, on which the football club name, logo, and contact details are provided attractively. Letter paper is one of the most significant printing collaterals in any enterprise. Also, the letterhead will help the potential clients recognize your club from its logo.
Functioning as a Legal Document
Letterhead can be considered as the valuable document of your club or federation. It functions as a legal document since you use it for all official correspondences.
There is a general saying that someone will take seven seconds to create a first impression on others. The same thing works for business letters. What your readers see at the first glance decides whether they will keep on reading or not. It is your letterhead's job to create that first impression on the letters. It also convinces your potential clients that your club or federation is real, not a fraud.
Creative Design Tips of PSD Football Letterhead
Here are three tips if you want to design the creative PSD football letterhead.
First of all, you need to define what to write within the letterhead layout. All details, such as your club name, logo, address, phone number, email address, or fax number should be included.
You need to select the font to represent the football brand. When you have decided what font to utilize, it should be applied within the letterhead. It's strongly suggested not to use more than two fonts in the letterhead.
The essence of letters is the content. It means the letterhead design should not be too complicated. The simple yet attractive design is the best for the letterhead. You are suggested to place your club name and logo on the top left corner, and contact details on the right corner of the letter.
Design Ideas of PSD Football Letterhead
You can browse and find the design ideas for your football club letterhead. Moreover, you can take a look at the letterhead design ideas as your reference. These available designs are free to customize and save in the PSD format.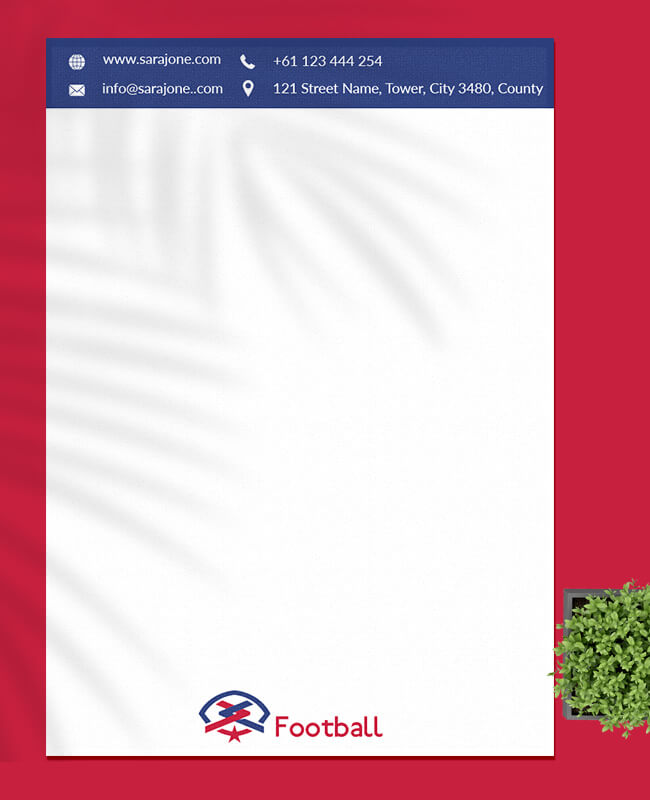 Templates of PSD Football Letterhead
Creating your football letterhead is not a problem anymore. Though you don't have skills like a pro, you can have your professional and appealing letterhead by choosing free templates. All of the templates are designed in PSD format. Also, you can easily edit the layouts and artwork to adjust your club or federation needs.