Designing and Selling the Hockey Ticket
Do you have any plans for the weekend? If you don't know what to do for the weekend, how is it about watching a sporting event? There will be a big hockey match this weekend and many people are going there. You have to get the ticket quickly before all of them are sold out. Well, let's discuss how to boost hockey ticket sales and tips for designing the ticket without you need to hire a graphic designer.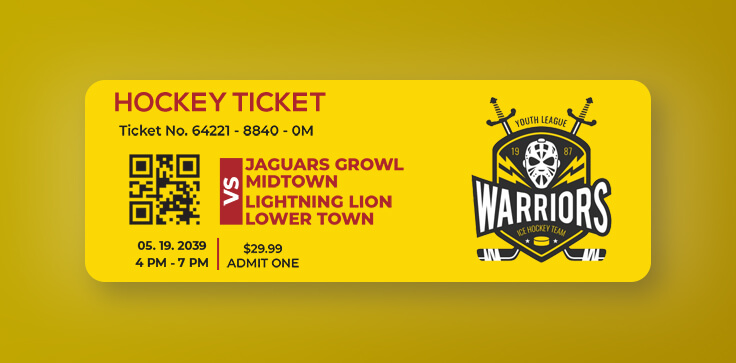 Design Tips of PSD Hockey Ticket
Here are stated some tips for designing a ticket for hockey matches.
Information on the Ticket
You need to include all necessary information on your ticket, such as the hockey match name, time (the day, date, and the time it starts), venue, contact person or RSVP, and seat number (if applicable).
Size of the Ticket
The standard size for the ticket is usually 13.97 cm x 5.08 cm. However, you can adjust the ticket size to your needs.
Colors for the Ticket Design
You must choose your own color scheme to enhance the look of your ticket and, most importantly, attract the audience. For your information, Photoshop also provides color themes to generate the most appealing design for your ticket.
Font for the Ticket Text
Of course, the essential element of your ticket is the text or information. Therefore, it's suggested to choose one or two font styles only. You must pay attention to the sizes of the font to ensure that the text is readable.
Guidelines to Boost Hockey Ticket Sales
There are a few guidelines to boost your hockey ticket sales.
In this digital age, it's always worth trying for online ticket sales. Try using a mobile application or a website to boost your sales. Mobile sales truly assist to record all people who register and buy your ticket.
Use a scarcity strategy to boost your ticket sales, such as "only 50 VIP tickets" or "50% off for 100 early birds". Besides using quantity scarcity, try to use time limitation, as a countdown clock, as an alternative.
Social media work well to boost sales nowadays. The power of social media cannot just be ignored since many people are having at least one account. Post your hockey match imagery to social media and see the result!
Design Ideas of PSD Hockey Ticket
Choose some design ideas for hockey tickets that are suitable for your need. Each of them is designed in PSD format and instantly downloadable. In choosing the template, you may find the most appropriate image or artwork, such as a hockey stick or ball. If you don't want to use an image or artwork, you can try to style your hockey match's name into an attractive typographical design.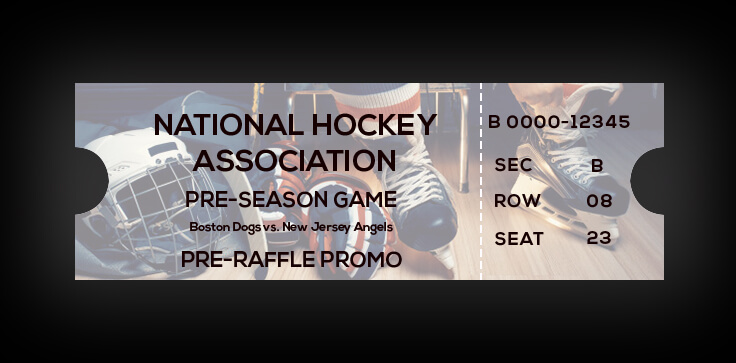 PSD Templates of Hockey Ticket
Well, there are some PSD hockey ticket templates you can freely choose. These professionally-designed templates are available in 300 dpi resolution to adjust your sales need. Last but not least, print it out and check every detail.