Celebrating the Special Day with Valentine's Party Ticket
Valentine's Day is coming near and everybody is ready to celebrate. No need to worry if you don't have anyone to date because so there are so many people around who will shower you with love. Throwing Valentine's party seems interesting because you can invite relatives or close friends. In addition, this year's Valentine will be so much more special as you share happiness with others. This article presents useful tips to design your own Valentine's party ticket.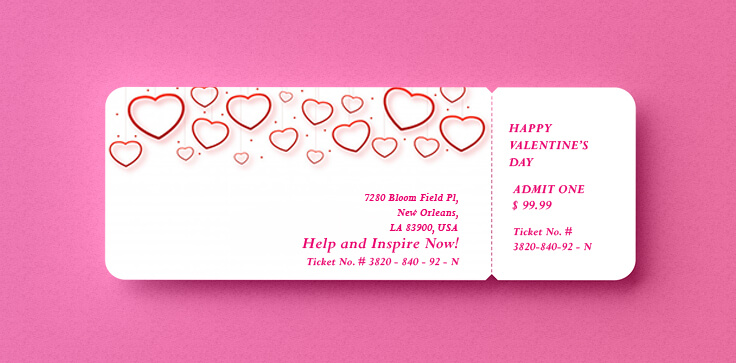 Details in Valentine's Party Ticket
There are some details you must ensure to include on the ticket of Valentine's party:
Day and Date
Make sure to include the day and date on the ticket. Everybody knows that Valentine's Day is on 14 February, but you may adjust the date of the party to suit your invitees' agenda.
Time
The time of the party cannot be separated from the day and date. You don't want to confuse the invitees by not including what time the great party starts, right?
Venue
Please include the venue of the party whether it's in your house or another place, such as a restaurant, etc.
Address or Map
Write the address of your party clearly and include a simple map or direction to help your invitees reach it easily.
RSVP (if necessary)
Include any contact details like phone number, email address, or social media account if you want to ensure how many invitees are coming.
Host
This is important to let your invitees know who the special person holding a party is. If you are not alone in hosting it, write the names of them as well on the ticket.
Dress Code
Make your party more memorable by giving the invitees dress code. By including the dress code, they will be appropriately dressed when arriving at the party.
Tips to Design PSD Valentine's Party Ticket
A few tips for designing PSD Valentine's party ticket are stated below.
Clear Event's Name
Since it's Valentine's party, write it clearly on your ticket. The type of party being held is essential for ticket design.
Colors
Colors evoke the party's atmosphere, so make sure to choose the most appropriate color schemes on your party ticket.
Contrast
After deciding the color schemes, apply the contrasting colors on the ticket. You can't deny that using contrasting colors can make the key information stand out.
Typography
The information is all your invitees need; therefore, you have to choose the appropriate font styles on the ticket. Use different font sizes for the most necessary information, such as Valentine's party name, day and date, time, or venue.
Design Templates of PSD Valentine's Party Ticket
In making the ticket, don't forget to put the purpose of the ticket which is celebrating Valentine's Day. Think of implementing the party theme, such as Valentine's dinner party or Valentine's custom party. As stated previously, some design templates of Valentine's party ticket in PSD are available. Choose and download your preferred one right now.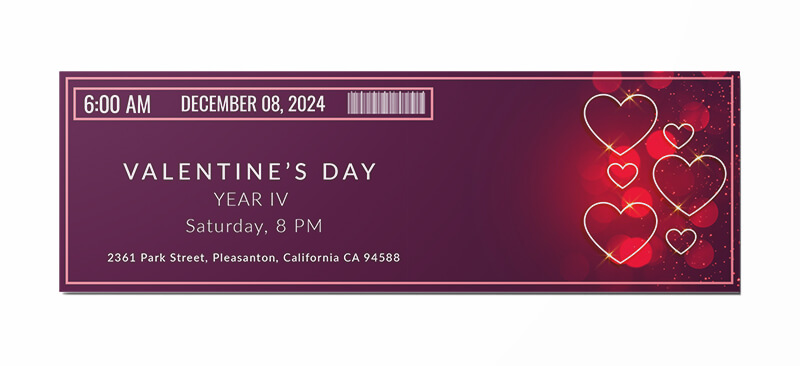 Design Examples of PSD Valentine's Party Ticket
Eventually, you can refer to these examples of PSD Valentine's party ticket. All of them are beautifully-designed in 300 dpi resolution and with scalable vectors.