A linguist can work in several industries like translating, analyzing, researching, and interpreting languages. They have responsibilities to study the language and the factor that can influence language use. Besides, a linguist also will be employed in education, government, and other public and private sectors. Therefore, creating a linguist job description is important to know the quality of linguists to work.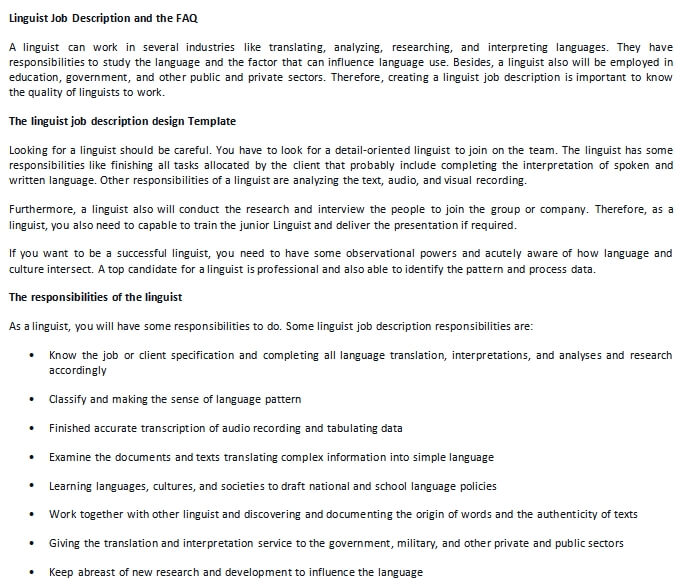 The linguist job description design Template 
Looking for a linguist should be careful. You have to look for a detail-oriented linguist to join on the team. The linguist has some responsibilities like finishing all tasks allocated by the client that probably include completing the interpretation of spoken and written language. Other responsibilities of a linguist are analyzing the text, audio, and visual recording.
Furthermore, a linguist also will conduct the research and interview the people to join the group or company. Therefore, as a linguist, you also need to capable to train the junior Linguist and deliver the presentation if required.
If you want to be a successful linguist, you need to have some observational powers and acutely aware of how language and culture intersect. A top candidate for a linguist is professional and also able to identify the pattern and process data.
The responsibilities of the linguist 
As a linguist, you will have some responsibilities to do. Some linguist job description responsibilities are:
Know the job or client specification and completing all language translation, interpretations, and analyses and research accordingly
Classify and making the sense of language pattern
Finished accurate transcription of audio recording and tabulating data
Examine the documents and texts translating complex information into simple language
Learning languages, cultures, and societies to draft national and school language policies
Work together with other linguist and discovering and documenting the origin of words and the authenticity of texts
Giving the translation and interpretation service to the government, military, and other private and public sectors
Keep abreast of new research and development to influence the language
Guide, recruit and supervise the junior linguist
Present the conferences, lectures, and workshops to expand the skillset and professional network
Listen to the audio records and translating them into written form
Creating the report and presentation for their supervisors
The requirements of the linguist 
If you want to be a linguist, you need to prepare some requirements to fulfill. Some linguist job description requirements:
A bachelor's degree in linguistics or a related discipline
A master's Ph.D.
Additional language courses are recommended
Expert in two or more languages
Practical knowledge with translation and transcription software as well as MS Office
Outstanding language fluency
Great organization, communication, and active listening skills
A hunger for language and lifelong learning
The linguist FAQs
How is the linguist working condition?
If you are working in colleges and universities, you will split the time between teaching and research. Moreover, they also will spend their time mostly in thirty-five to forty hours a week. You can look at the linguist job description template to know more about the responsibilities.
How much is linguist earning?
The linguist job description does not show their salaries because a linguist will have different salaries depending on their area of expertise, education, and experience.