A program analyst is an employee whose responsibilities relate to the development of new & improved computer programs. This job position will have some duties such as creating language codes for programs and testing functionality. Now, let's see this program analyst job description carefully.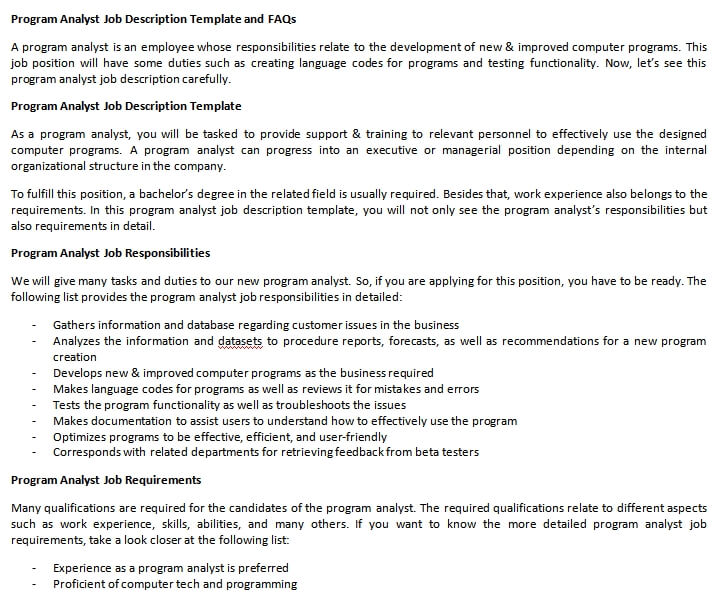 Program Analyst Job Description Template
As a program analyst, you will be tasked to provide support & training to relevant personnel to effectively use the designed computer programs. A program analyst can progress into an executive or managerial position depending on the internal organizational structure in the company.
To fulfill this position, a bachelor's degree in the related field is usually required. Besides that, work experience also belongs to the requirements. In this program analyst job description template, you will not only see the program analyst's responsibilities but also requirements in detail.
Program Analyst Job Responsibilities
We will give many tasks and duties to our new program analyst. So, if you are applying for this position, you have to be ready. The following list provides the program analyst job responsibilities in detailed:
Gathers information and database regarding customer issues in the business
Analyzes the information and datasets to procedure reports, forecasts, as well as recommendations for a new program creation
Develops new & improved computer programs as the business required
Makes language codes for programs as well as reviews it for mistakes and errors
Tests the program functionality as well as troubleshoots the issues
Makes documentation to assist users to understand how to effectively use the program
Optimizes programs to be effective, efficient, and user-friendly
Corresponds with related departments for retrieving feedback from beta testers
Program Analyst Job Requirements
Many qualifications are required for the candidates of the program analyst. The required qualifications relate to different aspects such as work experience, skills, abilities, and many others. If you want to know the more detailed program analyst job requirements, take a look closer at the following list:
Experience as a program analyst is preferred
Proficient of computer tech and programming
Excellent skills in written & verbal communication
Exceptional reporting and presentation skills
Strong analytical and research abilities
Passionate about making solutions for customer issues
Great attention to detail for troubleshooting mistakes
Ability to work with minimal supervision effectively
Ability to sit for long hours in front of a computer at a time
Program Analyst Job Description FAQs
What does a program analyst do in a company?
A program analyst has responsibilities that relate to the development of new & improved computer programs. For more detailed tasks and duties, you can see the job description template above.
Can I edit the posted job description here?
Absolutely, you can. The customizable program analyst job description template posted here can easily be edited so that you can fit your needs.
Do you have interview questions for a program analyst?
This web does not only contain the program analyst job description but also some interview question samples.