A purchasing specialist can also be called a procurement specialist. He or she has the responsibility to procure a company's supplies. Researching and identifying prospective supplies also belongs to responsibility. Now, let's take a look closer at the purchasing specialist job description.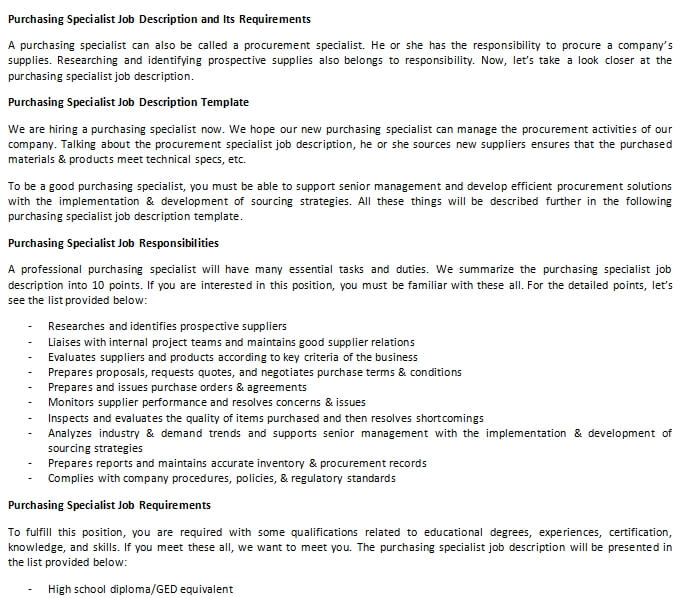 Purchasing Specialist Job Description Template
We are hiring a purchasing specialist now. We hope our new purchasing specialist can manage the procurement activities of our company. Talking about the procurement specialist job description, he or she sources new suppliers ensures that the purchased materials & products meet technical specs, etc.
To be a good purchasing specialist, you must be able to support senior management and develop efficient procurement solutions with the implementation & development of sourcing strategies. All these things will be described further in the following purchasing specialist job description template.
Purchasing Specialist Job Responsibilities
A professional purchasing specialist will have many essential tasks and duties. We summarize the purchasing specialist job description into 10 points. If you are interested in this position, you must be familiar with these all. For the detailed points, let's see the list provided below:
Researches and identifies prospective suppliers
Liaises with internal project teams and maintains good supplier relations
Evaluates suppliers and products according to key criteria of the business
Prepares proposals, requests quotes, and negotiates purchase terms & conditions
Prepares and issues purchase orders & agreements
Monitors supplier performance and resolves concerns & issues
Inspects and evaluates the quality of items purchased and then resolves shortcomings
Analyzes industry & demand trends and supports senior management with the implementation & development of sourcing strategies
Prepares reports and maintains accurate inventory & procurement records
Complies with company procedures, policies, & regulatory standards
Purchasing Specialist Job Requirements
To fulfill this position, you are required with some qualifications related to educational degrees, experiences, certification, knowledge, and skills. If you meet these all, we want to meet you. The purchasing specialist job description will be presented in the list provided below:
High school diploma/GED equivalent
Experience in a similar role especially as a purchasing specialist for 2 years or more
Bachelor's degree in a similar field such as business administration or supply chain management
APICS or CPM certification
Working knowledge of purchasing strategies
Excellent skills in communication, interpersonal, & negotiation
Strong skills in problem-solving and analytical thinking
Proficient in Ms. Office and with business app software, purchasing, & resource planning systems
Team player with good organizational skills
Purchasing Specialist Job Description FAQs
What does a purchasing specialist do?
With great responsibilities, a purchasing specialist procures a company's supplies and researches & identifies prospective supplies.
Can I edit the posted job description here?
Yes, you can. This job description template can be edited easily based on your needs.
Do you have interview questions for a purchasing specialist?
This web does not only provide the purchasing specialist job description but also some interview question samples.
Similar Posts: