Tracking your health accurately and consistently is critical to successfully managing your diabetes condition. This includes recording your blood sugar level daily, along with other factors such as food, medication, exercise, etc. These printable blood sugar chart templates will help you to log your diabetes care and treatments.
These blood glucose logs are designed specifically to make it easy for diabetic patients to record their levels on daily basis. Choose any chart from the library of templates below, which available for free, then print it out and update the record regularly.
What Is The Normal Range For Blood Sugar?
The blood sugar level that's considered normal is between 70 – 140 mg/dL. Anywhere between 140 – 199 mg/dL indicate the state of pre-diabetes, while any numbers above 200 mg/dL indicates diabetes condition.
What Is Normal Blood Sugar Level For Elderly?
It is recommended by the American Diabetes Association for seniors to have their blood sugar level below 180 mg/dL. Elderly people with hyperglycemia or hypoglycemia have to monitor their blood glucose continually at home.
How Often Should Type 2 Diabetics Check Blood Sugar?
People who suffer from type 2 diabetes condition should check their blood glucose level. It can range from one check to seven times per day. How frequent you need to perform the testing depends on various factors that has to be consulted with the doctor.
Blood Sugar Check Schedule 
Monitoring your blood sugar level is the main key to know if the level of your blood glucose is on the target range. If you are a diabetes patient who needs to measure your glucose level daily, then this printable blood sugar chart template will be a very useful tool.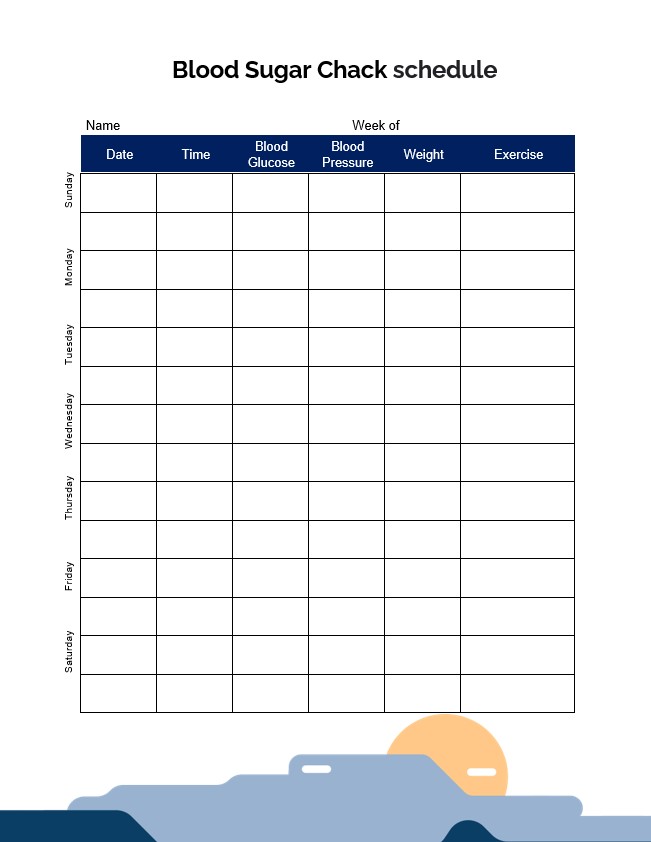 Blood Sugar Check schedule
Reviewing and recording your level of blood sugar consistently can help you and your trusted healthcare provider to recognize the pattern of your condition and establish suitable care plan. The plan may be improved overtime according to your condition's development.
Blood Sugar Control Chart     
A regular maintenance of blood sugar level self-measurement is a vital part in managing diabetes. Diabetic person will generally feel well and have a lot of energy when their indicators show nearly normal or normal range. Making the control habit also helps to reduce various risks of complication.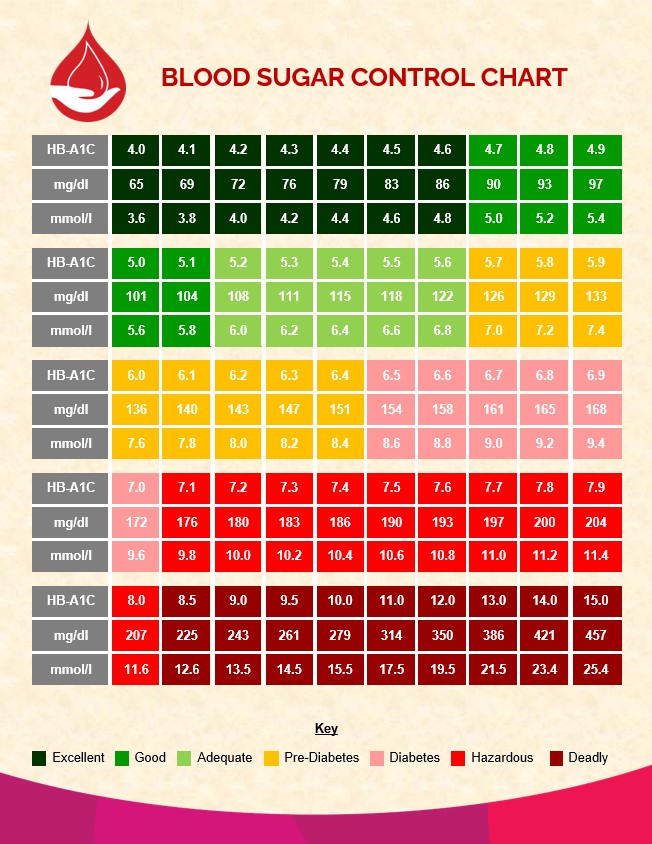 Blood Sugar Control Chart
Keep a log of your blood sugar levels by using this free printable blood sugar chart. This log is easily accessible to monitor and keep track of your progress for treatment and care purposes.
Blood Sugar Level Chart         
This free blood sugar level chart template is specifically created and designed to help diabetes sufferers record their condition easily. You can also choose from the collection of printable templates here in this page to make the tasks simpler and quicker.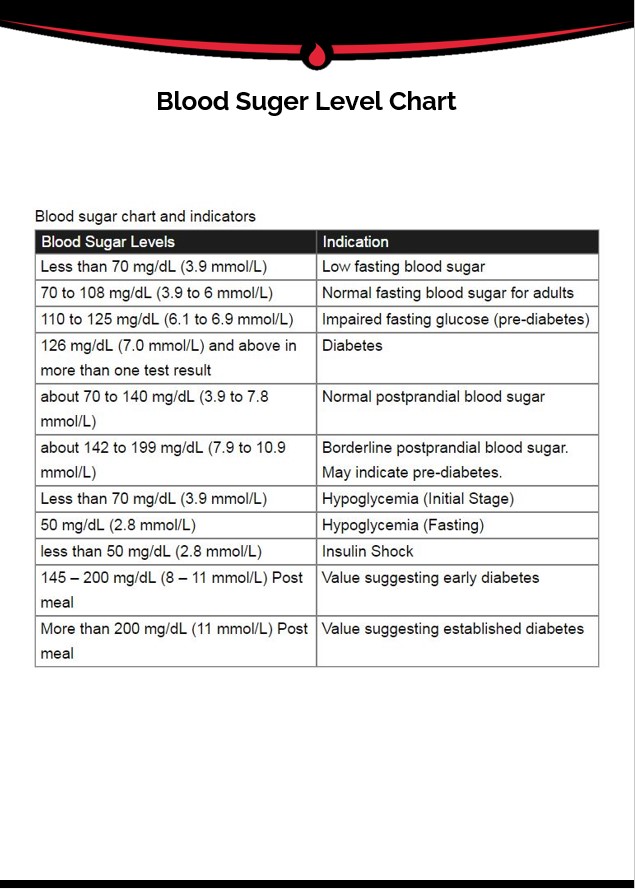 blood sugar level chart
To utilize this template, it's going to be better if you also include other affecting factors such as your meals or physical activities. Your healthcare provider will appreciate your effort to maintain your health in optimum condition.
Blood Sugar Log Chart           
Nowadays, there are a lot of mobile apps that makes recording and tracking diabetes care easier. These powerful tools typically offer relevant charts and graphs.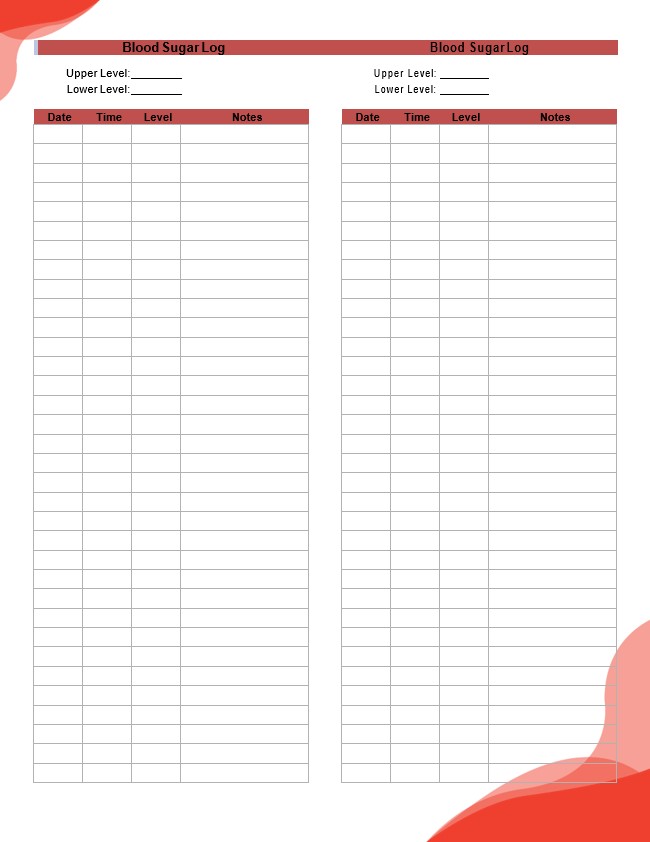 blood sugar log chart
If you aren't exactly a tech-savvy, though, you can use manually written record instead. This blood sugar log chart template is provided for free, and it only requires you to use paper and pen.
Blood Sugar Tracker Chart     
Do you have a family member or a close friend who suffers from diabetes? Or are you a diabetes patient yourself? If the answer of either question is yes, then you may want to check this blood sugar tracker chart.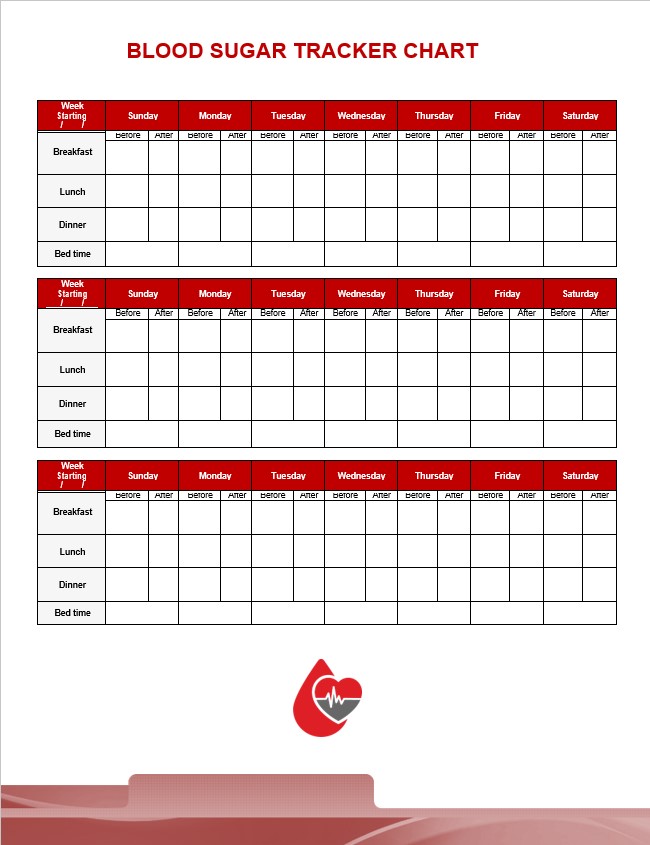 Blood Sugar Tracker Chart
This template is ideal to log blood glucose level every day. It helps to discover the best time to test your blood glucose. You may use it after breakfast, after lunch, after dinner, or before bedtime.
Blood Sugar Check Chart       
The purpose of checking your blood glucose levels routinely is to know if your current level is too low or too high. Both of these conditions can lead to damaging health issues.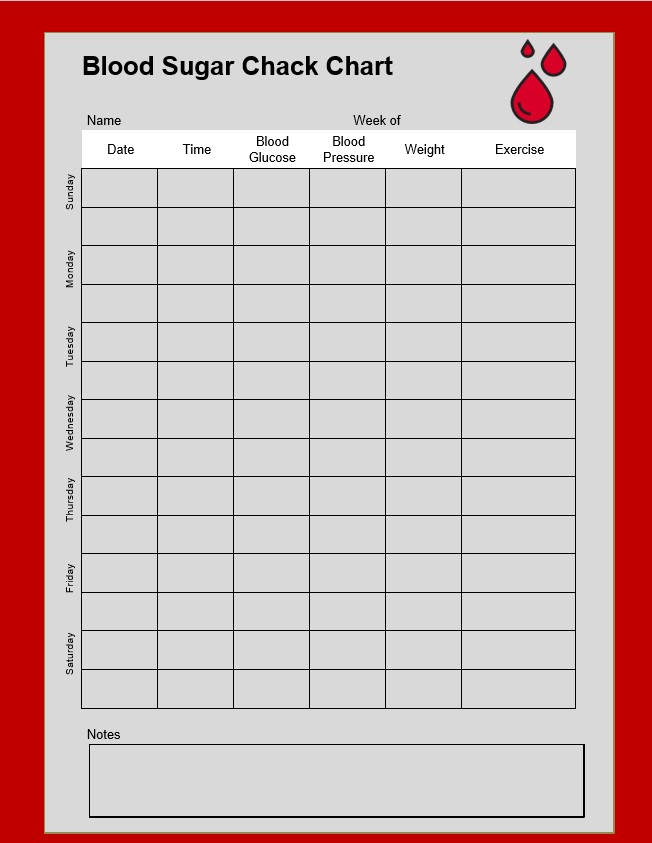 Blood Suger Check Chart
That's why it is necessary to keep blood sugar level log. This document helps to monitor your level of blood glucose for a period of time, before you need to use another blank document. Download and use this blood sugar check chart for free.
Blood Sugar Diabetes Chart   
Need to monitor your blood glucose level daily? Then try to incorporate this free printable blood sugar chart. You can add extra information in this customizable template, based on your needs.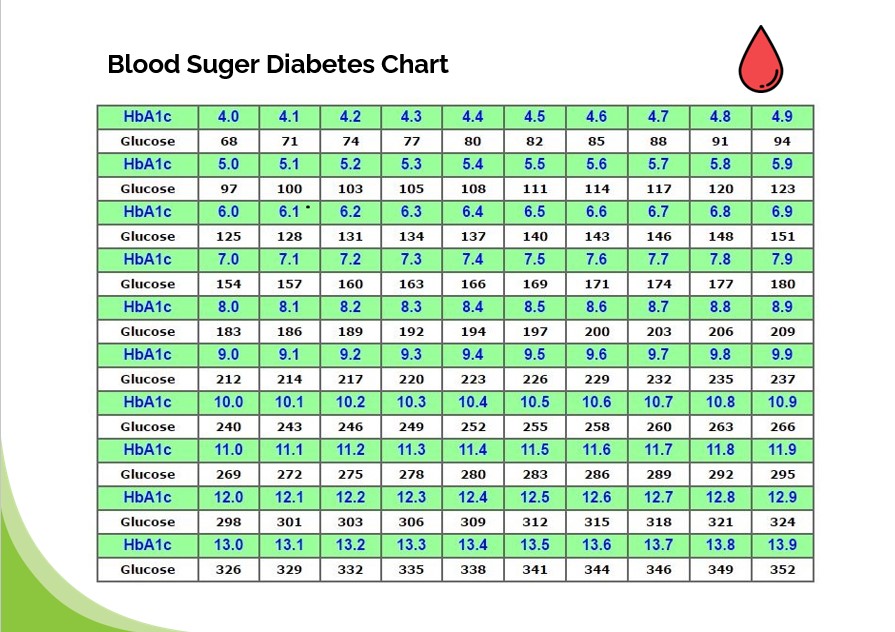 Blood Suger Diabetes Chart
This template contains several blank columns and rows that you can fill with the information accordingly. Simply write down your blood sugar level and record any important information for additional note.
Blood Sugar Insulin Stability Chart     
Doctors may prescribe one or multiple insulin types to their patients, depending on their medical history. Some patients use 'combination therapy' approach, where they take both insulin and non-insulin treatments to keep their diabetes under control.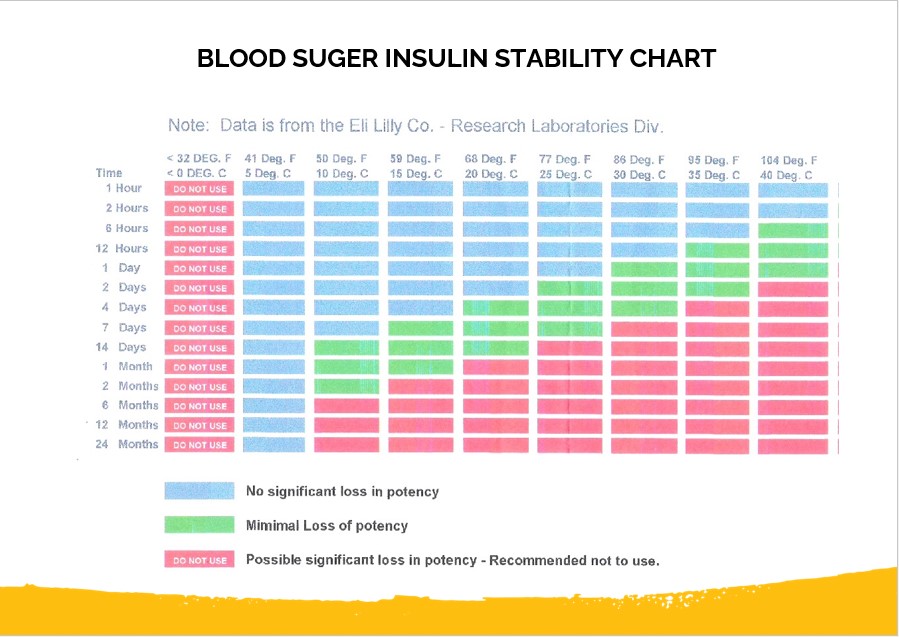 Blood Suger Insulin Stability Chart
This blood sugar insulin stability chart template help patient to control their level of blood glucose. This can be downloaded for free and then printed out to provide easy recording tool for them.
Monthly Blood Sugar Chart    
It can be a challenging task to keep your level of blood glucose within the doctor's recommended range. It is because there are many factors that may make it spike up or drop down, sometimes in unexpected way.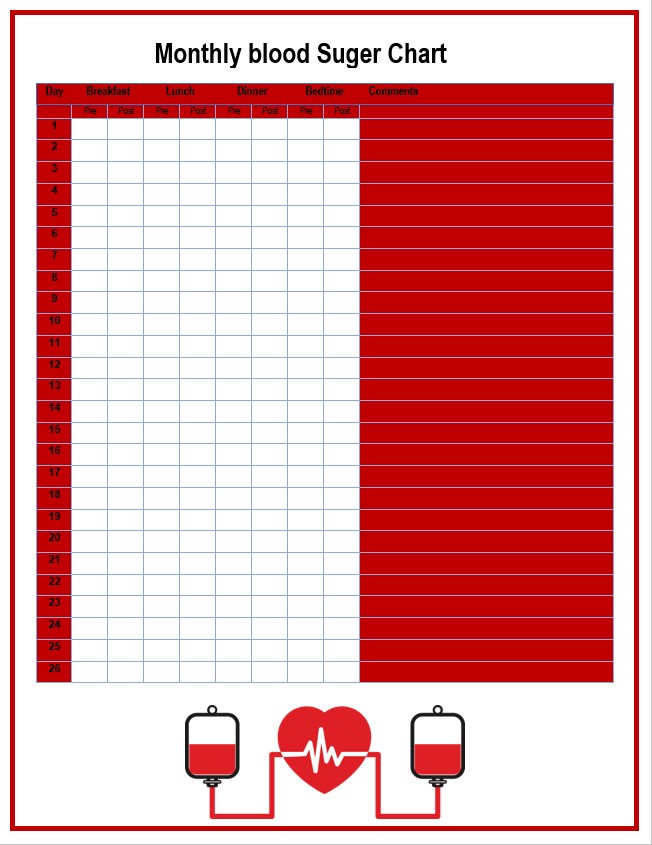 Monthly blood Suger Chart
To minimize the issue, you may use a monthly log sheet of blood sugar check. This free printable blood sugar chart template provides you with a month worth of space to track your blood glucose level thoroughly.
Normal Blood Sugar Level Chart        
Consistent blood sugar level monitoring will benefit any diabetes patients who receive insulin treatment. If you are getting recommendation from your healthcare provider to perform daily monitoring, then this template is suitable for you.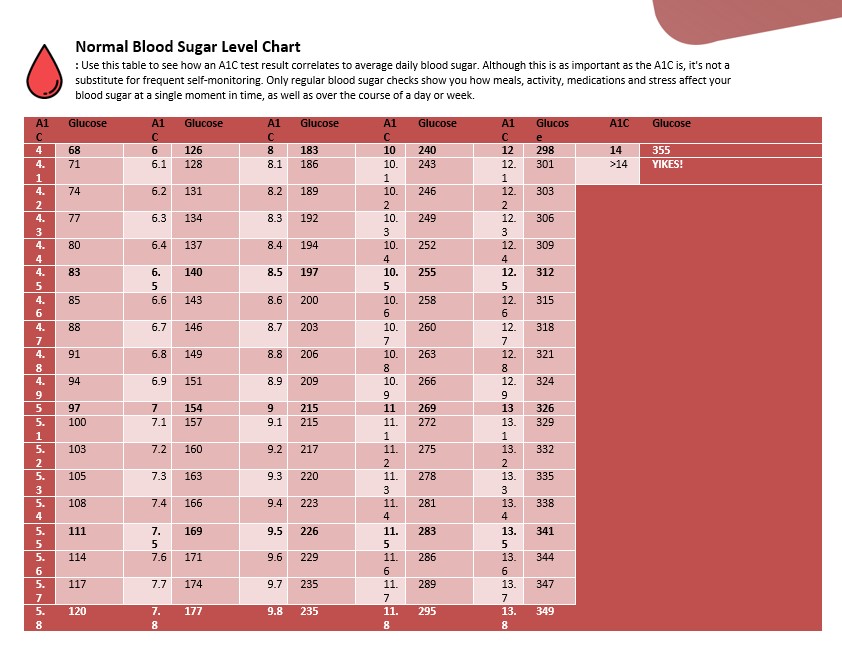 Normal Blood Sugar Level Chart
As a starting point, you may use the target blood glucose level offered by health organizations such as American Association of Clinical Endocrinologists (AACE) or American Diabetes Association (ADA). This printable blood sugar chart provides you with handy guide regarding information of normal blood sugar level.